Fit to be king
Rod Harrington says Robert Thornton's UK Open win proves that good health will improve your darts.
Last Updated: 13/06/12 3:41pm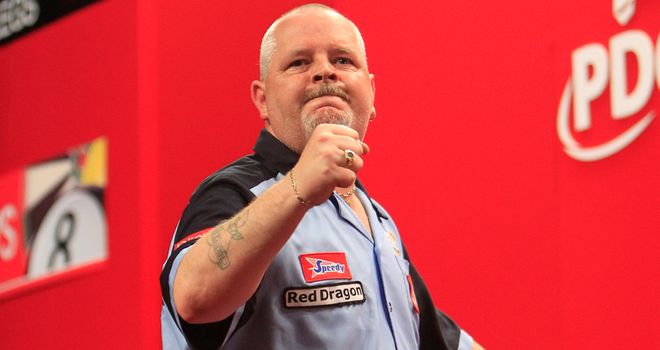 Robert Thornton has shown great talent ever since he came over from the BDO to the PDC, but he's had quite a few problems during his career.
He broke his hand, which obviously doesn't help a darts player, and he was then diagnosed with pneumonia. Having had that myself I know that it really knocks it out of you - and it takes longer to get over any illness when you're not very fit.
It took him six to eight months to get through that, but to be honest I think that experience might have given him a wake-up call. He got the chance to get himself on the straight and narrow and after his victory at the UK Open he looked to be in very good health indeed.
He didn't look tired after his win in the final against Phil Taylor. He may have been, but he didn't look it. He did the right things at the right time throughout the match and he looked very focused.
When he got in front he didn't let Taylor off. He did to him what Taylor has done to so many of his opponents over the years - and when Thornton was four or five legs ahead, The Power didn't have any reply.
There's no question this should be a big platform for him now. Nobody was talking about him, but now everybody's looking over their shoulders. He beat Mark Webster, Gary Anderson, Dennis Priestley, Wes Newton, Dave Chisnall and Taylor to win the UK Open and this victory will give him a huge amount of confidence.
He hasn't qualified for the Matchplay yet, but I expect him to do well in the next few weeks. When you've won a major tournament you feel you can throw darts backwards and they'll go in. That confidence makes you score better and take out big shots.
It's too early to talk about getting into next year's Premier League though. We've seen people do well at this stage and then fall away by the time the World Championship comes around.
But he's certainly put his name on the list, there's no question about that.
Incident
There was an incident during the final when a guy tried to get onto the stage - and he was a big bloke as well - but our security did very well to stop him. His hands and upper torso just about got on before the security guards dragged him off.
Taylor said the incident upset him because he feared the guy wanted to attack him, but if that's the case then top sportsmen wouldn't leave their houses. They are protected as much as possible at these tournaments. I believe they are protected very well indeed.
Ninety-nine per cent of our fans are great, but you're always going to get the odd idiot. Apparently a group of them had a bet to see if he could get on stage - and there's nothing you can do about idiots like that. The fact he got booed by the rest of the crowd said it all.
If it upset Taylor then Thornton took advantage of that. He got on with his game and didn't care, but maybe it knocked Phil's concentration a little bit.
But you can't take anything away from Thornton. He put his opponent under pressure with every throw, and for once the 15-time world champion didn't have a reply.
Now the rest of the players will look at that and see Taylor is beatable. He's not invincible and that's good for the game.
Steam
There were a lot of good performances in Bolton.
Chisnall played well before running out of steam in the semi-finals. He has won Tour events, but he's still getting used to big games on TV in front of big crowds. These tournaments involve a lot more emotion and a lot more nerves, so this was a learning curve for him.
But he's proved he's got the game and he'll be a force to be reckoned with in years to come.
Raymond van Barneveld also looked good before he walked into Chisnall in exceptional form. I can't believe he wants a month off now. If you're playing that well you should keep playing; if you need a month off after working three days then you should try getting a proper job!
I was also pleased that so many youngsters did well. Arron Monk had a good run and James Hubbard was unlucky in his match against Terry Jenkins. The Bull was my big tip and I think if he hadn't been drawn against Taylor in the last eight then he would have made the final.
Taylor is still going to be the bloke to beat in Blackpool, but there are so many other players who can win tournaments now. Chisnall and Jenkins should have good runs and somebody will come out of the pack and surprise us like Thornton did in Bolton.
Phil has said himself that if the guys take care of themselves more then they'll become better players - and some of them are now listening.
But I've been saying the same thing for 15 years. As Thornton has proved, a healthier outlook can help you win tournaments.
Some players aren't doing anything about their weight or their body condition and they're drifting down the rankings. Maybe we'll say goodbye to them forever - and we won't miss them because the new breed is coming through.
The ranking system now makes sure we have the best performing players in the big tournaments. We don't protect anybody.
As a result we've just had the best UK Open we've ever seen.