Can Taylor be taken?
Rod Harrington says it will take an exceptional effort to stop Phil Taylor winning the Premier League.
Last Updated: 16/05/12 3:28pm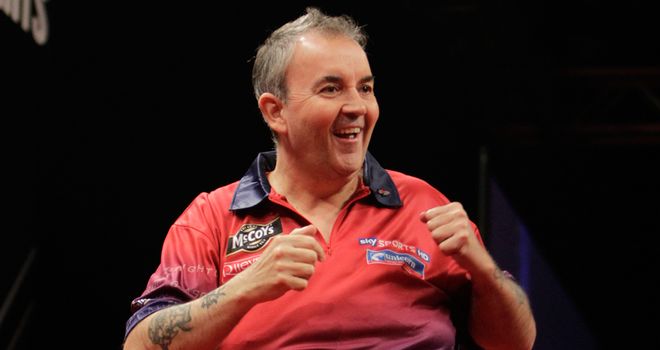 The fight to qualify for the Premier League Play-Offs went all the way to the final night, which proves it was the best season we've ever had.
Phil Taylor and Simon Whitlock got their points on the board early, which is so important and they'll be joined by Andy Hamilton and James Wade - who came good after a bad start - in the last four.
I was disappointed that Adrian Lewis threw it away last week. He was 5-2 up on Simon Whitlock and heading for the semi-finals and at that standard you have to close it out. Nobody should be able to throw darts good enough to get back from that position.
Adie didn't look to be in the right frame of mind. Sometimes this season he has turned up and been absolutely brilliant and at other times he just wasn't on it. He's a double world champion, but if he wants to win more world titles he needs to address that part of his make-up because you can't question the talent of the boy.
Raymond van Barneveld was the same. He was 4-2 up against James Wade, but allowed it to slip and he has gone out. Perhaps the attitude and the practice regime isn't quite right for him. He's improved an awful lot in the last six months, his attitude especially, but there's still a little way to go.
I'm sure it will have hurt him to miss out on the top four. A lot of people thought he would finish bottom, but I was tipping him to make the final night in London.
Here's what we can expect at the O2 Arena...
Simon Whitlock v Andy Hamilton
Nobody expected Hamilton to make it this far. Players tend to be overawed by the big crowds in their first year - it's a different game - but he has knuckled down and got on with things. The same can be said of Kevin Painter, who was unlucky not to qualify. Andy has proved he has character and has run with it, instead of getting miserable when things have gone against him - as certain players have in the past.
He's got a tough game against Simon Whitlock on Thursday night, but I think he'll do a good job. Let's not forget last year's World Matchplay when he fought back from 15-8 down to beat Whitlock - and he's taken three points off him in the Premier League this year.
Hamilton will never give up. He could be 7-0 down and he'll still believe he can get the victory. Whitlock will get up there and play the dartboard, so it's up to Hamilton to try and make him remember some of those losses. If he can get 3-0 up early on he can put a few doubts in his opponent's mind.
Hamilton has probably been more consistent than Phil Taylor on doubles in the second half of the League season and he'll need to keep that up, but I'm leaning towards Whitlock.
I just think he's got an extra bit of scoring power - but on form you'd say it's the flick of a coin.
Phil Taylor v James Wade
To be fair to Wade, he's got bottle. We've never questioned his ability and he pulled it out when he was 4-2 down to Barney last week.
There's no doubt he will be a world champion somewhere down the road as long as he keeps himself interested. But Taylor will try to put him in his place nice and early. Wade will need to play at the top of his game, show bottle and do something exceptional.
He knows he won't be able out-score The Power, so he'll need to take out a couple of big shots between 80 and 125 at crucial times. He's capable of doing that.
If you look at the form book, I don't think Taylor can be beaten - but we said that last year and he lost to Lewis in the semi-finals. Adie beat him a few weeks ago and he was held by Gary Anderson last week, so there's signs that there's a chance for somebody to pull off a surprise.
But he's too good to worry about any of those disappointments. He plays every match like it's the first game of his life and bounces back very quickly when he loses.
I'm hoping for a game like they produced in the final two years ago when Taylor threw two nine-darters, narrowly missed a third and only won 10-8.
Wade will make a game of it but I'd have to pick Taylor to win - and to go on and lift the trophy. When you look at his averages, nobody can get near him.
Whoever plays him on Thursday night will need to pull off one of the best games of their lives to get past him.
World Youth Championship Final: Michael van Gerwen v James Hubbard
Don't forget to watch the World Youth Championship Final between Michael van Gerwen and James Hubbard, which takes place just before the Premier League Final.
Van Gerwen has given a few senior pros a lesson on the dart board and he's an exceptional talent. He's the strong favourite because we know what he can do.
It's great to see James Hubbard come through the tournament and he's now doing extremely well on the full PDC Tour. It's very gratifying to see someone come through the new youth system like that.
This should be a good game, but I'd tip Van Gerwen because of his experience on the big stage. Hubbard has played in the Grand Slam before, but playing in front of 10,000 to 12,000 people at the O2 Arena is totally different.
Wouldn't it be great to see a nine-darter on Thursday night... but it comes from a Youth player? That would be something special.