Mastering the master
Rod Harrington says Adrian Lewis must take every chance he gets if he is to beat Phil Taylor.
Last Updated: 17/04/12 2:58pm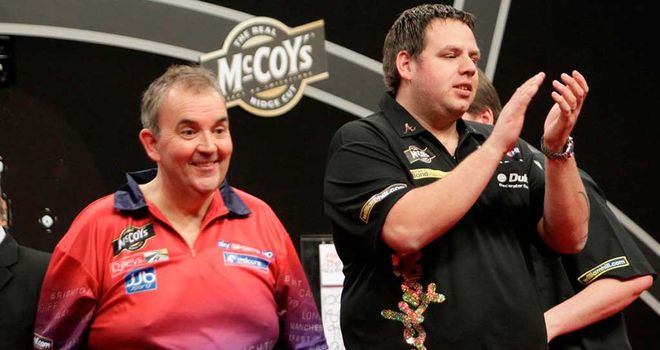 A few years ago, whenever Phil Taylor played Adrian Lewis we'd describe it as the master against the apprentice.
But nowadays the apprentice has become a master.
Adrian is a double world champion and in the last few weeks he's shown some of the grit and determination that has made him one of the best players in the game. But if he wants to beat his former mentor in Bournemouth he needs to go out with all guns blazing.
You do get chances playing against The Power, but if you let him off the hook then he will bury you. Raymond van Barneveld had a great chance to make it 4-4 against Taylor last week, but missed eight doubles and got punished. He ended up losing 8-3.
Lewis can't afford to do that and must take his chances when they come along. He must impose his game on his opponent and do it early because it's extremely rare to see Taylor lose from a winning position.
I normally say 140s win games, but in this instance I think it will be all about the 180s. He's got to whack out the maximums consistently against Phil to get a result out of him.
Taylor likes to stamp his authority on the youngsters and I can't see him taking his foot off the gas here.
Taylor is already through to the play-offs, but there's never a good time to play him and once again, I would back him for the win.
However, if Lewis can impose his game then there's a result there for him. I just hope the crowd give him a chance; I don't think the young man deserves some of the stick he gets from time to time.
Many fans would still see Van Barneveld v Taylor as the biggest game in darts, but for me it has to be Lewis v Taylor because it sees the world champion going up against the best player in history. Furthermore, Adrian knows how to beat him on the big stage.
In terms of pedigree, this is the biggest draw in our sport. If Lewis is on top of his game then it could go either way.
It all depends if the world champion can take his chances.
Raymond van Barneveld v Simon Whitlock
This should be an interesting game. Simon Whitlock played extremely well last week, as did Barney if you ignore those eight missed doubles. The Dutchman then went and won both Tour events at the weekend, which shows he now believes he is a great player. Everybody else knew it - and we've been telling him so for a long time - so it's great to see him develop some belief in his ability.
Whitlock emerged as a top player because he never used to miss many doubles and he'd take out a lot of ton-plus finishes. He hasn't been doing that this year and I'm going to tip Barney to win a very close game as a result. He won't worry about what Whitlock hits and should be confident enough to impose himself here.
Gary Anderson v Kevin Painter
Kevin Painter is desperate for a win. He's been unlucky in the last few weeks because he played very well against both Taylor and Whitlock, but came away with nothing. However, we've seen plenty of maturity from him because he hasn't been getting frustrated with himself. If he can produce a workmanlike performance against Anderson then I think he could get those much-needed two points.
Anderson has not been playing at the top of his game. He played two matches last week and only picked up one point - and I felt he got away with it against Andy Hamilton. However, he's the sort of player that could turn it on and blow anybody away. On form you'd have to back Painter, even though he'll be an outsider with the bookies, and I'm going to back him to nick a close battle.
James Wade v Andy Hamilton
If punching was allowed in darts then I think you'd see Andy Hamilton hitting his opponents. He's the nicest guy you'll ever meet off the board, but in the midst of a game he has a real air of aggression. It's great to watch because it's aggression, rather than arrogance, and he never gives up. We saw that as he battled for a draw against Anderson last week. He's down the bottom, but he could easily have four more points on the board and I think this is a must-win game; it's getting to the stage where a draw is not enough.
James Wade has been showing the form that made him a multiple major winner and you have to side with him. However, I wouldn't be surprised if Hamilton nicks a point. I'm just not sure if that would be enough for him.
Rod's top tips
I think the most 180s will be thrown in the Taylor v Lewis game, while the highest checkout is likely to come in the Barney v Whitlock match. I think we could see a nine-darter and I keep saying that one week we will see four draws for the first time ever. On paper, this could be the week.