Delivering in Dublin
Can Adrian Lewis end his Premier League winless streak in Dublin? Rod Harrington thinks so...
Last Updated: 20/03/12 5:31pm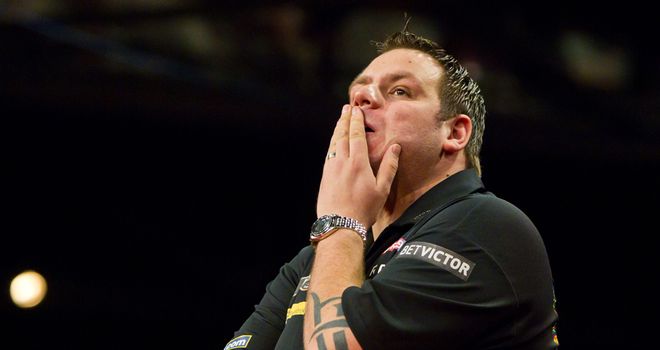 The Premier League is hotting up, but it beggars belief that the double world champion has gone six games without a win.
Adrian Lewis has been getting frustrated with himself and when that happens in darts, as in golf, you tighten up a little bit. He needs to find some consistency, but it's hard when you're the world champion because your opponents come at you more fiercely. They want to prove a point by taking your scalp.
He must focus more and avoid those sloppy 45's in the middle of legs. You can't afford to do that these days because it doesn't leave you with enough chances at the double. The frustrations quickly build up; I've been there and I know what it's like.
James Wade didn't need to do anything special to beat Lewis last week. He did a workmanlike job and jumped on him when he got frustrated.
When he left Glasgow on Friday morning I told him to go away and have a rest. He must try not to think about things because if he worries about his form it will take even longer to turn things around.
I think he might finally get his first win when the Premier League visits Dublin for the first time on Thursday night.
There's always a good crowd when the PDC has gone to Dublin before and we could have around 9,000 in attendance on the night.
It's nice to go to different cities to mix things up and I think we'll get some good games on for what should be a good crowd.
Andy Hamilton v Simon Whitlock
Andy Hamilton lost to Phil Taylor last week, but everyone just accepts that's the way it is these days. He put up a good fight, he was still level after four legs and he showed that he's a street fighter - if you turn your head then this guy will smack you on the earhole! There's not many players like that these days. One of the positives I always found in my own game was that I never gave up until the last dart hit the double - and Andy is exactly the same.
It will be tough for him against Whitlock, who is on a roll at the moment. Hamilton keeps getting chances and wasting them and you can't afford to let your opponents off the hook at this level. If he gets out of the gate quickly and forces some mistakes then there are points in this for him, but Whitlock has been scoring well and I expect him to win a tight game 8-6.
Adrian Lewis v Kevin Painter
Kevin Painter has gone off the boil a little bit. He has been a revelation this year and has been punishing players throughout this tournament, but missed a few crucial doubles against Barney and he got frustrated by that. If he can get his scoring power going to match his doubling power then he can beat anybody.
However, you feel Lewis must get a win on the board in the end. When you play roulette and you keep backing red it has to come up in the end, so maybe this is the week we will see it happen. It all depends which Adrian Lewis turns up. If the world champion turns up then Kev has a big task on his hands, but if the Lewis of the last few weeks arrives then it will probably go the other way.
Kevin won't like me saying this because he's an old mate of mine, but I think red is going to finally come up...
Raymond van Barneveld v Gary Anderson
Gary Anderson wanted to please his home crowd last week and while he might not admit it, I think he put too much pressure on himself. This week he has got nothing to prove, so he can go out and discover his scoring power, especially in the first few legs.
Barney has started to believe in himself again. He believes that when he's behind he can get back into matches and he doesn't give up as easily as he once did. He tends to start matches very well, but then we often see a few indifferent legs from him - and Gary will need to pounce in that. However, if you look at the form you will have to tip Barney and I'd go for him to win another close game.
Phil Taylor v James Wade
Phil Taylor has been too strong for everybody this year; visit-on-visit and leg-on-leg his scoring has been incredibly consistent. Once again last week he produced more treble-20's than single-20's and he didn't throw more than 15 darts in any leg. That's nothing new either; he's been doing that week in, week out.
James Wade has been showing some really good form and he will take lots of confidence after beating Lewis last week. There's no question he's a great player, but he's not been hitting enough 180's for me. I would like to see him address that and if he can take out a couple of ton-plus shots then he will be able to get a draw out of this game. Anything can happen in darts, but on form you'd have to go for Phil.
Rod's best bets
I keep saying it, but one week we could see four draws on one Premier League night - and that could win you a lot of money. You could certainly make a case for four draws this week. Away from darts, I made money by backing Man Utd, Chelsea, Newcastle and Liverpool in last weekend's football and I'm now backing Luke Donald for The Masters too. He's a straight hitter, a brilliant bunker player, has a great short game and he's an exceptional putter. You don't need to be massively long around Augusta and he's playing well at the moment. His odds are much better than Rory McIlroy's and I think an each-way bet on that is great value. Remember, you heard it here first!