Hammer down
Rod Harrington says Andy Hamilton must accept his fate as he comes up against the unstoppable Phil Taylor.
Last Updated: 14/03/12 3:39pm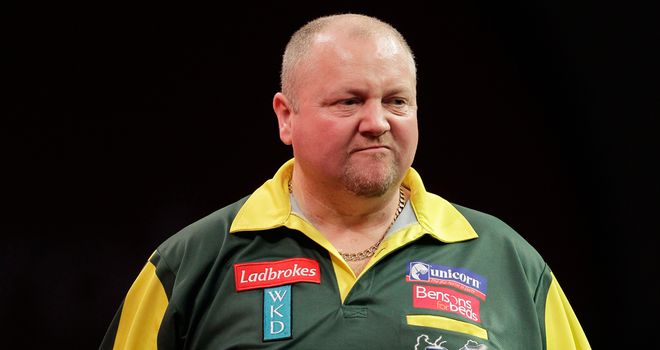 If you make mistakes in the Premier League you will get punished - and Andy Hamilton has learned that lesson already.
In the last three weeks he's found himself in a prime position to take maximum points against Adrian Lewis, Raymond van Barneveld and Kevin Painter, but he's only taken one point from those games.
He needs to sharpen up on his doubles because he's letting games slip; one little mistake will show you up in this tough competition. In other years he might have got away with it, but thankfully this guy is like a Rottweiler and he won't give up easily.
I can't see him getting anything out of Phil Taylor in Glasgow, though. I watched The Power in Reading at the weekend and he looked to be in unbelievable form as he threw two nine-darters.
He hardly had an average under 100 in his matches all weekend and he wasn't just beating the top players, he was thrashing them. He romped to victory in the Saturday event and Dave Chisnall had to play out of his skin to deny him the double in Sunday's final.
I haven't seen him play better. He's more consistent than he's ever been and that is frightening for all the other players.
People criticise me for talking about him too much, but when he's in this sort of form he is awesome to watch.
Let's look at what's coming up in Glasgow on Thursday night...
James Wade v Adrian Lewis
Adrian Lewis still looks lacklustre. I spoke to him on Sunday and he's getting frustrated over his doubles. His opponents are sharper against him because they want the scalp of the double world champion, but he needs to get a move on because we're approaching the half-way point of this Premier League and he hasn't won a game yet.
There's a good rivalry between these two players after the World Championship semi-final when Lewis came back from 5-1 down to win. Lewis will believe he can come back, no matter how far behind he is, but Wade won't want to let that happen again. He's a more determined player now and he's in better form.
Wade played his best darts of the year against Barney last week, taking out three ton-plus finishes on his way to an 8-6 win. If he starts producing shots like that and Adie misses a few then it could be his game. On form you would have to side with Wade, but I think the form book goes out of the window when you get two players like this and I'm going to take the draw here. We'll probably see the highest shot-out of the night in this game too.
Gary Anderson v Simon Whitlock
You can forget about Gary Anderson's loss to Phil Taylor last week because leg-on-leg pressure like that would hurt anybody. I'd rather look at his form in the weeks before that when he was playing well and getting his game back.
I don't see him winning this one, but I think he could get a draw out of it. He'll have the Scottish fans on his side, but they quite like Simon Whitlock and they won't be as hostile as they might have been if he was playing an Englishman.
This is another one of those Premier League games where anything could happen. Simon Whitlock has been in better form - he beat Lewis last week and played well at the weekend - but a few missed doubles could cost him. It could easily be 8-6 to the Aussie, but I'm going to go for another 7-7 draw. This game might give us the most 180s too.
Phil Taylor v Andy Hamilton
This should be a convincing win for Taylor. He's been awesome in every game he's played over the last few weeks and he was outstanding at the weekend. The leg-on-leg pressure he puts on his opponents is unbelievable and you have to play at 150 per cent to keep up with him.
As I mentioned earlier, Hamilton has been missing a few doubles, but I don't think anybody could get near The Power at the moment. He just needs to go into this match thinking he's got nothing to lose, give it his all (like he always does) and walk away happy no matter what the result. You have to put this match in the locker, accept you're probably going to lose, and forget about it.
Raymond van Barneveld v Kevin Painter
Barney has been playing well, but he tends to go through a three-leg patch in the middle of a game when he doesn't seem to hit a treble - and that's starting to hurt him. It's resulted in a couple of wins ending up as draws and that's why he lost to James Wade last week. He needs to tighten the legs up just before the break. But I spoke to him at the weekend and he's talking the right way and he isn't giving up like he has in the past.
Kevin Painter seems to be doing the right things at crucial times. He beat Hamilton last week even though he wasn't on top of his game and managed to hurt his opponent whenever he missed a couple of darts at a double. This will be a tough game though and he needs to get into the Dutchman and take a few big shots out to give himself a chance. But on form I've got to tip Barney, especially in front of a Scottish crowd because they love him up there. There will be extra noise and extra pressure on Painter as a result of that. The crowd could play a major part.