The mean machine
Rod Harrington says a lean, mean Phil Taylor is more ruthless, especially in the second half of games.
Last Updated: 06/03/12 4:17pm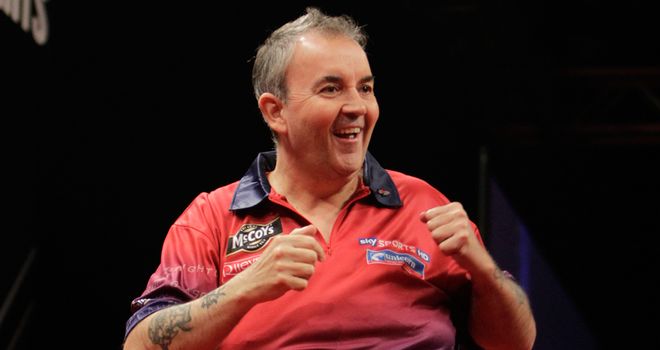 Phil Taylor looks to be in a hungry mood again. He looks mean.
It was incredible to see him hitting more treble 20's than single 20's in Exeter as he broke the Premier League record for an average with an unbelievable 117.35 last week.
In the interview afterwards he said he wouldn't reveal the secret to his success, but he mentioned that he's been eating well and keeping himself fit. I've been called a big mouth for the last 20 years whenever I've told darts players to get themselves in shape, but will they be saying that now that he's proven it works?
Like Raymond van Barneveld the week before, Simon Whitlock played some great darts but still got thrashed by The Power. It must be horrible to be throwing some great stuff, but not be able to get near a bloke.
It's horrible when you're standing behind a player and the darts keep landing in the treble. You're looking over their shoulder thinking: 'Come on, give me a break.' It's demoralising and fair play to Barney and Whitlock for showing plenty of character.
But at the end of the day, Taylor is a cut above everybody else.
Van Barneveld recovered from his Taylor defeat by beating Andy Hamilton in Exeter and he hasn't let anybody down this season. He's digging in and not giving up like he was a year ago, which is great to see. Hamilton was as strong as Taylor on his own throw, but his concentration drifted a bit towards the end. Those two dropped points could come back to haunt him.
Kevin Painter played badly last week, but he can take a positive from the fact he still only lost 8-6 to James Wade. He'll come out of this Premier League a much stronger player. Hopefully that result will kickstart Wade too.
The only player without a win on the board is the current double world champion. I felt Adrian Lewis was lacklustre in his 8-1 loss to Gary Anderson and he just didn't turn up. I thought he'd kick on after drawing his first three matches, but there are no easy games this year.
Everyone gives an extra couple of per cent against the double world champion and he needs to find a way to get a win.
Kevin Painter v Andy Hamilton
We're a third of the way down the road in this Premier League season and it's all to play for. Some years you might know the top four by week eight or nine, but this year it could go all the way. That's because the newcomers - Painter and Hamilton - have played some great darts and they've also been great characters. You can't keep the smile off Andy's face right now!
Hamilton was superb on his own throw last week, which is so important, and he played some brilliant darts. Kev was out of sorts, but still took six legs out of Wade and showed he knows how to grind legs out. On last week's performances, you'd probably edge towards Hamilton, but when you look at all the stats, I think you're looking at a draw here.
Phil Taylor v Gary Anderson
Gary Anderson is confident in his throw and has got his action back, but I wonder if he can hold on to Taylor in the first half of this game. He can't afford to be behind at the break because The Power is coming out stronger than ever after the interval. He's got this inner belief that he has the strength to play better as the game progresses. You could call it kidology because he almost kids himself into believing he will play better after the break. Anderson must be at least level after six legs to stay in the game.
Anderson cannot afford to miss doubles or else he will end up like Barney and Whitlock in the last fortnight. I can't see anything but a 110 average from Taylor and I've got to back him to win. I also fancy a bet on a nine-darter (in fact I'm tipping a hat-trick of nine-darters this year) and if you want a decent tip, you can get him at 5/2 to win the Matchplay or the Grand Prix or the World Championship. The way he's playing, he should win at least two of those three. People are saying he's unbeatable - and they're not far off.
James Wade v Raymond van Barneveld
We haven't seen the best of Wade for a while. He did the right things at the right time last week, but he's not a robot and sometimes he'll be great and other times he won't be. He's a raw talent and he'll accept that sometimes he can't quite do it. Some weeks he'll turn up and do it though.
I study the player interviews and Barney was saying the right things after his win over Hamilton. He thought he wasn't going to get a Premier League place and he knows people put a lot of trust in him, so he wants to repay that trust. That has resulted in a very different Barney. If the real Wade turns up then this should be a cracker, but on form I've got to go with Barney.
Adrian Lewis v Simon Whitlock
We all know the world champion is an exceptional darts player, but at the moment he looks like a footballer going out on the field at only 70 per cent fitness. We'll see flashes of brilliance, but his overall standard won't be good enough to compete with the very best. Adrian needs to become more consistent - it's no good throwing two 11-dart legs and then two 30-dart legs (if you could win matches like that then I'd still be playing!) he's been lacklustre and I'd like to see more urgency in his game.
Simon Whitlock is very strong and his only major flaw is closing games out, so Lewis knows he's got to fly out of the blocks. I'd like to see Adrian get his first win because that will make it a closer competition and I'm hoping the last few weeks of the Premier League are really close. However, I find it hard to make a case for a Lewis victory, so I'll tip him to put his fourth draw on the board.