Exeter briefs
Will Taylor triumph? Will Wade win at last? Will Lewis get out of cruise mode? Rod Harrington previews Exeter...
Last Updated: 29/02/12 11:25am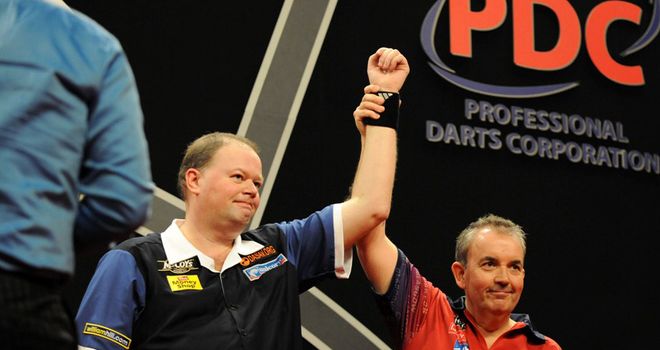 We've said it so many times, but Phil Taylor is the ultimate professional. He always wants to get better and better and in Belfast he proved he was the guv'nor.
He wanted to stamp his authority on the Premier League by beating Raymond van Barneveld convincingly and he did that in Belfast, producing the competition's second highest average in the process.
I compared him to a mile runner in last week's column and he produced a 50-second final lap to blow his opponent out of the water. It was particularly impressive because Barney played extremely well too.
I said at the start of the tournament that this could be the closest Premier League yet and last week proved it with three of the favourites failing to win.
Simon Whitlock was everyone's favourite to beat Kevin Painter, but my old mate stepped up and played some great darts. I liked the little air of arrogance around Painter in Belfast; at one point he took out an 86 checkout in two darts and then walked back as if to say 'are you surprised?'
A lot of people don't like that, but it's something that I used to do. When I took a big shot out I'd turn to the scorer as if to say 'you weren't surprised by that were you?' That air of arrogance gives you more confidence and if Kev gets more confident on his checkouts then he could push himself into the top four by the end of the season.
He got himself ahead of Whitlock, who had been in good form, but he couldn't keep up with Painter. When you're standing behind someone and you know they're going to hit the double it definitely puts more pressure on you.
Elsewhere, many of us had James Wade down as the favourite to beat Gary Anderson, but the real Anderson turned up and threw a three-figure average to take an 8-5 win.
And then Adrian Lewis was held to a 7-7 draw by Andy Hamilton. I think the world champion is getting through games too casually; an average performance from him is now good enough to get a result.
But when someone like Hamilton steps up then Lewis puts himself at risk and all of his games have finished as draws so far. If he could raise his level another five per cent then he'd win those matches and he'd be up there with Taylor.
The Belfast crowd were superb and I'm hoping for more of the same in Exeter.
Kevin Painter v James Wade
Wade still has no points next to his name and if he loses this week he should maybe start hitting the panic button. We've seen him start slowly in the past and still reach the semis, but the Premier League is different this year. You haven't got two or three players that you know you're going to beat.
For every darts player there's three areas you look at: scoring power, setting the shots up and taking the shots out. In every leg at the moment, Wade seems to miss one of those aspects. There's no question he is a great player with great bottle, but he's not putting it all together at the moment. That's not to say he won't turn up this week and get a good win though. The bookies will probably make him favourite, but I think Painter could be good value. He'll go into this match feeling really confident, his checkouts were beautiful last week and he's proving he is worthy of his place. I'll go for a draw here.
Raymond van Barneveld v Andy Hamilton
He may have lost 8-4, but Barney came off the stage after his match with Taylor saying he was happy with this performance and it's the first time I've seen him respond to a defeat like that. He knows that if he keeps playing that well then he'll beat everybody else - and he'll even beat Taylor on some days. He has stepped up his game and he seems to be a different person to what we saw last year; the confidence he has developed is giving him extra consistency.
It won't be easy against Hamilton, who is a street fighter. This guy is bare knuckle and if you take your eye off the ball he will bust your nose! I was glad to see him bounce back after his loss to Anderson in Aberdeen by drawing with Lewis in Belfast. He will need to work extra hard again, just like he did last week, but I think Barney will come out the winner.
Simon Whitlock v Phil Taylor
I can't see anybody in the world touching Taylor at the moment. Whitlock didn't really perform under pressure against Painter and he needs to be on top of his game. His strong suit is his checkouts and he will need to be at 85 per cent on his doubles if he is to beat Phil. He's a great frontrunner, but he can't afford to let Taylor establish a lead early on and will need to be up at the break. If not, Taylor could run away with it like he did against Barney.
I can't see anything but a Taylor win, but a few big checkouts from Whitlock in the opening legs could put him in the right frame of mind to have a go at Phil.
Gary Anderson v Adrian Lewis
I'm looking forward to this game and the crowd is going to love watching two of the most raw talents in the world. You can put these guys up there with people like Ronnie O'Sullivan, George Best and Hurricane Higgins because you never know what mood they'll turn up in - and I haven't got a clue who is going to win this game. I hate sitting on the fence, but either player could win or it could be a draw!
The most logical option might be to back Lewis because he has shown a little bit more consistency, but Anderson turned up last week and produced a sensational average all game. There will be a lot of 180's in this match, it will be high scoring and the loser will be the one that misses the most doubles to let their opponent in. I've got to sit on the fence on this one.