The Power bar
How high can Phil Taylor raise the bar? Rod Harrington previews the Premier League in Belfast...
Last Updated: 22/02/12 2:01pm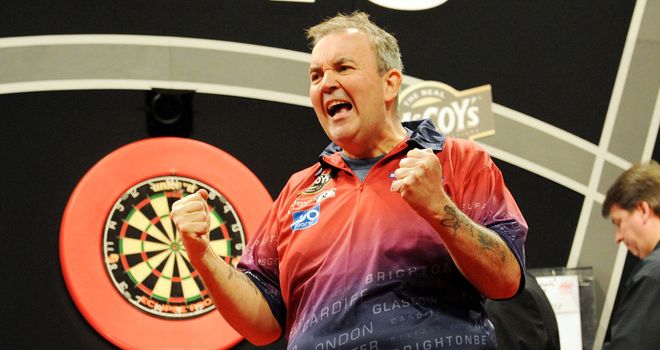 Phil Taylor just has to set that bar a little bit higher doesn't he?
Every time the rest of the players get close to him he decides to go and upstage them all over again - and that's exactly what he did with his latest nine-darter in Aberdeen.
He's like an athlete running a mile. He'll set the pace on the first lap and if the rest of the field keep up with him then he'll step it up again on the second. If they're still with him then he'll step it up again on the third - and then on the final lap he leaves them all for dead.
That's Taylor's strategy and he has incredible belief in himself now. He is going through a fitness regime and he believes he is stronger than everybody else, so after the mid-game break he is confident that he can play better than his opponents.
It may not be the case physically, but because he's got that thought in his head it makes him play better - and there's no doubt we've seen some unbelievable darts from him in the second half of his matches against Adrian Lewis and Kevin Painter. Both of those guys were in command of the game until The Power stepped it up after the interval.
In fact, when Painter came off the stage last week he wasn't too upset. He felt picking up five legs against Taylor will stand him in good stead later on in the Premier League season.
Raymond van Barneveld was involved in a superb match with Lewis in Aberdeen and it will be interesting to see how he copes with Taylor this week. Barney proved that he's on the way back, while Lewis didn't let up and proved what a great champion he is.
Elsewhere, home favourite Gary Anderson beat Andy Hamilton, who couldn't stop laughing when he came off stage. He said he'd never been booed so much in his life and he could barely hear himself think when they were singing 'Flower of Scotland'. He said it was one of the best experiences he's had in darts and it was good that he could take a plus out of it.
In the final match James Wade outscored Simon Whitlock throughout the game, but missed too many darts at doubles. Whitlock is on a high with his doubles and won the match, but it could easily have been a draw.
We move to Belfast this week, which is always one of the best crowds. They're very knowledgeable and they appreciate us going over there and putting the show on.
I remember the first time we went there and as I was leaving the venue a few youngsters came over and asked for a photograph. Then one of the kids said to me: 'I'd just like to say Mr Harrington, thank you for bringing darts like this to Belfast, so that we can come and watch it.'
We get people slagging us off all the time, but that was such a nice thing for someone to say and now I always want to make sure we take the Premier League to Belfast.
We should be in for another big crowd and some more great darts this week...
Kevin Painter v Simon Whitlock
I mentioned that Whitlock is on a high with his doubles and he'll take some momentum to Belfast. The thing I like about him is that he doesn't complicate things and just gets on with it. He believes that all the aspects of his game are right and that should see him play well here.
He's so consistent and that means Kev will have a hard task on his hands. He'll have to do what he did to Taylor and get into him early and put some pressure on him. However, if Whitlock gets into an early lead you might see him lose a bit of concentration like he did against Wade - and Painter will never give up. Kev might get chances, but he's going to have to take them like he did early on against Taylor. I wouldn't be surprised if we see a draw here, but I'll go for Whitlock to win 8-5 or 8-6. My old mate won't like me going against him, but I've got to call it with my head, not my heart.
Andy Hamilton v Adrian Lewis
I'm looking forward to this match and I think we'll see Hamilton bounce back after his defeat to Anderson. That was just one of those days and he needs to put it in the locker and move on. He knows he will need to get into Lewis early if he wants to take anything out of this game though.
Lewis is looking tired, I have to say, and maybe he's been on the road a bit too much because he isn't looking at his fittest. But that doesn't really matter because his darts have been doing the talking. He understands that he is a double world champion for a reason - and that reason is that he's a brilliant young player. He's not missing many doubles and that should see him win this game. I'd also back him to hit the most 180's on the night because guys like Wade and Anderson haven't been hitting as many as usual.
Gary Anderson v James Wade
Anderson is still doubting himself and seems to think he's lost his throw. I've told him that's not true; I reckon he's just lost his way a little bit and he's thinking too much. We never know which Gary Anderson will turn up; he might arrive in Belfast and throw a 115 average, but on current form I will go for Wade to get two points this week.
All Wade did wrong against Whitlock in Aberdeen was to miss a few doubles. He scored exceptionally well and if he carries on doing that then he won't have a problem. However, if he goes for a third straight week without picking up any points then he will start doubting himself and putting himself under pressure. He needs the win here.
Raymond van Barneveld v Phil Taylor
What a treat the Belfast crowd are going to bear witness to; it doesn't get any bigger than Barney v Taylor! It will be interesting to see how Raymond plays in this game because he has been in good form, but if Taylor races into an early lead will that form still be there? Will he fight to the end like he did against Whitlock and Lewis or will he fold? Personally, I think he's a different person now and we're in for a cracker. We'll probably see the highest check-out of the night in this game.
If Barney gets in front of Phil, like Painter and Lewis did, I think he may have the confidence to finish it off - so Taylor can't allow himself to fall behind like he has in his matches so far. Personally, I see him winning the game but Barney will run him close and it wouldn't shock me if the Dutchman gets a hat-trick of draws.