In with the new
It was debut delight for Kevin Painter, but Rod Harrington says he must raise his game to beat Phil Taylor.
Last Updated: 15/02/12 2:33pm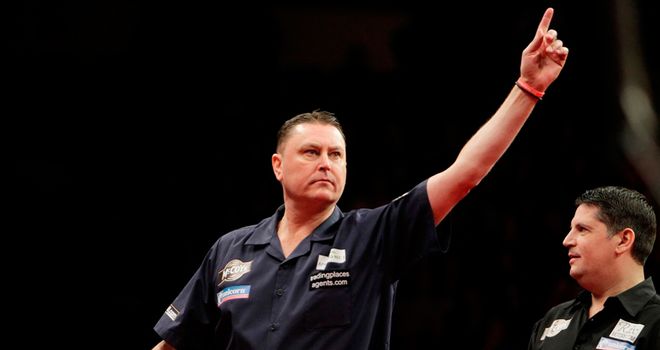 The PDC wildcards really stepped up to the plate on the Premier League's opening night in Manchester.
We got a lot of criticism from other players, who were telling us that we'd picked the wrong guys, but Andy Hamilton and Kevin Painter did a grand job. We don't very often make mistakes - and we certainly haven't here!
I spoke to Hamilton about two hours before he went up to play James Wade and he couldn't get the smile off his face - and neither could his wife. He just said he was going to go up and enjoy it and he proved to everybody that he likes the big stage and the big crowds.
In this game, when you're smiling you tend to play better and Hamilton walked away with a win against a class player. He did the right things and the right time and that brought him through.
As for Painter, he couldn't believe how badly his opponent, Gary Anderson, was playing. I've been there myself and it does put you off sometimes, but there are occasions when you need to win ugly - and that's what he did.
Kevin looked very nervous, I have to say, and the vast Premier League crowd does create a different atmosphere to other tournaments. There were 8,500 people in the arena last week, compared to 2,500 at the World Championship.
But he came away with a victory and both of the newcomers are in a good position now. Both gave a good account of themselves and I was very pleased for them.
The Simon Whitlock v Raymond van Barneveld clash was a superb game. The Aussie is near the top of his game and Barney is a different person to the guy we saw last year. He met Sir Alex Ferguson and Ryan Giggs at the Manchester United training ground and I think that made him realise how famous he is and also what a great job he has.
As for the Phil Taylor v Adrian Lewis match, it doesn't get any better than that. The 8,500 people in the arena and the viewers at home were treated to something very special.
Lewis was 5-1 ahead at the interval with a 100 per cent record on his doubles, but The Power came out and threw a near-120 average to fight back for a draw. I can't remember many better Premier League games than that.
Overall, it was the best opening night this tournament has ever seen. Let's hope Week Two in Aberdeen is just as good. I'm expecting some granite performances in the Granite City...
Adrian Lewis v Raymond van Barneveld
What a way to start the night. There's something different about Barney now; I know I've said that before and it's come back to bite me on the backside, but he seems to be comfortable and happy with himself - and that's when he plays his best darts. He's up against the double world champion, who was suffering with a bit of flu and cold last week, but still produced some of his best darts. This should be an absolute cracker.
I can't split these two. There's going to be a lot of 180's in this game and I think this match has got draw written all over it. If someone is going to win it, they will need a big shot-out, in excess of 100, at a crucial time, but otherwise I can only see a draw.
Gary Anderson v Andy Hamilton
The Scottish crowd will obviously love Anderson, but I'd say they'll also warm to Hamilton because he's a larger-than-life character and everyone loves him. He may get a bit of booing, but I don't think it will affect him - it's very rare that you see him react badly to the crowd - and he will get on with the game.
Anderson is an unbelievable darts player when he's on fire - if he starts pounding that treble-20 then nobody can stay with him - but he's not playing well at the moment. You can get 5/2 on Hamilton in this game and while I'm not saying he will definitely win, that's the best value of the night; if he can get into Anderson early on then that could be a great bet. I don't think this match will be a draw and I could make a case for either player because Anderson could easily turn it on in front of his home crowd, but if I was a punter I would have a bet on Hamilton.
Phil Taylor v Kevin Painter
Kevin needs to get up there on Thursday night and play the dart board, rather than the player. He seems to think Phil always turns it on against him and he mustn't think like that. The thing in his favour is that he's playing Taylor early on; you don't want to be facing him in one of the last two weeks when you need a result. Kevin will need to raise his game a couple of notches if he wants to take anything from the match and he will need to get a couple of early legs to put his opponent on the back foot.
With the way he's playing at the moment, I would back Taylor to beat anybody. Kevin has nothing to lose because nobody expects him to win and he can just go up and give it all he has. I don't think he will be as nervous as he was last week, but it will be an uphill task to take any points from this. Taylor should edge it.
Simon Whitlock v James Wade
James Wade lost last week, but if he hadn't missed three darts at double top then I'm convinced the game would have finished up as a draw. He has plenty of class and plenty of bottle, but his opponent is playing very well at the moment. Whitlock is definitely the form horse and this game will come down to crucial shot-outs and the odd missed double.
On form I would have to go for Whitlock, but a bit like with Anderson you'd have to say that Wade is inconsistent, but when he turns up he is a force to be reckoned with. He hasn't been doing it too much lately and has been quite hit-and-miss (he'll throw 30 darts in one leg, then throw two 12-darters), whereas the Aussie has been very consistent. Wade will need to turn up with his A-Game, but it wouldn't surprise me if a draw came up here.
Finally, if you're looking for a fun little bet then put a couple of quid on Lewis and Barney to throw the same number of 180's and also Whitlock and Wade. If they both come up then you could earn quite a bit of money!