Gr-eight expectations
Eight men will battle it out in Premier League Darts and Rod Harrington says it'll be closer than ever.
Last Updated: 08/02/12 1:41pm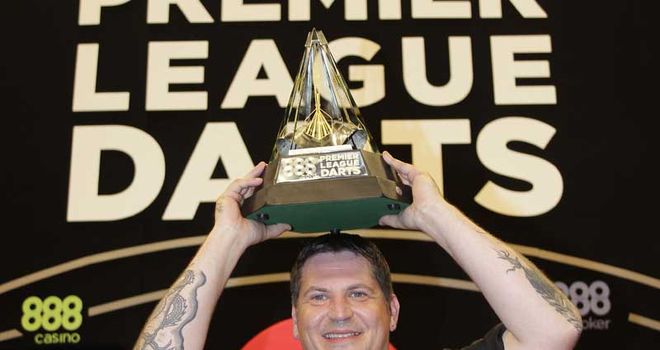 The Premier League is less a darts tournament and more a show!
We visit 14 different venues around the country before holding the finals night at the O2 Arena, so everybody in Britain gets to see the eight best players with the biggest characters in the game.
At some darts tournaments you may see a couple of less attractive matches on some nights, but the Premier League guarantees four great games every time. The crowds are huge - a lot of the venues can hold in excess of 8,000 people - and there's definitely an element of razzmatazz.
I think a lot of people come for the atmosphere rather than the darts. You see people dressing up for a big night out as if they're going to a nightclub and the players accept that they are part of a great time for the punters.
Darts-wise, I really believe that this year will be the best ever because so many of the players are coming into form. It's going to be the closest Premier League we've seen, that's for sure.
In previous years we've seen Phil Taylor dominating and guys like Peter Manley and Wayne Mardle getting beaten every week, but these eight players will all step up to the plate.
In fact, I reckon we'll see more draws than ever before. If you like a bet then why not back four draws every week because it might come up and you'll make a lot of money!
Read on for my thoughts on each player and I've given my verdict on who will reach the top four, but I can't emphasise how tight this will be. Any of them could make the play-offs.
Phil Taylor
The Power is not at his best right now. He's missed a few doubles lately and at the World Cup he lost four singles matches on the trot. His partner, Adrian Lewis, carried him through the first couple of rounds, but as the tournament went on, the older man got stronger and stronger and there were signs of his best darts in the semi-final and the final.
Possibly for the first time ever, we may have seen him start to doubt himself, but he will do whatever it takes to get back to the top in the Premier League. He hates it when people write him off, but he loves to prove them wrong. However, I do think he may have lost some of his invincibility because all of the other players have improved. He set such a high standard for so many years that other players would turn up to tournaments asking what the prize money was for second place because they knew they couldn't beat him. Nowadays the players have studied Taylor and learned how to find the extra five per cent. In a lot of ways Phil has made a rod for his own back!
ROD'S VERDICT: I think he will definitely make the top four. The 14-week format falls into his lap because if he gets it wrong once or twice he will get it right every other week. I've got to back him to win it too.
Adrian Lewis
The one thing that Adrian Lewis lacked for many years was maturity and I think his second World Championship win has proved he has that now. His epic semi-final win over James Wade will stand him in good stead for years to come because he proved to himself that he has the grit and determination to win from a long way behind. He didn't have that in his early days and he now carries the air of confidence that you would expect of a double world champion.
I wrote on this website before the World Championship that I expected him to have a good tournament to set himself up for a great year in 2012 and I believe he will be a force to be reckoned with this year. He plays Taylor on the opening night and it doesn't get any better than that; two world champions, who've just won the World Cup together, coming up against each other in the opening clash.
ROD'S VERDICT: We'll see fireworks from him some nights (and some dull nights from him too), but his scoring power and consistency means this event will fall into his hands over 14 weeks. He'll be in the top four, no question.
James Wade
This is going to be a tough year for James Wade. He needs to get back the self-confidence in his own ability that I believe he's lost. There's no question he's an exceptional player and his bottle is up there with Phil Taylor's when he's running hot, but the standard of the Premier League is very high this year and he will need to pull something out of the bag to make the play-offs.
The key for James will be to stay serious every night. If he does that then he can probably make the top four, but if he takes his eye off the ball at any time then he will lose - but that goes for any of the players.
ROD'S VERDICT: Four years ago he'd be one of the first names on your list of players to reach the top four, but this year he will need to step it up to make it.
Gary Anderson
You can never write off the defending Premier League champion because his scoring power is immense; he can hit treble-20's like no other. He won two sets against Colin Lloyd at the World Championship in less than 10 minutes, which is exceptional.
However, by his own admittance, Gary Anderson misses too many doubles and there will be nights throughout this Premier League season when he gets punished for that. It's going to be an interesting year for him because the standard is so high. A lot will depend on which Gary Anderson turns up; if he takes the doubles out then he will unquestionably make the top four, but if he starts to miss them he will suffer for it. There's no sympathy in this game.
ROD'S VERDICT: It's going to be a close one for Gary and it's all down to him. He will always give himself chances and he will need to take them if he wants to make the top four.
Simon Whitlock
Simon Whitlock is playing exceptional darts at the moment. He broke his foot and was out of the game for a long time last year and in my opinion he might have realised - subconsciously or otherwise - how fragile his darts career is. Anything, at any time, can end your career and while he was spending time sitting on his sofa at home he was wondering what he would do if he was unable to throw darts again.
As a result, he has got more serious about his sport and the Simon Whitlock I've seen in the last two months is different to the one I've seen in the last 12. He is more focused and he is obviously putting plenty of practice in. He will win a lot of games this year because he's got his checkout ability back and opponents are always desperate to outscore him because they know he can take out big finishes.
ROD'S VERDICT: He will push for the top four this year. I must stress how close this year's Premier League will be, but right now I would put him in my top four.
Andy Hamilton
I was thrilled to see Andy Hamilton finally get a spot in the Premier League. He was on the verge of a place in the early years of this tournament, but has finally been rewarded after reaching this year's World Championship Final. He certainly got my vote when the PDC were debating the wildcards.
He's a larger-than-life character and reminds me of Cliff Lazarenko because everybody loves him when he gets up on that stage. He's emotional in his game, he wears his heart on his sleeve and the crowds will respond to that. He is perfect for the Premier League with his 'Hammer' nickname, his thumping music and the inflatable hammers that he throws into the crowd. But let's not forget, this bloke can play great darts, has got bottle and will give 150% every week. He should be a great asset to this tournament.
ROD'S VERDICT: He will have to play at the very top of his game to make the top four, but he has got that game within him.
Raymond van Barneveld
I got a lot of stick from various people - both in person and on darts forums - when we announced that Raymond van Barneveld was getting a wildcard this year. He was in poor form in 2011 and people are saying he only got picked for commercial reasons, which is true up to a point because he's a crowd-pleaser up on that stage.
But let's not forget that this guy is a five-time world champion and a class darts player. Even when he's playing badly he has the ability to go up and throw a nine-dart leg; we've seen that several times. I've said this before and it's bitten me on the backside, but Barney has been talking differently of late. He looked good for much of the World Cup in Hamburg, even though he didn't throw well in the semi-final, partly due to the fact his partner Vincent van der Voort was so ill. He realises he needs the sport and I think he's got his love for the game back. If that's the case then everybody else needs to watch out.
ROD'S VERDICT: He's got everything you need, that's why he's a five-time world champion, and I'm going to tip him for the top four alongside Taylor, Lewis and Whitlock. A lot of people will disagree with me but I think he can do it.
Kevin Painter
I'm delighted that my old mate has finally made it into the Premier League. It was perhaps a bit unfair that he missed out on a place in the first ever Premier League and I think he will be a great asset. He has a lovely bit of arrogance on the big stage, which will go down brilliantly in front of a large crowd. They will love him and hate him!
In winning the Players Championship last December he proved he has got the game to get to the very top. He's in there because he deserves his place and because his ability to do well among this class of player. He will need to step it up against the likes of Lewis and Taylor, but an opening match against Anderson may be a good one for him. If he gets off to a flyer then it will give him the confidence to move forwards. This is his chance to stamp his authority as a major TV player - and he doesn't normally pass up chances when he is given them.
ROD'S VERDICT: You'd have to say that in this field it will be very hard for him to make the top four and he will have to play great darts in every event to qualify.