Who pairs wins
Rod Harrington looks at the dynamic duos who will be hoping to take home the World Cup of Darts.
Last Updated: 31/01/12 4:51pm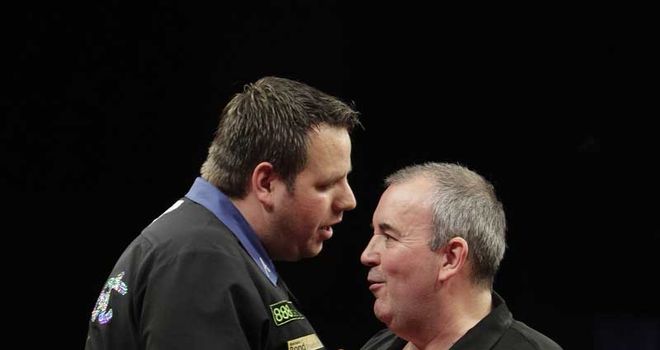 Every sport has a World Cup - and a few years ago Eddie Hearn thought it would be a great if darts did the same.
Barry Hearn dismissed the idea at the time - but then about 18 months ago he declared: "You know what... I think we should have a World Cup", which made us all laugh at the PDC.
But once he has an idea in his head he makes sure that it happens and at the end of 2010 the first World Cup of Darts was held.
It was an unbelievable success, largely because of the Spanish team who shocked everybody by beating England's Phil Taylor and James Wade (their star player Antonio Alcinas was also very popular with my wife, who declared she would watch more darts if more players looked like him!)
The top-two ranked players from 24 countries took part and the format really brought the best out of everybody. The number one player in the pair doesn't want to let his partner down, so raises his game and then the weaker player doesn't want to let the big man down so he steps up as well. As a result, you get a really nice rapport between the two.
So we saw people like Mark Webster, who doesn't normally show much emotion in his singles matches, letting it all pour out when he represented Wales.
The Netherlands were crowned champions and while Raymond van Barneveld has always been a great player, having a friend like Co Stompe beside him brought the best out of him. He didn't want to let his buddy or his country down and the result was some exceptional darts.
People get bored if you use the same format for every tournament and the team element makes the World Cup unique. We used to play doubles darts all the time back in the 1990's, but for the newcomers to the sport this will be something different.
It brings another dimension to darts. When you score a goal in football, the whole team celebrates but in individual sports the only person who is happy when you win is yourself. This is a rare occasion when one of your colleagues will be happy when you win!
This event also shows the global appeal of darts and it will be a very open tournament. Maybe if it was a five-man squad you'd say England or the Netherlands would win easily, but that's not the case with two-man teams. We've got some great countries represented here.
Yes, the English duo of Phil Taylor and Adrian Lewis are the favourites, but the standard is incredibly high right around the world nowadays.
Here are some of the teams to look out for (in order of ranking):
1 - England (Phil Taylor & Adrian Lewis)
There has always been an element of The Sorcerer and The Apprentice with these two and now the apprentice feels he is the equal of the sorcerer (and as a double World Champion many would agree with him). Neither of them have played competitive darts since the World Championship, but you will see a high quality display because Taylor will want to prove he's the better player, while Lewis will want to prove he's the equal of the 15-time world champion. Arguably they will both be on the top of their games and they will take some beating. There wasn't much rapport between Phil and James Wade last year, but this is one trophy that Taylor has never won and he'll want to put that right.
2 - Australia (Simon Whitlock & Paul Nicholson)
These two players have contrasting personalities, but when they're playing as a team you'll find that they gel. Whitlock tends to get on with his game and may simply raise a finger if he hits a rare double, whereas Nicholson loves to interact with the crowd all the time. However, I think Nicholson will tone that down out of respect for his partner and in my eyes these two are the danger team. You've got the high scoring and the shot-taking of Whitlock and the class and bottle of Nicholson. They will take some beating.
3 - Netherlands (Raymond van Barneveld & Vincent van der Voort)
As I said above, Barney is an unbelievable darts player but he sometimes needs someone to put their arm around him. Co Stompe did that last year and encouraged him to be the brilliant Van Barneveld that we all love. Vincent van der Voort has taken Stompe's place this year and they will undoubtedly be one of the main challengers again. I watched Barney at the weekend and he was throwing well and had a smile on his face. Van der Voort is a high scorer, but has had some back trouble of late. I believe he is over that and they will be a force to be reckoned with.
4 - Scotland (Gary Anderson & Peter Wright)
Gary Anderson is always a formidable opponent because of his high scoring. He is exceptional when he starts hitting the treble-20 and against Colin Lloyd in the World Championship we saw him win one set in 4mins20secs and another in 5mins20secs. That's simply incredible scoring. I think he will take things more seriously when he's playing with someone else; he can be a bit flippant when he misses doubles, but he won't want to let his partner down. Peter Wright hasn't been playing great lately, but there's no doubt he will step it up and the Scots will be in the mix.
5 - Wales (Mark Webster & Richie Burnett)
I spoke to Richie Burnett last weekend and he said he's playing the best darts of his life, scoring like he's never scored before. He just needs to hit a few more doubles - but in this tournament Mark Webster can hit a few doubles for him! Webster is a class act and got to the final with Barrie Bates last time. No matter which sport Wales take part in they are always passionate and that passion will make them concentrate more and play better. If they were allowed, I'm sure these two would fight you before they play you!
6 - Northern Ireland (Brendan Dolan & Michael Mansell)
I don't see the Irish duo winning the tournament, but they could be big spoilers. Mickey Mansell has been in the PDC system for just over a year and has produced some good performances, while Brendan Dolan was the runner-up in the 2011 Grand Prix after playing the best darts of his life. Again, the Irish love representing their country and I think they could have a say on who will win the World Cup.
7 - Belgium (Kim Huybrechts & Kurt Van De Rijck)
Kim Huybrechts has got a big future in this game, there's no question about that. He's a great scorer, he sets his shots up well and all that he lacks is a little bit of experience (not that it seemed that way at the World Championship). This kid will be mega dangerous against anybody and I'm sure Kurt Van De Rijck will step it up as well. They may not be consistent enough as a pair to win it, but if anybody takes them lightly they could be in for a shock.
8 - Germany (Jyhan Artut & Bernd Roith)
Of the seeded teams, the Germans are definitely the outsiders. Both Jyhan Artut and Bernd Roith are experienced players and it will be interesting to see how they play as a team. However, German sportsmen always have an air of confidence when they're playing for their country (how many times have their footballers played badly, but still beaten England?) and they can both play a high standard of darts, so they won't be scared of anybody. They're outsiders for the trophy though.
Also look out for...
Sweden's Magnus Caris was in good form in Benidorm at the weekend, where he made a semi-final, and he has plenty of experience on the big stage. He will partner Dennis Nilsson and of the non-seeds you need to look out for the Swedes. Also Spain will walk into the building full of confidence after what they did last year and nobody will want to play them. South Africa's Devon Petersen is another great young player, who pushed Gary Anderson all the way at the World Championship and he's great for the game. There are no easy games and if the top players aren't serious from the start then they could be going home early.
Rod's call
Everybody will be going for Phil and Aidy, especially the bookmakers, but an England win is not guaranteed when you look at the quality in the field. I would agree that England are the favourites, but if they don't win it, I'm going to tip the Aussies.