Darts' drama class
Rod Harrington explains the factors that have made this the greatest World Championship ever.
Last Updated: 02/01/12 12:57pm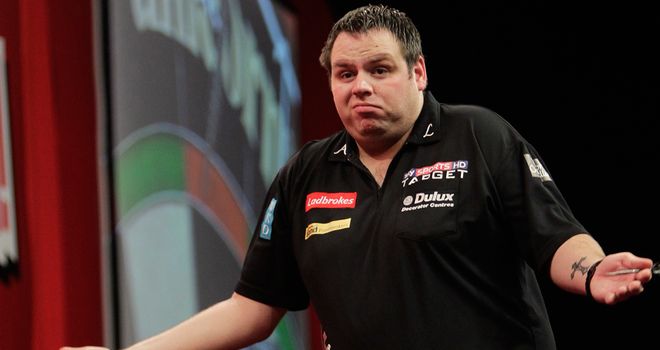 There's no question that this is the best World Darts Championship we have ever witnessed.
I keep saying this, but it's testament to the way the PDC runs its rankings system. It's taken us years to get to the stage where the professionals who are playing well on the circuit get a chance to play in the TV majors.
The new players have been toughened up by the PDC Tour and they're not scared of the top dogs any more. There's no invincibility like there used to be - and that's why we've had brilliant games from the very first round.
This sport has a knack of pulling things out of the fire. I remember when the 2010 Premier League Final was postponed because of a power cut at Wembley, but nobody ever talks about that because the next day Phil Taylor went up and threw two nine-darters. That's all people remember.
When you think about the current tournament, we've seen Taylor and Raymond van Barneveld go out early but nobody has been talking about that in the last few days because the games have been so exciting. That shows you how strong the sport is.
You couldn't buy the sort of drama we saw on semi-final night. Barry Hearn often says about darts that we sell you a seat, but you'll only use the edge of it - and he's absolutely right.
I commentated on the Andy Hamilton v Simon Whitlock match and it was absolutely incredible. Hamilton was way out in front, then Whitlock fired back, but even though he was within striking distance of the finishing line, he couldn't get over it.
The second match was just as dramatic. James Wade was 5-1 up and I don't think anyone thought he could lose from there, but somehow Adrian Lewis found a way to win.
Sometimes when players have a big lead they think they just need to stay straight and they lose a bit of concentration. The other player thinks he can't win and that relaxes his arm - and suddenly he starts hitting higher scores.
That happened for both Hamilton and Lewis and when they took a few crucial doubles out the pressure fell on their opponent. As a result, we saw a complete turnaround in both games.
Delay
To add to the drama there was a long delay when Lewis and Wade went off because of a breeze on the stage.
I heard people phoning in to the radio after to slag off the PDC, so I had to call them up myself to put them right. This is something that happens and you can't foresee the air conditioning kicking in like that. You can set the thermostat to a certain level, but it was incredibly hot at Alexandra Palace and there is probably an override that makes it turn on when it gets to a certain heat.
There was no gamesmanship because both players went off and there was definitely a breeze up there. It was possibly there during the first match, but Hamilton and Whitlock both throw heavier darts and throw them about 20mph harder so it wouldn't have affected them. In fact, Whitlock even changed his darts when he was 3-1 down.
Despite that incident we were treated to some real drama, but that was to be expected. I don't usually sit on the fence, but I told the corporate customers beforehand that I couldn't call either match. All I could predict was that Lewis would hit more 180's, there would be a checkout of more than 135 in both games and that both games would go to 11 sets.
Climax
And I certainly don't think the final will be an anti-climax. You could argue that Lewis might run away with it because of his scoring power, but Hamilton has proved himself to be a score merchant in this tournament. He is also one of the nicest people in darts. He's never been in front of our disciplinary committee and he always does things in a totally professional manner.
As for Aidy, he's the reigning champion and I've been his biggest fan and his biggest critic over the years. However, you'd have to say that comeback from 5-1 down against Wade is up there with his greatest ever performances.
He says he is destined to win this title and in his post-match interview he said he believes he is the best player in the world at the moment. He's not saying he's better than Phil Taylor, but he believes he's the best player in the world at this precise moment. That's a great statement from a very confident person - and his semi-final win proved he has the bottle to back it up.
Lewis has always been overshadowed by Taylor and it would be nice to see him win a second straight title because that would push him out of his shell and make him take his darts more seriously next year. I think we will see a new Aidy Lewis in 2012.
However, now Hamilton has his form back we have yet another player in contention for major titles. I would say Lewis may nick it, but the only prediction I will make with any confidence is that Aidy will hit more 180's.
Personally I don't care who wins. Whoever comes out on top will make a great champion.