Sting in the Tayl
Rod Harrington says Phil Taylor's defeat proves there is no fear factor in darts any more.
Last Updated: 29/12/11 11:54am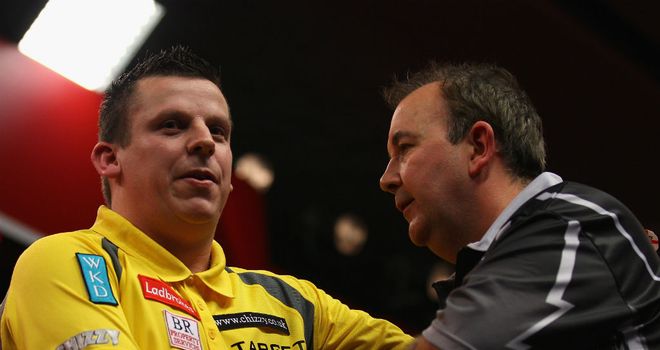 When we did the draw for the World Championship back in November, I remember saying that the one person Phil Taylor didn't want to play in the second round was Dave Chisnall.
The man is a prolific scorer who doesn't care who his opponent is. He just gets on with his game and he plays great darts.
Normally Phil imposes his all-round game on whoever he is up against and piles on the pressure leg on leg. But on Tuesday night it was the other way round and Chisnall imposed himself on The Power as he produced that shock 4-1 win.
There were five or six key points in the game when Chizzy put all sorts of pressure on him. At one point he was on 220 with Taylor needing 76 and he produced a 180 to make his opponent as uncomfortable as possible. Taylor has been the master at doing that throughout the years, but this time the tables were turned.
From the first leg Phil didn't look right. He missed two darts at a double as he failed to check out 87 and, as he said in his interview afterwards, he didn't feel confident on his finishes after that.
I went into the office of the PDC's CEO Matt Porter during the first set and he said to me: 'Phil will be alright won't he?' but I didn't think he would be. He wasn't there. He wasn't the aggressive Phil Taylor who loves to attack the dart board.
I wouldn't read too much into that long term. We expect so much of him because he has set such a high standard over the years, but we must remember he is a human being and he just had a bad day. Don't forget, he had an average of more than 100 and it required an exceptional performance from Chisnall to beat him.
Only two months ago at the Grand Slam we saw Taylor produce one of the best days of darts of his life, as he beat Adrian Lewis in the semi-final and Gary Anderson in the final. I'm sure he will re-evaluate things, but he will be back - and every other player knows it.
There's no question The Power will come again, but I don't think he will dominate like he used to. I think we're seeing the game of darts opening up - and this is only the start. Phil had set the bar at a place that many of the players couldn't get to in the past, but now some of them are hitting those heights.
And all of a sudden, every player left in the tournament believes that he can win it.
Testament
I can't help but think that Chisnall's win is testament to the brilliant tour events that we hold throughout the year.
These guys are playing against each other and mingling with each other week in, week out. The newcomers are not scared of Phil Taylor or Raymond van Barneveld or James Wade any more.
They've played the top players in tournaments throughout the year and that makes them more comfortable on the big stage. As a consequence, when Taylor or Van Barneveld are not on top of their game then they can be beaten.
In my day the young players were scared of people like myself and Eric Bristow, but that doesn't happen anymore. There's no fear factor and if you're not on your game you can be beaten. Any one of the top 128 players in the world can beat the top guys if they're not at their best. The PDC has formulated the system over the years in the best interests of the game and I think this tournament has proved we've got it spot on.
I think the emergence of Devon Petersen has been very exciting. The young man has a lovely air about him and it was good to see him dancing with the girls on the way to the stage on Wednesday night. He really took his game to Gary Anderson and if the Scotsman hadn't been at his best then he would have been in trouble. Petersen has a big future.
Scott Rand may have lost to a rejuvenated Colin Lloyd, but he also looks to have a promising future and I was impressed with how well Jyhan Artut played against Anderson in round one; he really should have beaten him.
There's a lot of talent coming through and some of the older guys are starting to realise that this game is not a comfortable ride any more. If you don't step up to the plate then you're history.
My old friend Kevin Painter realises that. He's lost weight and has become a lot more focused on the sport. I speak to him before every game he plays and he's going to be a serious threat because he knows how hard it is in darts nowadays.
This is a cut-throat sport. As I've always said, there's no sympathy in darts, so don't ask for any.