Second's out
Rod Harrington tips up the rest of the second-round matches at Ally Pally. Where will we see a shock?
Last Updated: 26/12/11 9:31am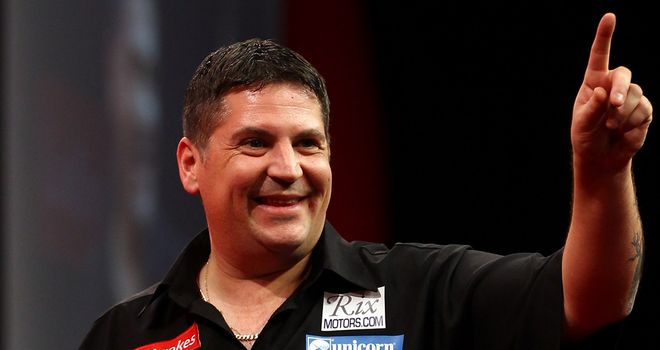 We keep saying the standard of darts is getting better and better - and the World Championship is proving it.
In years gone by the first round tended to be a bit mediocre, but we have seen some sensational games where top players have struggled against people that the general public haven't heard of. Raymond van Barneveld went out, while guys like Adrian Lewis and Gary Anderson could easily have lost.
It's a testament to the way the PDC has adapted the system to get the TV players. We take some players from the world rankings, but we now take 16 players from the Pro Tour Order of Merit as well.
So at the World Championship you get the top 32 from the world rankings, but those are compiled over a two-year period. We then take the next 16 best performing tour players and give them a chance on the big stage - and that's where form players like Scott Rand and James Richardson have come from.
A lot of players opposed those changes initially, so for myself and the other members of the PDC board it's great to see guys like Rand and Richardson make it to the second round.
It was a fairytale for Richardson to beat Barney at Alexandra Palace and you could see the adrenaline flushing through him on his way to the stage.
In fact, when the audience had gone home, myself and Dave Clarke walked into the empty auditorium to see James stood next to the stage with his wife and son, while he re-lived what had happened. He told me he couldn't believe what he'd done and he couldn't thank people enough for giving him the chance to get up there and do that.
Myself and Barry Hearn get lots of complaints from players when things don't go right, but that gratitude makes it all worthwhile. You can put up with all the hassle in the world when you see guys realising their dreams.
Rod's guide to the second-round games:
Tuesday December 27 (afternoon session: 1pm, Sky Sports HD2)
Terry Jenkins v Co Stompe
Terry Jenkins is showing the sort of form that got him to seven major finals. Co Stompe was brilliant in his first-round match against Michael Smith, but if you look at his record he tends to be brilliant in the first round and mediocre in the second. I can only see a Jenkins win here because he's looking like he's getting back to his best
Richie Burnett v John Part
I'm looking forward to this one. Richie is my mate and is playing better darts than when he won the World Championship; his first-round match with Mark Webster was absolutely brilliant. I get on with John Part very well too and he seems to be getting some form back, so I think he's going to win. It should be one hell of a battle though and it should be a great one for the crowd and people watching on TV at home.
Vincent van der Voort v Andy Hamilton
This is a tough one to call because Andy Hamilton played very well against Antonio Alcinas in an unbelievably good first-round game. Vincent van der Voort also played brilliantly, throwing eleven 180's against Mark Hylton so I don't know how you can pick a winner. Van der Voort is a heavy 180 scorer and that will give him many chances to win legs, but Hamilton is a more solid player as long as he hits his doubles. I could make a case for either to win this.
Evening session: 7pm, Sky Sports HD2
James Richardson v Kim Huybrechts
What a great story for James Richardson. He'll still be on Cloud Nine after beating Barney. Kim Huybrechts has come out of Belgium playing some brilliant darts in 2011, so I think you can expect some class darts from two class players. We should see a cracking match that will go to seven sets. I really can't call it.
Phil Taylor v Dave Chisnall
This will be a belter. Phil Taylor of course has a solid all-round game full of scoring power and the ability to take out big shots. That game will go up against Dave Chisnall, one of the best scorers in darts. The one flaw that Chisnall has is that he misses too many doubles and I fear that will kill his chances. If he goes up there with a 60% checkout ratio then we are in for a mega game of darts and a chance of an upset, but I can only see a Taylor win because his overall game is so strong.
Paul Nicholson v Alan Tabern
Alan Tabern was in great form a couple of years ago and showed a little bit of that in his first match against Christian Perez, but I suspect Paul Nicholson's overall game will give him the edge here. Tabs is the sort of player who can go up and start firing high scores, but after watching Nicholson's solid first-round effort I have got to lean towards him.
Wednesday December 28 (afternoon session: 1pm, Sky Sports HD1)
Mervyn King v Michael van Gerwen
This will be another cracking game. There's no doubt that Mervyn King has come back into form and when he's on his game he is one of the top players in the world. He's class on the treble-20 and he's looking good on the trebles. Michael van Gerwen is a lovely young man, who scores heavily and it was no surprise to see him beat Colin Osborne, but he sometimes misses doubles at bad moments. It wouldn't surprise me if we saw an upset, but I will call this as a King win.
Simon Whitlock v Steve Beaton
Simon Whitlock's win over Dennis Smith was simply unbelievable. He could hardly walk when he came into the building and none of us - including himself - knew what he was going to do. He was unable to hit a 20, never mind a treble-20 last week, but he produced an amazing performance out of nowhere. He has a few days off to relax, so I don't think his foot injury will be a problem and he has nothing to lose because he didn't think he'd be in the tournament. Steve Beaton got out of jail against Magnus Caris and needs to step it up to have a chance. Whitlock should win as long as his foot is okay.
Colin Lloyd v Scott Rand
I've never seen a guy feel more comfortable on the big stage than on the floor, but that's the case with Scott Rand who beat Andy Smith 3-0 and looked brilliant at the Players Championship in Doncaster. He's at ease with the crowd, he's throwing brilliant darts, he looks great and comes across like a veteran professional. I hope someone sponsors him so he can give up his day job driving trucks! Colin Lloyd showed the grit and determination that made him world number one many years ago and he's going back to basics with his style. This is a tough match and I can make cases for both players. Lloyd's scoring power is better, but if he gets edgy then I think Rand could win. I see it going to seven sets.
Evening session: 7pm, Sky Sports HD2
Gary Anderson v Devon Petersen
I expect Gary Anderson's scoring power to get him through this one. Jyhan Artut had four darts at a double to beat him, but he got out of jail and his Christmas dinner will taste a lot better as a result. I think that will serve as a wake-up call and while Devon Petersen is an impressive young man I can't see him getting through to the third round.