Back for seconds
Rod Harrington guides you through the second-round darts action in store before Christmas.
Last Updated: 22/12/11 1:14pm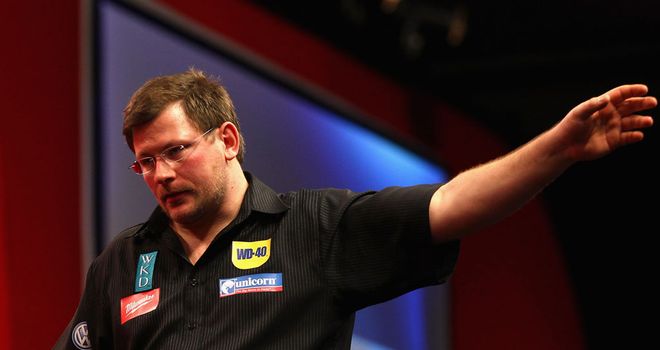 We keep saying the standard of darts is getting better and better - and the World Championship is proving it.
In years gone by the first round tended to be a bit mediocre, but we have seen some sensational games where top players have struggled against people that the general public haven't heard of. Raymond van Barneveld went out, while guys like Adrian Lewis and Gary Anderson could easily have lost.
It's a testament to the way the PDC has adapted the system to get the TV players. We take some players from the world rankings, but we now take 16 players from the Pro Tour Order of Merit as well.
So at the World Championship you get the top 32 from the world rankings, but those are compiled over a two-year period. We then take the next 16 best performing tour players and give them a chance on the big stage - and that's where form players like Scott Rand and James Richardson have come from.
A lot of players opposed those changes initially, so for myself and the other members of the PDC board it's great to see guys like Rand and Richardson make it to the second round.
It was a fairytale for Richardson to beat Barney at Alexandra Palace and you could see the adrenaline flushing through him on his way to the stage.
In fact, when the audience had gone home, myself and Dave Clarke walked into the empty auditorium to see James stood next to the stage with his wife and son, while he re-lived what had happened. He told me he couldn't believe what he'd done and he couldn't thank people enough for giving him the chance to get up there and do that.
Myself and Barry Hearn get lots of complaints from players when things don't go right, but that gratitude makes it all worthwhile. You can put up with all the hassle in the world when you see guys realising their dreams.
Rod's guide to the pre-Christmas second-round games:
Thursday December 22 (7pm, Sky Sports HD2)
Wayne Jones v Roland Scholten
Roland Scholten is a top player - he was a mega scorer on the treble 20 back in his best days - and he is coming back to form. I tipped him to win his first-round match and he came through quite comfortably. However, Wayne Jones is a Rottweiler of a darts player; he gets hold of the bottom of your trousers and he doesn't let go! You can't beat him if you don't play well, but he does have a slight flaw on his doubles. If Scholten raises his game five per cent he could win this, especially if his opponent misses a few doubles, but for me you might as well flick a coin. The bookies have Jones as favourite, but I could see an upset.
Adrian Lewis v Robert Thornton
Robert has been ill with pneumonia this year and he may feel the effects of that lingering on for a long time, so he did very well to win his opening match against Ian White. That was great to see because he's a lovely fellow. Adrian Lewis got out of jail in his first-round match with Nigel Heydon, but I think he will be full of confidence now and will get out of the gates quickly on Thursday night. He hasn't been hitting enough 180's and he needs to improve that if he's going to have a big run at this tournament. If he messes around like he did on the opening night then Thornton will soon get into him, but I'm expecting a top performance from the world champion.
Wes Newton v Justin Pipe
These are the two most improved players on the circuit and I think this is another match where you might as well flick a coin. Justin Pipe is a slow player and I think that might upset Wes Newton's rhythm; he loves to get to the oche and get on with the game. Wes will need to walk back an extra couple of steps every time he collects his darts to compose himself while Pipe throws. I see Newton outscoring him, but Pipe may upset his rhythm on the doubles. I hate sitting on the fence, but I can't help it in this instance.
Friday December 23 (7pm, Sky Sports HD1)
Mark Walsh v Kevin Painter
If Kevin Painter hadn't walked in my bar 25 years ago I would never have become a darts player. We used to practice together and we always have chat before he goes up on stage, so it's great to see him having so much success. He's different nowadays because he doesn't get angry when he misses doubles and he had a calm and collected air about him in the first round against Arron Monk. He's lost 12lb in weight and is looking after himself better too. He comes up against one of the most solid players around in Mark Walsh, who is guaranteed an average of 94 or 95. Kev has got to hold his throw and not worry about a few bad legs because averages mean nothing as long as you win three out of five legs. If he doesn't get flustered I can see Painter nicking it, but I think it will go to the last set.
James Wade v Jelle Klaasen
Jelle Klaasen is a former BDO world champion, but hasn't played well in the PDC. He took his chances against Peter Wright, but he now faces a true top darts player who has seven majors to his name. James Wade lost concentration a little bit in his opening-round match, but if he stays focused he should win this. Klaasen will need to win the first two sets if he is to win this game, but I can't see an upset here. The early parts of the match will decide it though.
Steve Farmer v Kevin Munch
Let's be honest, neither of these players expected to be here so this is a great draw for both of them. I've seen Steve Farmer play very well on the Tour in the last two years, but his form has dipped in the last six to eight months. However, the way he beat Ronnie Baxter was pure class, despite a few nerves as he approached the finishing line. Kevin Munch is a good, solid player but I wonder if the young man will get a bit too excited at this level. I think Farmer will win because of his experience.