A real Barn-stormer
Rod Harrington analyses the World Championship draw and asks if Barney could be in for an upset.
Last Updated: 09/12/11 3:53pm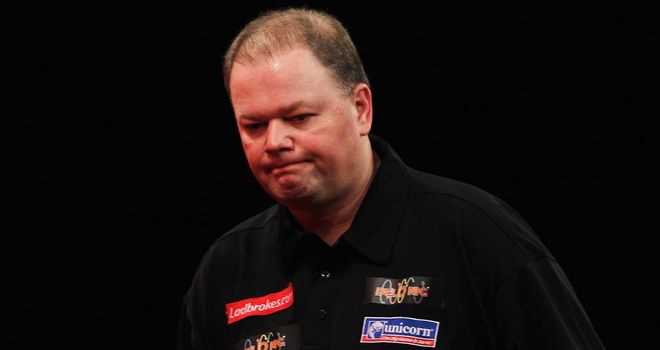 The draw is done and now the World Darts Championship feels like it's started.
The final qualifying event was held at the weekend and all of the players were desperate to know who they'd get in the first round so they can start looking looking at the draw and all the permutations for their tournament.
This is a nervy time for the players because the World Championship carries so much money and therefore so many ranking points. If you play well at Alexandra Palace it sets you up for the whole year, but if you play badly the next 12 months can be a disaster.
I feel a lot of responsibility conducting the draw because, inevitably, some players will give me grief. I once refused to do a draw in Las Vegas because I'd pulled Kevin Painter out against Phil Taylor three times in a row! Kevin's been a mate of mine for 30 years, but he thought it was a fix!
For this year's World Championship, Keith Deller wanted to pull the seeds out and that means I'm the one who gets the flak when I pull out a hard draw for one of the top boys!
It's also a nerve-wracking thing to do because if you make one slip-up then all the players start demanding a re-draw.
Thankfully, everything went to plan and there are a couple of tasty matches scheduled for the first round.
Best of Round One
I think Mark Webster v Richie Burnett could be the tie of the round. The two Welshmen know each other extremely well and are playing fabulous darts at the moment, so I don't think it gets much tougher than that.
I couldn't pick a winner. I suppose the bookmakers will make Webster the favourite because he has a bit more experience on the big stage in the last 12 months, but Richie has been there before, he's been a world champion, and I think he's playing the best darts of his life. He's got nothing to lose.
Paul Nicholson's match with Mensur Suljovic will also be a great one. The Austrian will try to slow him up and he tends to flail out his back leg when he lets go of his last dart, so Nicholson will have to make sure he doesn't get caught in the shins if he intrudes too quickly! Suljovic will play to the crowd - as will his opponent - and we could end up with a two-hour game with half the time spent goading the audience!
Terry Jenkins faces Oliver Ferenc or Joe Cullen, who knocked Dennis Priestley out in the qualifiers. If he gets through then The Bull will have a tough game on his hands. There's signs that Jenkins has been improving; the 10th seed admits he hasn't been working hard enough, but is practising better now. We should see the results of that on the stage.
Youth player Arron Monk, who won the qualifying tournament, will face Kevin Painter and they'll both need to be on top of their form to come through that. Another young player, Paul Barham, will face Wayne Jones if he gets through his qualifier and that will be a baptism of fire for him.
Mark Hylton has been playing well lately and will pose a test to Vincent van der Voort, who has had some back trouble. I'd also say Jamie Caven faces a tough opener against Roland Scholten, who is starting to get some of his form back.
Also, look out for Michael van Gerwen who has been playing some great darts. He faces Colin Osborne, who keeps saying he hasn't been getting enough luck, but he keeps missing doubles in early legs and he needs to tighten that up for this championship.
Taylor test
Mark Dudbridge ended up with the hardest unseeded player in the draw in Dave Chisnall. The winner of that match will almost certainly play Phil Taylor in round two - and that could prove to be the most difficult game The Power faces all tournament, particularly if Chisnall makes it. If Phil can get over that obstacle he should go on and win the tournament.
Taylor faces Haruki Muramatsu or Dennis Nilsson in round one and it would be nice if the Japanese player gets through because we've been trying to push the game in that part of the world.
Adrian Lewis has a potentially dodgy game against the tall Nigel Heydon. There is always extra pressure on the back of the reigning champion and he will find it tough against a guy with nothing to lose. He will need to concentrate on winning that first set.
As for Raymond van Barneveld, he faces James Richardson, a guy that not many people will know about. Let me assure you he's a very good player, who reached a Tour Final in Benidorm and will give the former champion an examination. If the old Barney turns up then he should win, but if he goes up there with the wrong attitude there's no question that we could see the upset of the round.
Whoever you face, the first round is always edgy and no matter how well you play on the practice board, you're never going to take that up on stage. That's why it makes for great entertainment. I'm really looking forward to it now because it's always such a great Christmas party, featuring the best darts players in the world on live TV.
Let me sum it all up with a moment from a few years ago that I'll never forget. A guy dressed as Jesus stood on a table - and 4,000 darts fans started singing 'Happy Birthday' to him.
I can't wait for this year's party.