Power of strength
Phil Taylor's getting better, says Rod Harrington, and the youngsters are still playing for second place.
Last Updated: 07/12/11 12:56pm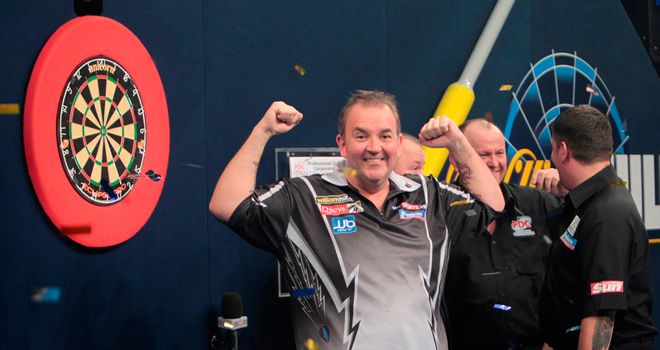 It's hard to say Phil Taylor is playing the best darts of his life because he's been brilliant for so many years, but his performances in Wolverhampton are up there with the best of his career.
I believe the semi-final against Adrian Lewis and the final against Gary Anderson must rank up there among his top 10 displays of all time. He may be the older man, but he taught the youngsters how to play this game.
I've often said great players do great things at crucial times and that was so true of his match with Lewis. When he took out 119 before the second break -with Lewis poised to close the gap to just one leg - he effectively won the match there and then.
The Sky Sports cameras went straight on his opponent's face after he hit the bullseye and all of a sudden Aidy slumped from 6ft4 to 5ft2. The colour drained out of him as if Taylor had pulled out his heart and thrown it to the crowd.
I don't know if anybody in darts has enough character to cope with a body blow like that - even looking back at Dennis Priestley, Eric Bristow, John Lowe or myself in my prime. How do you cope with that barrage of shot-outs time and time again?
However, the final was won in a completely different way. The tactics against Lewis were to consistently take out finishes of 60 to 120 and he did that, but the tactics against Anderson were to outscore his opponent - and he did that too.
But it wasn't just the shot-outs and the heavy scoring. His physical fitness and endurance were superior and he conducted himself brilliantly too, always doing the right thing at the right time.
About six years ago, Dave Clarke asked me what players needed to do to win the big TV tournaments in front of Taylor. My suggestion was to raise a million pounds and force him to retire!
I got a lot of stick from the players for those comments, but I knew what I was talking about. Taylor would never have taken the million - he's earned more than that in the last six years - but apart from someone nicking the odd one, you can't realistically see anybody else taking the major titles.
Impact
I had a chat with Taylor after the Grand Slam Final and he told me: 'These youngsters... they can't do it like us bud.' And I think he's right.
He admitted to me that he felt tired, but said he wasn't going to let his opponents see that. Some of the younger guys let you see when they're struggling and that has an impact on that match.
Guys like Taylor, myself and Dennis Priestley come from a different breed. We used to be on our feet for 12-hours-a-day for three days on the trot playing in tournaments against 2,000 other players trying to win in order to pay our mortgages. Today's players don't have that pressure.
Over the years we've definitely seen him improve. We used to see Phil hitting 10, 11 or 12-dart legs all the time in the 1990's - and he still does that - but he's now winning the legs he used to lose. That's how consistent he is now.
If it had been James Wade or Simon Whitlock or Raymond van Barneveld instead of Lewis and Anderson it would have been no different. He would have thrashed anybody last Sunday. There are no areas of weakness when he reaches the later stages of tournaments and the other players need to learn to be a bit tougher because they're all playing for second place at the moment.
If he stays in this mood, I can't see any other winner at the World Championship or anywhere else for that matter.
Performances
While Phil was dominant, the Grand Slam was a great tournament and I'm thrilled Sky Sports have picked it up.
There were some great performances from the BDO guys. Ted Hankey was great value, but if he decided to come over to the PDC he'd need to improve his averages to make it in the Premier League. You can't have a two-minute walk-on and then average 85 and get thrashed every week!
I thought Dean Winstanley was absolutely excellent. He seemed to get on with everybody and he's a brilliant darts player as well. There was a lot of pressure on the guys coming from the other code, but on those performances he's my tip for the BDO World Championship. I would look forward to the day he comes over to the PDC because he's a super player.
A huge mention must also go to Mark Walsh, whose grit and determination was right up there with the best of them. It was his best tournament for many years and he should go into the World Championship full of confidence.
The young guys were excellent too. James Hubbard was chucked onto that big stage and conducted himself fantastically, while Michael van Gerwen and Arron Monk also represented themselves well.
It was heart-warming for me personally because I've put a lot of time and effort into youth darts and those guys justified my decision to create a major youth tour for 2012.
However, if they want to catch a certain Mr Taylor they're going to have to put an awful lot of hard work in.