Wayne's worlds
Wayne Mardle has his say on the draft drama and previews the World Darts Championship final.
Last Updated: 02/01/12 2:32pm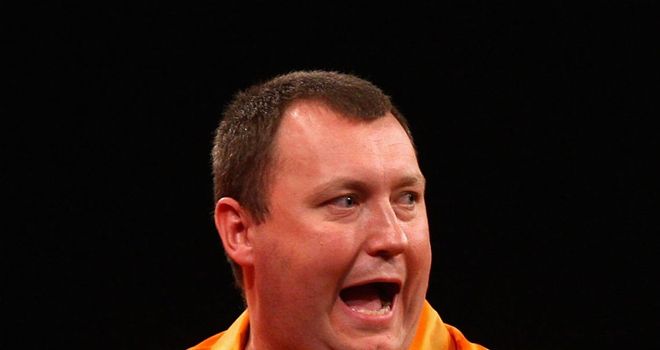 Wayne Mardle says that this year's World Darts Championship has been the best one ever, and hopes that the final between Adrian Lewis and Andy Hamilton lives up to the drama of the rest of the event.
Sunday's semi-finals had everything, with a thrilling marathon battle between Hamilton and Simon Whitlock before some drama with a rogue breeze followed by an almighty comeback from Lewis against James Wade.
Wayne Mardle was present as part of the Sky Sports commentary team during the unique wind drama, as Wade and Lewis left the stage twice due to the breeze blowing across the oche.
Wade was 2-0 up, then 5-1 in front and cruising before missing a dart for the match and then watching as 'Jackpot' Lewis came storming back to book his place in the final again, 12 months after lifting the title for the first time.
"It's very unusual for an indoor sport like darts to be affected by wind - supposedly both players were very unhappy and said the breeze was too much to contend with and left the stage," Mardle said on Sky Sports News radio.
Continue
"It got sorted out in the end but personally if I was James wade I would have carried on as he was 2-0 up at the time.
"I was in the commentary box and Lewis looked a beaten man at 5-1 down his body language saying I just want to get off this stage. But for some inexplicable reason Wade went off the boil and gave Lewis the hope he needed.
"I've lost five World semi-finals myself but I've never had a dart to get through to the final. Wade's won many majors but never quite performed in the World Championship and that will grind on him for quite a while - what it does to him mentally I really don't know."
Defending champion Lewis now plays fellow Stoke thrower Andy Hamilton in the final to try and retain his title, and after so many shocks in the tournament Mardle hopes the final can live up to it.
"It's got better and better. It's been so special all the way through you just want it to continue - it's set up for a brilliant final and I hope they can deliver all that they've delivered all the way through. I'm going to go for 7-4 to Adrian just because he's been there and done it.
Standard
"It's the best tournament I've ever seen, there's no doubt about it, I just think the standard now is amazing, we haven't seen so many 100 averages but we've seen so many more close quality games and that's testament to the PDC for putting on the tour events throughout the year and bringing through these good young players.
"The coming years on Sky Sports are going to be a joy because these young players will be coming through and showing what they can do."
Phil Taylor will not add to his 15 world titles this year after being knocked out by Dave Chisnall, but Mardle warned against writing the great man off.
"Never, ever, ever write off Phil Taylor. "People have done it before. I've always been a Phil Taylor fan which is probably why he gets the better of me all the time.
"But I still think he's by far the best player in the world, he's the best player the world has ever seen. Don't write him off because he will come back and he will win more world titles."