The magic moments
Some of the biggest names in darts tell us their favourite World Championship memories.
Last Updated: 23/12/11 11:57am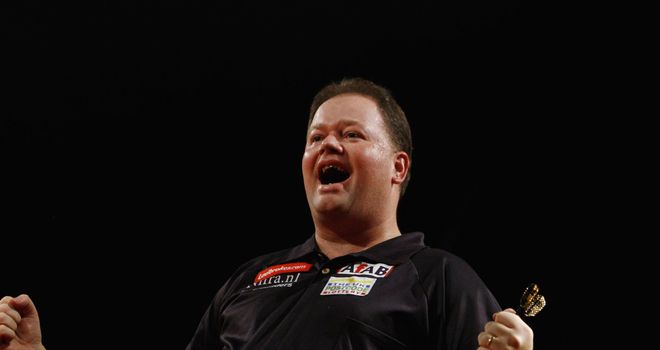 Everyone has their favourite memories of the World Darts Championship.
From Keith Deller's famous upset victory over Eric Bristow to Phil Taylor's epic finals against the likes of Kevin Painter and Raymond van Barneveld we have seen some unforgettable clashes.
This is the competition where legends are made and here on Sky Sports we have witnessed some colossal encounters at both Alexandra Palace and at the Circus Tavern over the years.
But what are the greatest matches in the history of this event? We asked some of the sport's biggest names to tell us their fondest memories of both watching and playing in the World Darts Championship...
COLIN LLOYD

From a personal point of view, I suppose you've got to go all the way back to 2002 when I got to the semi-finals, the best run I ever had there, and got beat 6-4 by Peter Manley. I was gutted because I really thought I could get to the final. In terms of watching it, I'll always remember Kevin Painter v Phil Taylor in 2004. That was Kevin's greatest chance of becoming world champion because he had Phil on the back foot and Phil came back and won it. I also remember Raymond v Phil in 2007. I was actually 3-0 up on Raymond in an earlier round and lost 4-3 before he went on and won the tournament! That cracking final might never have happened! Another one that people forget is when John Part won in 2003 against Phil; that was absolutely fantastic. Go and look at the celebrations on YouTube to see how much it meant to him.
MARK WALSH

Every time I walk through the door I get a buzz. It's such a fantastic venue; a big place, the stage is fantastic and the crowds there are fantastic. Just walking on the stage gives you a buzz. Looking back I'd say Keith Deller against Eric Bristow in 1983 really inspired me. That was a fantastic game. I also remember Phil Taylor against Mike Gregory in 1992. Gregory had darts to win it, but didn't close the game out and Phil came through and won it. That's one of the best finals I've ever seen.
PHIL TAYLOR

There's been a few. The Mike Gregory final was a good performance, as were the ones against Kevin Painter and Barney. I beat John Part 6-0 and I beat Peter Manley as well, so there's been too many to pinpoint one. I think the most pressurised one was the first one against Eric Bristow and also I'd mention my last final against Simon Whitlock because you're getting older and people are writing you off. I remember walking past a table at the beginning of that year and someone said: 'I hope I get Taylor, he's playing garbage'. I wasn't playing so good at the time and I thought 'I'll show you' and I went and won every tournament.
ADRIAN LEWIS

For me it was the double 11 to win the World Championship last year - even more than hitting the nine-darter. To tell you the truth, Gary Anderson was scoring that heavily against me that I actually forgot about the nine-darter by half-way through the match. It was that early on that I was just concentrating on trying to get the job done. As for watching, it's got to be Taylor v Barney in 2007. I was watching at home and it was blow for blow, there was such intensity. Phil took an early lead, but then Barney piled on the 180's and Phil didn't know which way to turn. In the end he lost on a sudden-death leg. What a match!
RAYMOND VAN BARNEVELD

For me it has to be when I won in 2007. It was my first year in the PDC and I was really looking forward to it. I was quite comfortable at that time, I was not afraid of anyone and I prepared myself right. I had a very tough game against Colin Lloyd in the second round, which went to a tie-breaker, then I got through to the final without dropping a set. Then I had that epic 7-6 game against Phil. I think my popularity is still high after winning that final and the crowd has loved me since then.
GARY ANDERSON

I'd have to say the way I played in the whole tournament last year. I played well for the whole tournament, which makes a change because I've usually got a really bad record at World Championships, so it was nice to play in all the matches and play well. I wasn't so good in the final, but Adrian played well and the nine-darter was a wee bit special. I don't really watch much darts, but I the one I remember watching was Wilson and Bristow [1989 World Final]. Wilson was five sets up and Bristow brought it back to 5-5 and then Jocky won it.
PAUL NICHOLSON

Personally it would have to be my second-round game against Adrian Lewis in 2009. I played Dennis Priestley in the same year, which was a great game, but the one I played against Adrian Lewis was such a great match and my fans and friends say it's the best game they've watched with me involved in. There was so many ton-plus finishes and so many 180's, it was a brilliant spectacle. When I was growing up, I would probably pick the 1992 final between Taylor and Mike Gregory. I was up until very late watching that with my parents and I still to this day think it's the best game ever played.
ROD HARRINGTON

I'd say the Van Barneveld v Taylor Final in 2007, which was the best final ever because it went to the deciding leg. It always sticks in my mind because they had to throw for the bullseye to see who threw first in the final leg and Barney asked for Taylor's dart to be left in - and then bounced his dart off it into the bullseye. That gave him the throw and he won the World Championship. It was an unbelievable game, but in a way he won it because of that bullseye and that one piece of luck.
Watch more memories being made with the 2012 World Darts Championship, live on Sky Sports, right through to Monday January 2.