Peter Beagrie
Football League Expert & Columnist
Set for a classic
Peter Beagrie says Blackpool can win the Play-Off Final if they can cope with West Ham's set-pieces.
Last Updated: 18/05/12 7:57am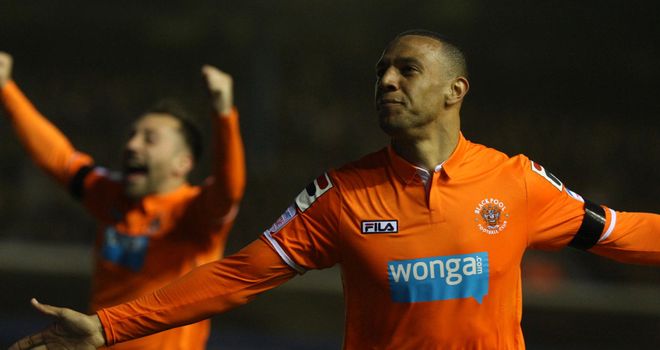 Many of the best quality players in the Championship will be on show in the Play-Off Final and I can't wait to get to Wembley to watch it.
I've been watching all the Play-Off games from all three divisions and the sense of excitement and anticipation has been mounting throughout the last fortnight.
I picked West Ham and Blackpool to reach the final and I'm expecting a cracking showdown in an atmosphere that will be red hot.
It should be a sell-out. I've heard that if Blackpool don't sell all of their allocation then those tickets will go on sale to West Ham fans and I hope that's true.
It would seem the right thing for the Football League to do because you want genuine fans in the stadium and I'm sure West Ham could have sold out Wembley on their own.
It's going to be a very colourful occasion with the claret and blue mixed in with the orange and I hope it's a great day out for everybody concerned.
Will West Ham make their experienced squad count? Will the fact that Blackpool still have players left over from their Wembley victory two years ago swing things in their favour?
I can't wait to find out.
Candidates
West Ham were the outstanding candidates for automatic promotion at the start of the season and I suppose you could argue they are peaking at the right time.
Ever since they battled back from 3-1 down to draw with Birmingham in April they have come to the boil and comfortably saw off Cardiff in the semi-finals.
They've kept the ball well, they've been bright, they've been inventive and they have added some creativity. They've been accused of lacking some of those aspects in their play this season, but they have reversed that and produced some outstanding performances in the final few games.
You could argue they've never been in better shape at any stage of the season than they are now.
The squad is full of quality, strength in depth and experience. Someone like Kevin Nolan has experience of pressurised situations in the past, having tasted Play-Off success alongside Big Sam at Bolton.
But even though West Ham have beaten Blackpool handsomely on two occasions this season, I'm standing by my prediction that Ian Holloway's men will be promoted.
Time and space
On the wide open spaces of the Wembley pitch the team with the most individual talents often comes out on top. Guys like Thomas Ince and Matt Phillips fall into that category and will take advantage of any time and space they are afforded.
One of West Ham's strengths this season has been the attacking prowess of their full-backs going beyond a narrow midfield, but sometimes your strength is also your weakness. That could be the case here because Blackpool have the players to exploit the space in behind those full-backs.
If defenders become isolated in one-on-one situations in wide areas then Ince and Phillips can take them to the cleaners. They've embarrassed a lot of good full-backs this season.
Allied with that they both provide a goal threat and both men have a good footballing brain. Blackpool tend to play one striker up front and they know they have to get into the box to supplement that striker.
Stephen Dobbie also has a tremendous footballing brain and has shown himself to be a real artist in his use of the ball lately. He will drop off the striker - either Gary Taylor-Fletcher or Kevin Phillips - into a deeper role to make sure Ince and Phillips get enough of the ball to make a difference.
Physical
However, I do have a few doubts in my mind because of West Ham's physical superiority. They have a big aerial advantage and my worry for Blackpool is not in free play, but at set pieces.
With Carlton Cole, Ricardo Vaz Te (who has scored a lot of goals lately with his head), Kevin Nolan and Winston Reid, they pose a serious threat in the air, while James Tomkins seems to have had a magnet for the ball on his head this season
In fact, I think Tomkins has been a revelation and if the Euros were being held next summer he might have made the England squad because he's been fantastic in whatever position he's played in.
In Matt Taylor they've got a constant supply line of quality from his wand of a left foot and that area will be a cause for concern for Blackpool fans.
So there are doubts over my prediction, but I'll have courage in my convictions and stand by Blackpool
It would be wrong to say it's a game of opposing strategies and team shapes. Both sides possess footballers of real quality and proven ability with many who've proved it in the Premier League.
I think we're in for a treat. If the game becomes stretched then Blackpool will be the ones to flourish, but if it's tight and compact and West Ham condense the play then they will have a good chance of coming out as victors.
I am sticking with Blackpool, but Hammers assistant boss Neil McDonald was an England Under-21 and Everton team-mate of mine, so I have loyalties there as well.
But I went for Blackpool before a ball was kicked in these Play-Offs and while the certainty in my mind has narrowed, I'm going to stand by my call.
Supporting Everyman
Myself and Simon Thomas are going to be wearing the same suits on Saturday, which have been kindly donated to us by Without Prejudice as part of their support for the Everyman Cancer Charity.
The suits feature a distinctive blue buttonhole and Without Prejudice will donate some of the proceeds from every suit sold to Everyman as part of their efforts to stamp out male cancer. We're delighted to support this work.