The final reckoning
Sid Waddell says Adrian Lewis can beat Phil Taylor, but who is he tipping to win the Premier League?
Last Updated: 18/05/11 4:29pm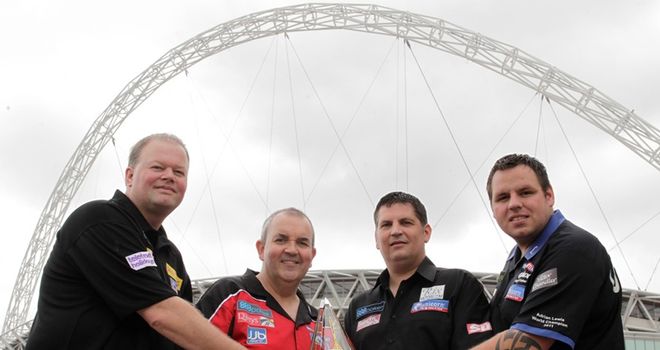 Who will be in the Premier League Final? My head says Barney-Taylor and my heart says Anderson-Lewis.
All I know for sure is that I'm shaking like a cold-washed whippet in anticipation! It's going to be an incredible night.
I've been preparing for this for the last few days and I think the first match, between Phil Taylor and Adrian Lewis, could all come down to temperament.
You've got to say Taylor has the coolest approach; just look at what they did last weekend. The Power went to Austria for some tournament practice, but Aidy went to the FA Cup Final instead!
But the margin isn't as big as it was 12 months ago. Lewis impressed me last week when he knew he had to draw his match with Gary Anderson to qualify. He went 5-2 up, but then lost five legs on the spin and a year ago his head would have dropped.
But he won the last two legs when he needed to and that shows how far he's come. Ever since Lewis beat Taylor in Ireland last October, the temperament gap has closed.
It's much harder to call the pattern of the other game because those two are much more nervy. Gary Anderson's cappuccino count sometimes goes through the roof and while he's capable of throwing loads of 180's, he's also aware of his own capacity for missing doubles.
Meanwhile, Barney often plays in a state of high emotion and I have no idea what will happen when they get on the oche.
First Semi-Final: Phil Taylor v Adrian Lewis
My instinct tells me that Taylor is concerned about how far Adrian has come on in the last six months.
Furthermore, The Power is not at the form level he wants to be at. Back in the 2008 Premier League semi-final, he hammered Lewis 11-1 with an average of 112.66. That year, he averaged 108 in the last six weeks of the season.
He's not playing as well now. I expected him to kick on after week nine when he averaged 107 against Mark Webster, but he hasn't progressed as much as I thought he might. He averaged 101 last week and I think he'd want to be closer to 113, pushing towards a world record. In fact, his best average this season was 109.
There is also an old weakness with his darts, which he has been using since 2008. He's not as deadly on the double 16 as he used to be; he isn't sure whether to attack it directly or leave a lie.
Adrian will have noticed that and, as I've said, I think he's better equipped to cope with the changes of momentum in a match now. Unless Phil is deadly on the doubles I think Adrian might pip him.
The patter might be similar to Aidy's match last week. I see him going ahead early on with Taylor catching up in the middle of the match, but I now believe Lewis can fight back at the end, just as he did in Newcastle.
His manager Keith Deller has got rid of his sloppy head and a victory against The Power would be a tribute to that. I think Lewis can counteract whatever is thrown at him.
It was 11-1 when they met in 2008, but neither of them are the same player they were back then.
SID SAYS: If Adrian is ever going to hit him, then this could be the night. I'm going to say he will win it 8-6 - but that's 60% heart and 40% head saying that!
Second Semi-Final: Raymond van Barneveld v Gary Anderson
To use an old phrase, I don't think Anderson "plays the opponent". I think he plays himself. He knows he's bound to get lots of 180's in a game, but he gets hyper-worried about the doubles... or at least he used to.
His experiences in the Premier League have helped him to get over that. He won his first four matches and was hitting maximums for fun, so the worries about his form went out of the window.
Barney has won both of their meetings in the league so far, but that's counteracted by the fact he has never got past the semi-final stage before, in four previous attempts. The one that will really stick in his mind was an 11-10 loss to Terry Jenkins in 2007 when he narrowly failed.
He will also struggle to forget the 5-1 hammering he took off Anderson in the quarter-final of the last World Championship. For those reasons, he will have more on his mind than his opponent.
Barney has special flights for playing in big arenas, but Anderson doesn't concern himself with those technicalities. All I've heard him get concerned about is having five cups of coffee before a match instead of a glass of vodka!
His brain will be less cluttered than Barney's and that could prove to be a key factor in this match.
SID SAYS: I think Anderson's going to win it because he has less going on in his head. I'll say the Scot will win it 8-6.
Who will win?
If my predictions are correct we will see a re-match of the World Championship Final in the Premier League Final.
A year ago both of these guys lacked the self-belief to reach this stage, but that's not the case any more because both have made great strides.
In fact, we could see a similar game to last week when they played each other in Newcastle. Lewis will win the start of the match, Anderson will fight back in the middle and anything could happen in the last three legs.
My hunch is that Anderson will emerge on top and take home the trophy. I predict a 10-8 scoreline and that would reflect the progress he has made in recent times. Ever since he reached last year's UK Open Final he has been able to convince himself he belongs in this sort of company.
He used to be psychotic about his doubles - he'd be talking about them every time you saw him - but he's stopped doing that in the last six weeks.
He's always had the talent. Back in 2007, I remember him beating Taylor in the World Darts Trophy Final, despite seventeen 180's from The Power.
It's taken four years, but that talent has finally been tempered by the Premier League. This tournament has seen his mentality improve and he has the talent to perform on a more consistent basis.
That's why I think Anderson will be the new champ.