Hitting the Jackpot
Three men are chasing one play-off spot and Sid Waddell says Adrian Lewis is the man who can.
Last Updated: 05/05/11 8:08am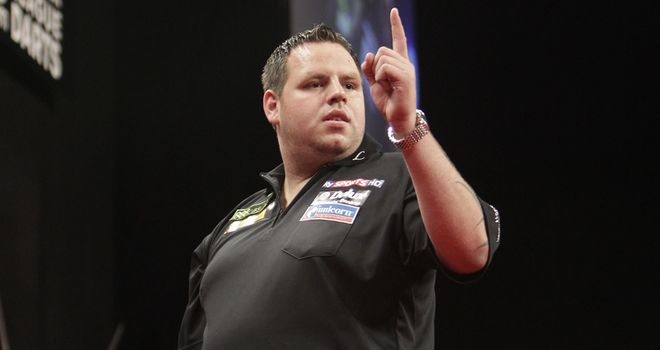 Last week's visit to Liverpool gave us commentators plenty of scope for some pop music puns.
Early on I suggested that all we needed was for Gerry Marsden to stroll into the arena and start singing "Walk on, walk on, with hope in your dart." John Gwynne replied: "I hope he brings a Pacemaker because mine's a bit dodgy!"
The lines were flying thick and fast and double four will now be known as "Octopus's Garden".
This week it'll be less Lennon & McCartney and more Einstein & Fermat, as the mathematics of the Premier League table look set to throw up all sorts of permutations.
Any one of three players could move into the fourth and final play-off place and all of them could be in that position at some point on Thursday evening.
Simon Whitlock can go fourth after Game One, then Adrian Lewis can pinch it back in Game Three, but if he fails to win then James Wade could go fourth in the final match of the night. The table could end up looking like a fruit machine as they all roll in and out of their positions.
My hunch is that Lewis will be there at the end of the night because, to use an American phrase, he's had a check-up from the neck up in the last few weeks.
He'd lost three in a row before his clash with Whitlock in Liverpool, but he used his head to come through that match and win. His noggin is much stronger than it used to be and that is paying dividends. He's now my favourite to qualify because the other two have both got to play Phil Taylor in the final weeks of the season.
Let's take a look at the runners and riders in Bournemouth:
Simon Whitlock v Mark Webster
I fear the pressure of trying to avoid being humiliated in front of thousands of people has proved a bit too much for Mark Webster. It's difficult to say too many positive things about his season, but we've seen in the past that sometimes talent isn't enough in the Premier League. Most people tend to get their feet wet in their debut year; Adrian Lewis, for example, lost six times in a row in his first season back in 2007 and if Webster is recalled next year I'm sure he'll do better.
As for Whitlock, he has lost three matches in a row and has missed a lot of doubles in that time. His best performance of the season was against Barney in Aberdeen (eight 180's and a 108 average) and while he might not return to that form, he should steady the ship on his doubles. I'd be surprised if his checkout ratio is less than 60%.
SID SAYS: I'm going for an 8-5 win for the Aussie to go into fourth, at least temporarily.
Gary Anderson v Raymond van Barneveld
For several weeks, Gary Anderson has been talking about averaging 120 in practice. Well, in a UK Open qualifier in Wigan last weekend, he averaged 133.35 in a match against Arron Monk but it won't count as a world record (the current high is Taylor's 118.66 at the 2010 UK Open) because only televised tournaments are recorded.
However, that's just one of several ominous signs for Raymond van Barneveld ahead of their match in Bournemouth. Barney is facing a guy who beat Taylor at the weekend and threw eleven 180's in the League a fortnight ago. Barney probably needs just one point to qualify for the semi-finals (and the number one will be flashing like a neon sign in his mind), but he might have a hard time against a guy who is throwing 180's for fun. Barney leads their head-to-head record 7-3 and won their League match earlier this season, but it will take inspirational stuff for him to recapture that form. All the signs point to an Anderson win.
SID SAYS: I see Anderson averaging above 100 and throwing at least seven 180's as he beats Barney 8-5.
Terry Jenkins v Adrian Lewis
Terry Jenkins has been able to average 95 at will this season, but has struggled to go above that level. I expect him to raise his game a little bit here, but I'm sure Adrian will be able to match him.
The world champion is chasing a play-off spot and he's the favourite because he's the only one of the contenders who has got both matches with Taylor out of the way. Wade and Whitlock will both face The Power in the final two weeks and Lewis already has a stronger legs difference than his rivals. I think we'll see Adrian at his best because he's now mature enough to cope with the scrap.
SID SAYS: I'm going for an 8-4 win to Lewis as he closes in on the semi-finals.
James Wade v Phil Taylor
In essence, Wade not only needs to win this match, but win it well because his legs difference is much worse than his play-off rivals. But a big win seems unlikely against a guy who was disappointed to "only" average 101 last week. In the previous three weeks he hit 107 and I expect him to return to that level because he's always at his best at the end of the season. He'll also have noticed Anderson's 133 and he'll try to match it; that's just the way his mind works.
I think Wade will finish the night in sixth place because I'd say the best he can do is scrape a draw ahead of his final match with Jenkins in Newcastle. He needs the points more than Taylor, but The Power habitually works on turning negatives into positives and he felt he let himself down last week - even though he won!
SID SAYS: I think last week's average was a blip for Taylor. I expect him to average between 110 and 115 and win 8-3.