Wade eyes Open hat-trick
The Machine looking to churn out yet another UK Open title success
Last Updated: 06/06/12 4:36pm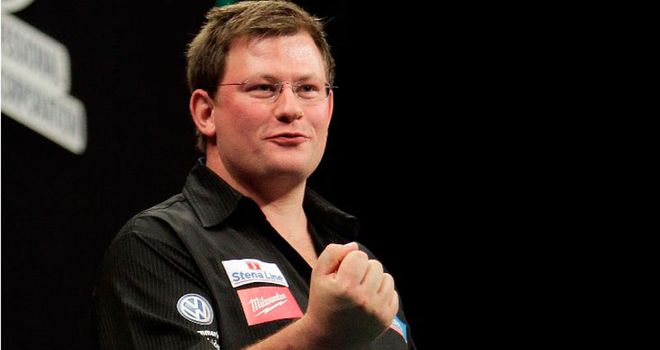 James Wade: Looking to pick up the £40,000 first prize at the UK Open
James Wade is bidding to complete a hat-trick at the Reebok Stadium when the Speedy Services UK Open begins on Thursday.
The world number three has twice been victorious in Bolton in previous UK Opens, following up his 2008 triumph by winning last year's title in 'The FA Cup of Darts' against Wes Newton.
The tournament will feature 177 players, as amateurs and professionals line up alongside each other to compete for the £40,000 first prize.
Play on the first two nights will be held across eight stages at the Reebok Stadium, and the open draw format means that top names can draw each other at any stage.
Wade will be competing amongst amateur hopefuls and lower-ranked professionals on Thursday night in round two as he finished only 40th in the rankings after eight UK Open qualifiers for professionals.
Looking forward to the challenge ahead, the 29-year-old from Aldershot, who would need to win seven games over the weekend if he is to lift the £40,000 title, said: "It's a completely different challenge to the Premier League and any other major event that we do.
"I know people say they only take one game at a time but that's literally all you can do because you've no idea who you'll play in the next round if you get through.
Excitement
"It's not like the Premier League or, for example, the World Matchplay in that sense, but that adds to the excitement for me.
"It's not like the Premier League or, for example, the World Matchplay in that sense, but that adds to the excitement for me."
James Wade Quotes of the week
"I'm fortunate enough to have won twice in Bolton and it would be fantastic to do it again, but I know I'll have a tough weekend ahead of me."
Wade's second round game will be against either Yorkshire's Mark Lawrence - a former UK Open quarter-finalist - or one of the amateur trio Jamie Robinson, Glen Durrant or Stephen Bunting, with those players in action earlier in the night in the preliminary and first rounds.
"I still don't know who I'll be playing on Thursday night, and they'll have played twice already so that adds to the challenge," adds Wade.
"It's a short format, the first to four, so I'll have to be ready because there's no time to get settled in - I've just got to go out there and do a job."
The opening night also features the UK Open debut of two-time Lakeside Champion Ted Hankey, who will face Leeds-based qualifier Danny Dutson in the preliminary round.
Hankey could also play Andy Jenkins and Mervyn King in a tough opening night's schedule which sees him needing to win three games to reach the last 64.
New thing
"It's a new thing but I know I can handle that," said Hankey. "Danny has obviously played well to qualify so I can't underestimate him, but I'm in my comfort zone being up on stage.
"I've looked at the draw and if I can get through the first game - which I hope to do - then I could play Andy Jenkins and if I get through that then I've got Mervyn King.
"I'm getting myself mentally right, and I personally feel I can get through that day and into the last 64."
Last year's UK Open semi-finalists Mark Webster and Denis Ovens are other leading names in action on Thursday night, alongside Paul Nicholson - who knocked out Phil Taylor and Gary Anderson in his run to the quarter-finals 12 months ago.
Nicholson begins his challenge in the first round against one of two amateur qualifiers, Middlesbrough's Andy Melling or Essex's 21-year-old Harry Miles, and admits: "You have to be wary of these qualifiers.
"I have to prepare for a game with a world class player because I could end up playing against the best talent that's never turned pro. I'll have to be on my game because, in a format as short as first to four, anybody can beat anybody."
Webster enters in the second round against Swindon's Johnny Haines, with Ovens meeting Scottish amateur Craig MacCaskill in the preliminary round as he bids to reach the last four in Bolton for a third successive year.