Simon Yates blog: Broken collarbone was a setback but brother Adam's win at Tour of Turkey compensated
Simon Yates blogs on breaking his collarbone and cheering his brother to victory in Turkey.
Last Updated: 21/05/14 10:29am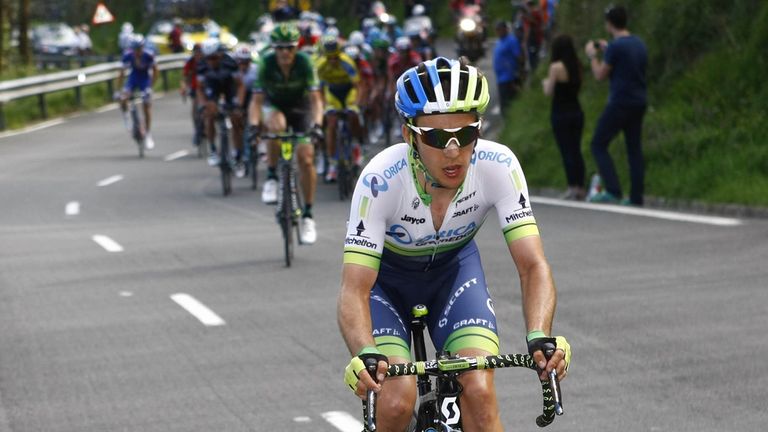 I rode Paris-Nice in March, which was great, and performed well at the Tour of the Basque Country in April, finishing 12th overall, but then I crashed heavily in the Tour of Turkey a few weeks ago and unfortunately broke my collarbone.
I had surgery a couple of days after and had the staples out last week, so for the first time, I can now move my arm around properly and get back to some serious training. I haven't been doing that much riding, even on the turbo, so it has been good to get going again.
It was quite a stupid crash really. It had been a hard day and we were 65km into it, and I tried to jump across to a little move that was going up the road. I started sprinting, but then my chain snapped and my knee hit the handlebars, and that was it really. It happened so quickly that I couldn't really react.
The timing was very frustrating, because I would have had chance to do well overall in Turkey, which was emphasised by the fact that my brother and team-mate, Adam, won a stage and the race overall. And it also means that I missed the Tour of California last week, which could have been a good race for me. I could have done pretty well there. They are the main things I am disappointed about.
Obviously, though, I had plenty to keep my mind occupied watching Adam in the rest of the Tour of Turkey. He won the sixth stage on a summit finish and, by then, I was back home in Girona. I went round to watch it at Erick Rowsell's house - he's a friend from my academy days and he lives in Girona now as well
I actually got more nervous watching Adam than I do racing myself. I've ridden with Adam so much that I've got a good idea of how he is feeling on the bike just by looking at him, and on the day that he won the stage, I could tell going into the final two or three kilometres that he wasn't going that hard yet.
I said to Erick: "I'll bet you, he will attack around the 1km-to-go mark." And sure enough, that's what he did. It was pretty obvious straight away that he was going to win the stage, so it was just a matter if he could take the race lead.
Breakthrough
But then he started celebrating just before the line - what an idiot! That got me worried, but to be fair to him, it was his first professional victory, so I suppose you can't blame him for wanting to celebrate.
As it turned out, he still took the lead and then hung on through the remaining sprint stages to take the win. I was so pleased for him - there was no jealousy at all, honestly! I was actually really disappointed I couldn't help him. On the day he won the stage I could have done a big job there for him. Obviously, he didn't need me, but that would have been a nice moment.
The fact that Adam ended up as our team leader in Turkey - and the same for myself at the Tour of the Basque Country just before - has been a really pleasant surprise for us both.
That was one of the main reasons we joined Orica-GreenEdge - to get those opportunities. We just didn't really expect it to happen so soon. But the team is exactly that: a team. You get back what you put in, no matter of age or status or past results.
Team ethic
For example, on the first day of the Tour of the Basque Country, Simon Gerrans, who is one of the biggest names in the team, wasn't feeling very good on one of the final climbs and said he would work for me instead. He has won Monuments and worn the yellow jersey at the Tour de France, yet in an instant, he switches and starts working for a neo-pro like me. That is how this team is and that is the way it should be, in my opinion.
Looking forward, I'm pencilled in to make my comeback at Bayern-Rundfahrt, which starts on May 28. But that is if everything goes perfectly with my recovery, and even if I do make it, I will do well to race there with any real fitness.
My first race back at something near top condition will be at the Tour of Slovenia in June, and then it's on to the national championships.
Hopefully I can get back up to speed as quickly as possible and then the next few races are successful.