Volta ao Algarve: Mark Cavendish looking to continue strong start to season
Last Updated: 17/02/13 5:32pm
Paul Martens shocked the sprinters to win stage one
The European season continues and business picks up further with the Volta ao Algarve, a key warm-up race for upcoming WorldTour events.
Following fears the race would not be run at all in 2013, the 39th running arrives in a now reduced four-day format but still contains all the ingredients for a compelling contest.
Still remaining is the famous stage to Loule and the Alto do Malhao - a test won by Team Sky for the last two seasons - albeit with a new twist, before a final time trial decider.
With 2012 winner Richie Porte currently racing in Oman, this year will see a new champion crowned.
Stages
Thursday 14 February - Stage one: Faro to Albufeira, 198.8km - map and profile | report
Result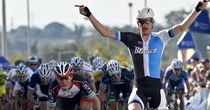 Theo Bos handed Blanco their second successive stage win
1 Paul Martens (Ger) Blanco, 5:07.29
2 Tiago Machado (Por) RadioShack-Leopard, same time
3 Theo Bos (Ned) Blanco, st
4 Giacomo Nizzolo (Ita) RadioShack-Leopard, st
5 Thomas Sprengers (Bel) Topsport Vlaanderen - Baloise, st
6 Mark Cavendish (GB) Omega Pharma - Quick-Step, st
7 Tom van Asbroeck (Bel) Topsport Vlaanderen - Baloise, st
8 Rui Costa (Por) Movistar, st
9 Alessandro Bazzana (Ita) UnitedHealthcare, st
10 Samuel Caldeira (Por) OFM-Valongo, st
General classification
1 Paul Martens (Ger) Blanco, 5:07.19
2 Tiago Machado (Por) RadioShack-Leopard, +4secs
Theo Bos (Ned) Blanco, +6
4 Giacomo Nizzolo (Ita) RadioShack-Leopard, +10
5 Thomas Sprengers (Bel) Topsport Vlaanderen - Baloise, same time
6 Mark Cavendish (GB) Omega Pharma - Quick-Step, st
7 Tom van Asbroeck (Bel) Topsport Vlaanderen - Baloise, st
8 Rui Costa (Por) Movistar, st
9 Alessandro Bazzana (Ita) UnitedHealthcare, st
10 Samuel Caldeira (Por) OFM-Valongo, st
Friday 15 February - Stage two: Lagoa to Lagoa, 195km - map and profile | report
Result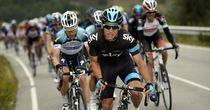 Sergio Henao climbed to victory on stage three
1 Theo Bos (Ned) Blanco, 4:50.15
2 Giacomo Nizzolo (Ita) RadioShack-Leopard, same time
3 Bruno Sancho (Por), st
4 Jesus Herrada (Spa) Movistar, st
5 Kris Boeckmans (Bel) Vacansoleil-DCM, st
6 Tom Leezer (Ned) Blanco, st
7 Alessandro Bazzana (Ita) UnitedHealthcare, st
8 Pieter Vanspeybrouck (Bel) Topsport Vlaanderen - Baloise, st
9 Edwin Avila (Col) Colombia, st
General classification
1 Theo Bos (Ned) Blanco, 9:57.30
2 Paul Martens (Ger) Blanco, +4secs
3 Giacomo Nizzolo (Ita) RadioShack-Leopard, +8
4 Tiago Machado (Por) RadioShack-Leopard, same time
5 Hugo Sabido (Por) LA Aluminios - Antarte, +9
6 Eduard Vorganov (Rus) Katusha, st
7 Bruno Sancho (Por) Carmin - Prio, +10
8 Amets Txurruka (Spa) Caja Rural, +11
9 Sergio Paulinho (Por) Saxo-Tinkoff, +12
10 Bert-Jan Lindeman (Ned) Vacansoleil-DCM, st
Saturday 16 February - Stage three: Portimao to Alto do Malhao (Loule), 193km - map and profile | report
Result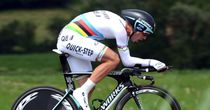 Tony Martin claimed overall victory with a supreme time trial
1 Sergio Henao (Col) Team Sky, 4:53.15
2 Rui Costa (Por) Movistar, +3secs
3 Lieuwe Westra (Ned) Vacansoleil-DCM, +5
4 Rigoberto Uran (Col) Team Sky, +7
5 Tiago Machado (Por) RadioShack-Leopard, same time
6 Andreas Kloden (Ger) RadioShack-Leopard, st
7 Josh Edmondson (GB) Team Sky, st
8 Denis Menchov (Rus) Katusha, st
9 Jose Herrada (Spa) Movistar, +12
10 Michal Kwiatkowski (Pol) Omega Pharma - Quick-Step, st
General classification
1 Sergio Henao (Col) Team Sky, 14:50.49
2 Rui Costa (Por) Movistar, +7secs
3 Tiago Machado (Por) RadioShack-Leopard, +11
4 Lieuwe Westra (Ned) Vacansoleil-DCM, same time
5 Andreas Kloden (Ger) RadioShack-Leopard, +17
6 Rigoberto Uran (Col) Team Sky, st
7 Denis Menchov (Rus) Katusha, st
8 Josh Edmondson (GB) Team Sky, st
9 Michal Kwiatkowski (Pol) Omega Pharma - Quick-Step, +19
10 Jose Herrada (Spa) Movistar, +22
Sunday 17 February - Stage four: Castro Marim to Tavira (individual time trial), 34.8km - map and profile | report
Result
1 Tony Martin (Ger) Omega Pharma - Quick-Step, 45.09
2 Michal Kwiatkowski (Pol) Omega Pharma - Quick-Step, +1.07
3 Jesse Sergent (NZ) RadioShack-Leopard, +1.15
4 Lieuwe Westra (Ned) Vacansoleil-DCM, +1.16
5 Jonathan Castroviejo (Spa) Movistar, +1.30
6 Denis Menchov (Rus) Katusha, +1.32
7 Tiago Machado (Por) RadioShack-Leopard, +1.47
8 Rui Costa (Por) Movistar, +1.47
9 Andreas Kloden (Ger) RadioShack-Leopard, +2.04
10 Rigoberto Uran (Col) Team Sky, +2.42
General classification
1 Tony Martin (Ger) Omega Pharma - Quick-Step, 15:36.26
2 Michal Kwiatkowski (Pol) Omega Pharma - Quick-Step, +58secs
3 Lieuwe Westra (Ned) Vacansoleil-DCM, +59
4 Denis Menchov (Rus) Katusha, +1.21
5 Rui Costa (Por) Movistar, +1.26
6 Tiago Machado (Por) RadioShack-Leopard, +1.30
7 Jesse Sergent (NZ) RadioShack-Leopard, +1.40
8 Jonathan Castroviejo (Spa) Movistar, +1.45
9 Andreas Kloden (Ger) RadioShack-Leopard, +1.53
10 Rigoberto Uran (Col) Team Sky, +2.31