Brad to the throne
Wiggins has written himself into folklore, says Smith
Last Updated: July 23, 2012 12:05pm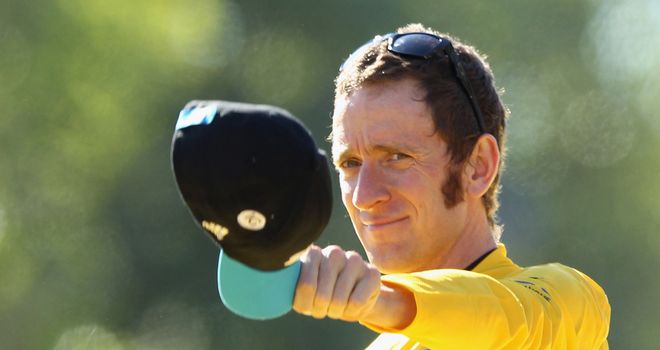 Wiggins has created history with victory at the Tour de France
Bradley Wiggins became the first Briton to win the Tour de France this week with a spectacular all-round performance - and former cyclist Brian Smith believes the 32-year-old's achievement cannot be overestimated.
"I believed he could win it from the start. I was fortunate in that I know Bradley well. I had dinner with him and his wife two years ago and he really wanted it."
Brian Smith Quotes of the week
Team Sky dominated the event, and sprint specialist Mark Cavendish rounded off glory in just their third year by racing to a final-stage victory in Paris as Wiggins put the finishing touches to his overall win.
And Smith told Sky Sports: "It's great for British cycling and especially Bradley's family because he's sacrificed so much and they've had to endure the focus of winning the Tour de France.
"When (Team Sky boss) Dave Brailsford said an English rider was going to win it within five years, everyone was looking at him shaking their heads but it all started with Jason Queally, when he won gold on the track eight years ago.
"It's purely just focus and putting the right team together. It's a team effort - let's not forget. Chris Froome was second and Mark Cavendish won three stages. Brits won seven stages - six from Team Sky and one from David Millar. It's absolutely tremendous."
Adapting
Just four years ago, Wiggins defended his Olympic pursuit crown over four kilometres, and Smith was quick to highlight the difficulty in transforming from the track to the challenging mountains of the Alps and Pyrenees.
Smith said: "I know track cycling is niche but four years ago, Wiggins was the fastest man over four kilometres. It'd be like Sebastian Coe winning the 1500m at the Olympics and then four years later winning the marathon at the Olympics.
"I believed he could win it from the start. I was fortunate in that I know Bradley well. I had dinner with him and his wife two years ago and he really wanted it. He's so focused - he's spent so much time away from his family and just showed the country he is a true champion.
"You have to surround yourself with the best people in the world and that's what Dave Brailsford is so good at doing. He's got Sean Yates sitting in the team car as director sportif, giving out the tactics. He's a former team-mate of mine from the Lance Armstrong era."
Team effort
While Wiggins will be the focus of the headlines and go down in the cycling history books, Smith feels it's important to emphasise the role played by Dave Brailsford, his team and the other riders.
He added: "You go into a Tour de France with four or five contenders and there are nine riders in a team, so the teams are always trying to keep their GC contender at the front. Roads are only so wide and you've got four or five teams vying for that position.
"Everything went right for Team Sky this year and to come out of it with six stage wins and the yellow jersey is absolutely magnificent for the legacy of cycling that's to come.
"I've been through an age where doping was rife. I finished a Grand Tour in the mid-90s and I now know that a lot of the riders were using performance-enhancing drugs. That was always in the back of Brad's mind - he wanted to do it clean with a level playing field. I think it's even cleaner now than it's ever been.
"Everybody's saying that the Olympics is not going to be as good as Beijing, where we won lots of medals, but I think it will be. We've got the home crowd and I don't know if they've decided it yet but who better than Bradley Wiggins to light the Olympic flame?"