Blueprint for glory
Dean Ryan says the Heineken Cup is the trophy to covet, but what makes it the most difficult to win?
Last Updated: 11/11/11 4:54pm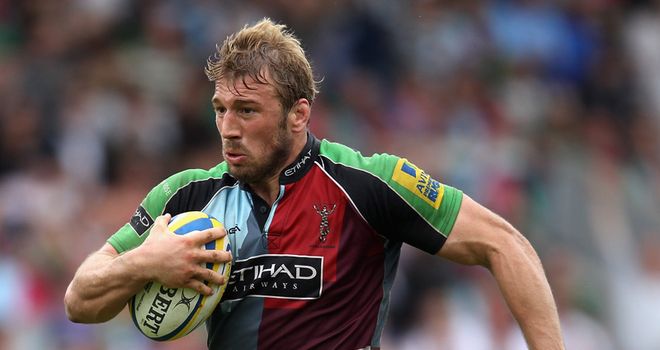 The world's biggest club competition, the Heineken Cup kicks off this Friday and with Europe's elite clubs having had only a few weeks of preparation with their star names back from the World Cup, club coaches around Europe will be feeling that extra bit of tension.
There is no doubt that the Heineken Cup has become the trophy to covet, but just what is it that makes this trophy one of the most difficult to win?
First, you need to establish a playing style that is robust enough for the many different challenges you are likely to face. This is not as straightforward as it sounds especially for the English and French teams for whom qualification through their domestic leagues is often their primary goal.
A chosen method to be successful in the Premiership doesn't automatically transfer to be successful in Europe.
This is best captured if we take a look at the form of England's current leading team, Harlequins. They have marched to the top of the Premiership with a brand of high-tempo, fast-paced rugby marshalled by the outstanding Nick Evans at 10. Conor O'Shea, the Quins boss, will be desperate to maintain their winning run of eight straight games into Europe and why not, you would imagine that there is no reason to change a winning strategy.
But to be successful adapt they must, as during the coming weeks many of the key elements successful to their current form will be severely tested.
Breakdown
One of the biggest challenges they face will be the breakdown, an area of constant debate, with huge grey areas and constant cries for consistency from coaches.
In the Premiership this is an area where the tackler and any contesting player have to be squeaky clean to avoid instant punishment. Back row forwards are constantly aware of the requirement to be accurate around here or face sanction from the Referee.
In Europe this is completely different with the Celtic nations championing the rights of the competing player, seeing the need to contest for ball at the tackle fundamental to the game. Not only will you be facing an opposition back row who are schooled week to week in this area but a referee who (other than the French) will ply his trade in the Rabobank Pro 12, a league that promotes those principles.
When so much of what happens around the tackle is down to foraging instinct it's crucial to have the ability to adapt. Chris Robshaw and co will be very aware of the need to get their hands dirty at the contact area over the coming weeks before returning to the heavier policed Premiership breakdown.
Get this balance wrong and the fast ball Quins have become dependant on will dry up.
Now slow ball of any kind will return the focus back to the games foundations of set piece. Deprived of the ability to run sides around and having to work off slow ball it is easy to find yourself being sucked into a slow set piece battle where the giant French forwards, who no longer are being forced to chase shadows, can decide the game in a series of energy-sapping scrums where even the best have been known to wilt.
A scrum at the Stade Aime Giral Perpignan's famous ground has buried many a promising props reputation.
Suddenly the game that has served you so well over recent weeks has changed dramatically and the spotlight is on players to find different answers.
Luckily for Quins they have one of the best in Nick Evans, whose ability to strike the balance between when it's on to run or not is second to none.
Quins have also developed an ability to off load, not something that is common in England as sides often favour taking the ball through numerous rucks. This gives them the ability to avoid the contest at the breakdown by giving the ball some air.
It is also always important to look at the lessons of others when building your assault on Europe, and Saracens have been very open about those learnt during last year's disappointing campaign.
Recognising that they weren't sharp enough at the breakdown and that they were overly ambitious about what they could and couldn't run, they endured a poor group stage.
It is no surprise to see a more worldly battle hardened Saracens approach Europe this term.
Reputation
Finally we only have to look at where Leicester, England's most successful European side, has built its reputation. The foundations of a scrum built around the mountainous Martin Castrogiovanni gives you an indicator where they think things are won and lost.
It is the diversity of this competition that makes it the Worlds best and toughest, making it almost impossible to predict who will win, and that's just what makes it the tournament to watch over the coming weeks.
My predictions for English clubs opening games this weekend are:
Home win for Quins 1/16 v Connacht 7/1
Home win for London Irish 2/9 v Edinburgh 10/3
Away win for Leicester 1/8 v Aironi 5/1
Away loss for Northampton 11/8 v Munster 4/7
Home win for Saracens 1/33 v Treviso 10/1
Away loss for Gloucester 9/2 v Toulouse 1/7
Back Dean Ryan's Acca (Harlequins, London Irish Leciester, Munster, Saracens and Toulouse all to win) at enhanced odds of 2/1. Bet now