No panic for Wiggins
Tour de France leader not fazed by Froome acceleration
Last Updated: July 12, 2012 7:34pm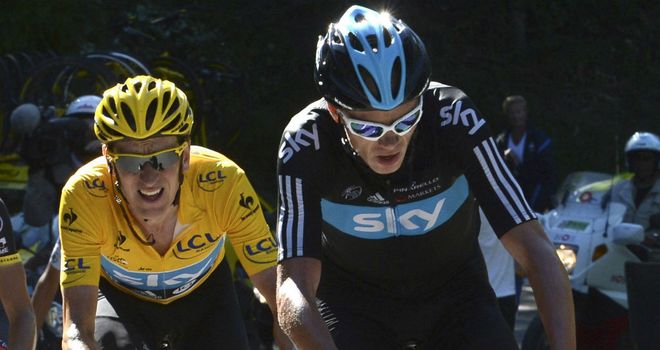 Bradley Wiggins (L): Dropped back momentarily but quickly regained control
Bradley Wiggins has played down an apparent mix-up between himself and Team Sky colleague Chris Froome on stage 11 on the Tour de France.
Wiggins remained on course to become the first British rider to win the Tour as he extended his lead after the 148-kilometre test from Albertville to La Toussuire.
But it is compatriot and team-mate Froome who has now moved into second place as defending champion Cadel Evans (BMC Racing) cracked on the final climb of a classic stage.
At one point during the ascent Froome, after pacing Wiggins back to a bunch of attackers, even put some distance into his team leader before dropping back to continue a steady tempo.
The incident was notable both for Froome's strength and the fact that Wiggins did not follow the move, but the yellow jersey holder insists that he had the situation under control.
"At that moment I was just really concentrating on my effort and keeping it constant," Wiggins said.
Lactate
"I think he (Froome) showed today he had the legs, certainly. It was another great day for the team."
Bradley Wiggins Quotes of the week
"I'd been riding for 1.5km, 2km before that. I just wanted to clear the lactate and didn't want to make any more of an acceleration.
"There was a lot of noise and a lot of things going on on the radio and a bit of confusion at that point as to what we were doing.
"I think he (Froome) showed today he had the legs, certainly. It was another great day for the team."
The prospect of Froome attacking in the closing stages to try to claim second place from Evans had been discussed by Team Sky ahead of the start.
But Evans, who had earlier launched an audacious attack more than 60km from the finish, was shelled by Froome's pace on the last claim to La Toussuire, with the most significant late move coming from Vincenzo Nibali.
Froome paced Wiggins back up to the Liquigas-Cannondale rider, who is now the closest challenger to Team Sky's supremacy in third place overall.
Teamwork
Wiggins added: "Chris wasn't 100 per cent confident in the last time-trial (on July 21) that he'd have the better of Cadel.
"He wanted to try to get a bit of time on him (Evans) today. It was certainly the plan this morning, as long as I stayed with Vincenzo and those guys and Chris didn't drag those guys away."
Froome repeated the team message after the stage, having halted his move when he realised Wiggins was not on his wheel.
He said: "I'll follow orders at all costs. I'm part of a team and I have to do what the team asks me to do.
"Our plan is to look after Bradley. He's just as strong as me, I think, and stronger than me in the time-trial. I'm part of a team and I'll do what I need to do."