A lasting golden glow
'The Olympics is about so much more than winning medals'
By Richard Moore. Last Updated: 13/08/12 10:12am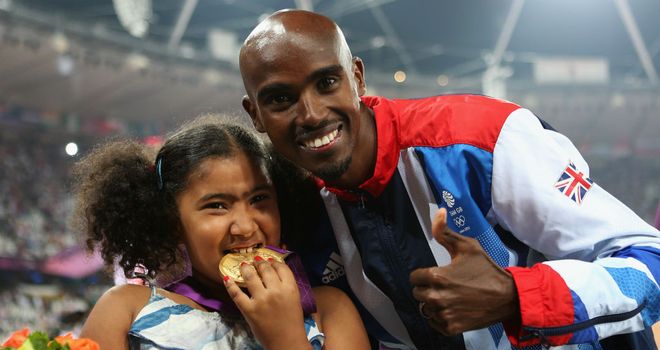 Could double Olympic champion Mo Farah - pictured with daughter Rihanna - visit your area?
The countdown lasted seven years, and the Games themselves just 17 days, but, with the end here, the feelings are of amazement, pride and melancholy. It's a bit like the last few hours of an idyllic holiday, waiting for your bus to the airport.
"But the duration, like much else, has seemed perfect. Normality and reality have been put on hold as people have basked in the golden glow cast by the Games."
Richard Moore Quotes of the week
Let's be honest: the positivity that has infused most of the country for the last two weeks perhaps owes quite a lot to the overriding negativity of the last seven years. One of the criticisms was that all the money, time and effort was for a 17-day festival. Just over two weeks! We feared that it would all be over in a flash, at a cost of roughly £530m a day.
But the duration, like much else, has seemed perfect. Normality and reality have been put on hold as people have basked in the golden glow cast by the Games.
Of course, normality will return and the Olympic glow will gradually fade. But undoubtedly some people's lives - children's, especially - will have been changed forever by what they've seen, either in the flesh or on television, in the past fortnight.
At heart, it's not about winning medals. As Sir Chris Hoy said when he talked of sport having the power to give meaning and purpose to lives, as well as the other advantages: "It's about making sport part of your life and realising the benefits it can give you. You do it for social reasons, for fun, for fitness, for your health."
Over the past fortnight we have seen that the Olympics have a unique ability to inspire, and so do people like Hoy and the other heroes created by London 2012. So here's a suggestion: for all the British Olympians to visit schools and talk about their Games experience, and what sport has done for them. It wouldn't take them long to get round them all, would it?
I picked my half-way hits and misses last week, and some of them have ended up making the Games as successful as they have been - the volunteers and the Army, in particular. I'd add a more general one: people's enthusiasm. It is this that has given the Olympic Park and venues their sense of friendliness and magic and a very special atmosphere.
But as the end is nigh, here are my closing hits and misses:
HITS
Women's boxing
Controversial? It didn't seem so as Natasha Jonas became the first female boxer in Olympic history, and then Nicola Adams, the smiling assassin, became the first gold medallist and the crowd roared its approval. But the greatest atmosphere for any sport, in any venue, might have been for Katie Taylor's gold medal fight.
The Irish boxer is now as big a star in her native country as anyone, and deservedly so. The women's boxing was more graceful and less brutal than men's boxing, and it created some of the most appealing stars of the Games.
Athletics
From the first sold-out session, which got underway at 10am on the first Friday, athletics re-assumed its traditional place as the blue riband Olympic sport. The sport has been in steady decline over the past couple of decades, thanks to drugs scandals and a lack of global stars, but, from Jessica Ennis to Mo Farah to Usain Bolt to David Rudisha, some of the most memorable performances at these Games came on the track.
The Olympic Stadium played its part, too, providing a perfect home for track and field. What a pity it can't be retained as an athletics arena, but would 80,000 turn up for a non-Olympic meeting? Perhaps they would if Ennis and Bolt were competing...
Andy Murray
Murray embraced the Olympics and the Games embraced him back. It might not be a 'major' but winning a gold medal in the singles, and hammering Roger Federer in the final, felt pretty major to Murray. One of the Games' great moments was seeing how much an Olympic gold medal meant to one of the biggest stars in a sport that you could argue doesn't really 'need' the Olympics.
British cycling
It's difficult to single anyone out: Sir Chris Hoy, Laura Trott, the men's and women's team pursuit squads, Victoria Pendleton, Jason Kenny, Bradley Wiggins, Lizzie Armitstead, Chris Froome...
All of which suggests that the system behind these riders, which helped them arrive at the Games in peak form, is the best in the world. There are many people behind it, but Dave Brailsford, as performance director, is the man in charge, and this is the second Olympic Games at which he has managed Britain's most successful team.
They were extraordinary in their ruthlessness, in the velodrome especially. It's remarkable to think that the enduring image of Pendleton is of her tears after losing the sprint final to Anna Meares, when she was also a gold medallist, having won the keirin a few days earlier.
The Olympic Games
Quite a big selection, this. But the Olympic brand has been tarnished in the past, thanks to boycotts and drugs and commercialism, and nobody is suggesting that these things don't still exist. Not the boycotts, perhaps, but the drugs and commercialism are still there, lurking malevolently in the shadows.
Yet London 2012 achieved all that they set out to do and probably more. How we mocked and sneered (well, I certainly did) at the 'Inspire a generation' slogan, but it's possible that they will have done just that.
MISSES
Beach volleyball
Most raved about the setting in Whitehall and the fun atmosphere, but I'm not convinced. Indoor volleyball is more skilful and entertaining, but it's consistently trumped by the supposed glamour of the beach version. It boils down to bikinis, basically. The fact that the women play in skimpy swimwear seems to hold the key to the game's popularity. As a sporting spectacle, it's really not very exciting.
British swimming
They didn't seem to be on the same page as the other British teams, falling short of their medals target and failing to win a single gold. Perhaps it is just that the rest of the world has moved on, because it was impossible not to admire Rebecca Adlington's gutsy efforts in winning two bronze medals, after winning two golds in Beijing four years ago, or Keri-Anne Payne's fourth place finish in the women's marathon swim.
But it is a mark of how far British sport has come that Adlington's two bronzes and Michael Jamieson's silver in the men's 200m breaststroke is deemed a disappointing return. There are sure to be changes at British swimming on the back of this 'failure', and probably a drop in funding.
Horses
I did intend to make it to Greenwich, in order to challenge my firm belief that horses have no place in the Olympic Games. Had I gone, I might have been won over, a bit like Andy Murray's efforts at Wimbledon persuaded me that Olympic tennis can be a good thing. I don't think so, though. It's especially galling that they can make room for horses and restrict the track cycling to one rider per nation. I'd rather have had Chris Hoy in the men's sprint than Valegro in the dressage.
Football
Nothing that happened in London 2012 did anything to convince me that football brings anything to the party, or that the Olympics do anything for football.