On the road at the Tour 3
Last Updated: 09/07/13 1:01pm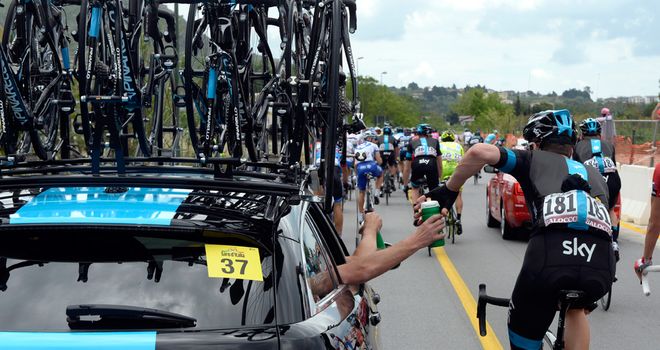 Jaguar performance mechanic Neil Thompson is back on the road with Team Sky during this summer's Tour de France and has just sent us his latest dispatch from the road:
Wow. Even if you had never seen a bike race before, or even knew any of the principles of bike racing, the last two days before the rest day would have still made great entertainment.
I mentioned that the mountains were peaking into view as I was tapping away on my last blog, and by the time I had mailed it off they were well and truly on our horizon, both mentally and physically.
For the riders it means the real start of the campaign to win the yellow jersey, and for the support staff it means many trips around the winding, beautiful mountain passes - managing everything that goes into supporting the riders during the race.
The word 'campaign' here is apt. It's one often used to describe military activity, and the past few days has been nothing short of a war on the roads.
Team Sky successfully pulled off the first skirmish on Saturday with what could only be described as spectacular athleticism and race strategy. Despite attacks from all angles (including the tiny, and very exciting climber Nairo Quintana from Colombia) the riders stuck to their plan. Froomey then launched a devastating attack that was termed the 'f-bomb' on the final climb to take the stage and secure the lead in the race by over three minutes.
I was lucky enough to be on the team bus watching the stage with some of the carers and management including Sir Dave Brailsford. It was a special experience to hear the insight into the race from 'Dave B' and his commentary on the team's plan.
The roar that went up from the bus when Froomey dropped his 'bomb' was deafening, and repeated again when he crossed the line. Reflecting on it now, it's something that I'll certainly be telling the grandchildren one day. Where I was and in whose company I was in when Chris Froome took the yellow jersey, I'm not sure many will be able to beat that.
Yet the Tour (and the Movistar team) had more drama in store. Around the Tour camps on Saturday evening many claimed (in many different languages, as per usual in pro cycling) that the Tour was basically over, so dominant had Froomey been. Yet less than 12 hours later the drama on the road repeated and the race was blown apart once again, with Froomey showing his class and staying in yellow.
As per usual, Dave B summed it up perfectly – there is a reason that this is the greatest race in the sport, and one of the greatest sporting challenges in existence. It's hard. Really, really hard. And exciting. Really, really exciting.
Subscribe to the Jaguar's Cycling App for films, competitions, and more : http://po.st/JaguarHub