Tour Down Under race guide
Preview of the 15th edition
Last Updated: 26/01/13 1:12pm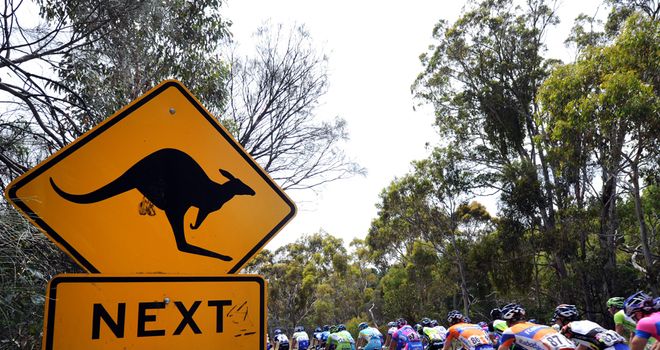 There's no mistaking a race in Australia
The 2013 cycling campaign will burst into life in sunny Adelaide with the now-traditional curtain raiser at the Tour Down Under.
Race numbers:
31. Edvald Boasson Hagen 32. Bernhard Eisel 33. Luke Rowe 34. Mathew Hayman 35. Ian Stannard 36. Chris Sutton 37. Geraint Thomas
2012 Full results
Previous Winners:
2012: Simon Gerrans (AUS) - Orica-GreenEDGE 2011: Cameron Meyer (AUS) – Garmin-Cervelo 2010: Andre Greipel (GER) – HTC-Columbia 2009: Allan Davis (AUS) – Quick Step
Official website
@TourDownUnder #TDU
The opening WorldTour event of the year is the first chance for teams to hit out in a bid to score all-important points, often competing in sweltering summer temperatures in the process.
With new riders, teams and jerseys all in action for the first time, the race combines six stages around the central hub of Adelaide to ensure a fast and furious start to the year.
The event, along with the profile of the sport in Australia, has grown in stature every season since its inception in 1999, meaning the leader's ochre jersey is one of the most prized possessions of the early-season.
Continuing with a format which saw more selective racing last time out, the climb of Old Willunga Hill on the penultimate stage should again play a key part in deciding the race winner.
Stages
Sunday 20 January – People's Choice Classic – 51km
The name may have changed, but bragging rights are on the line in this opening criterium. Not part of the race itself, this rapid showcase takes in 30 laps of the now familiar wedge shaped course around Rymill Park and is guaranteed to end in a bunch sprint.
Highlights on Sky Sports 4 HD from 1200 to 1330, 1900-1930 (Sky Sports 2 HD), 2200-2230 (SS4).
Tuesday 22 January - Stage one: Prospect to Lobethal - 135km
The race kicks off slightly to the north of Adelaide in Prospect. An uphill start should see a break go clear to contest the day's only categorised climb at Checker Hill. The race then loops down to Lobethal for three laps of an undulating finishing circuit. Yet with a near pan-flat final 3km the day should end in a bunch kick.
Live coverage on Sky Sports 4 HD from 0200 to 0400 with highlights at 0830-1030 (SS3), 1500-1700 (SS3), 1830-1900 (SS4), 2130-2200 (SS4), 2300-2330 (SS2).
Wednesday 23 January - Stage two: Mt Barker to Rostrevor - 116.5km
An intriguing prospect, stage two could see an attacking rider prosper with a steep climb placed just 7km from home. The day begins looping south out of Mt Barker before heading up to Hahndorf for a lap of the surrounding area. The route continues north where all eyes will be on the drag up Corkscrew Road. Sprinters teams will need to shepherd their protected riders over the climb before a downhill chase into Rostrevor.
Live coverage on Sky Sports 1 HD from 0130 to 0330 with highlights at 0830-1030 (SS4), 1500-1700 (SS3), 1830-1900 (SS4), 2130-2200 (SS3).
Thursday 24 January - Stage three: Unley to Stirling - 139km
Another bunch sprint looks likely on stage three with the focal point being a circuit around Stirling. The riders tackle an early KOM at Mount Barker Road before passing through the start area for the first time. Six anti-clockwise laps should shake things out before a climb up to the line. That should prove manageable for the fast men ahead of a sprint for home.
Live coverage on Sky Sports 1 HD from 0200 to 0400 with highlights at 0830-1030 (SS4), 1500-1700 (SS3), 1830-1900 (SS4), 2130-2200 (SS4).
Friday 25 January - Stage four: Modbury to Tanunda - 126.5km
Heading to the most northerly point of the race, a series of short, sharp climbs kick off the day. The peloton climbs up Kersbrook Road to the categorised climb at Humbug Scrub for the toughest test of the day. The route criss-crosses roads to the north-east of Adelaide before another likely sprint finish into Tanunda.
Live coverage on Sky Sports 1 HD from 0130 to 0330 with highlights at 0830-1030 (SS4), 1500-1700 (SS3), 1830-1900 (SS4), 2130-2200 (SS4), 2330-0000 (SS4).
Key Stage
Saturday 26 January - Stage five: McLaren Vale to Old Willunga Hill - 151.5km
In what looks likely to be the decisive stage, the now famous Old Willunga Hill will have a key part to play on the penultimate day of action. The day is made up of two circuits, with the riders leaving McLaren Vale for three laps taking in the coastal roads. The route passes through Snapper Point before looping back around - the fourth time through Willunga the road finally forking left and up onto the climb. Expect the peloton to split on the first ascent before further attacks ahead of the pivotal final climb and summit finish. Second time up the hill could well see a new race leader with just one stage to go.
Live coverage on Sky Sports 1 HD from 0030 to 0500 with highlights at 0830-1100 (SS4), 1430-1700 (SS3) and 1930-2000 (SS3).
Sunday 27 January - Stage six: Adelaide Street Circuit - 90km
The final stage could be a hard-fought battle or a largely ceremonial criterium depending on how the general classification looks. With two intermediate sprints and bonus seconds available at the finish on lap 8 and lap 12, the race could go down to the wire as seen in previous years. 20 laps of the 4.5km circuit bring the race to a close, with the sprinters' teams guaranteed to wind it up ahead of a final sprint.
Live coverage on Sky Sports 1 HD from 0230 to 0500 with highlights at 1000-1200 (SS3) and 1300-1500 (SS2).
Team Sky history
In three seasons Team Sky have never finished outside the top four places in Australia. A superb debut in 2010 yielded success in both the opening criterium with Greg Henderson, and the final stage with Chris Sutton. Ben Swift picked up two stage wins in 2011 en route to finishing third. A stage win alluded the team last time out, with Michael Rogers placing fourth and Edvald Boasson Hagen picking up the points jersey.
Tour Down Under coverage will be aired on Sky Sports during the race. Stay tuned for full listings.