Mark Cavendish invited to train with Great Britain track team this winter
Last Updated: 30/10/13 10:12am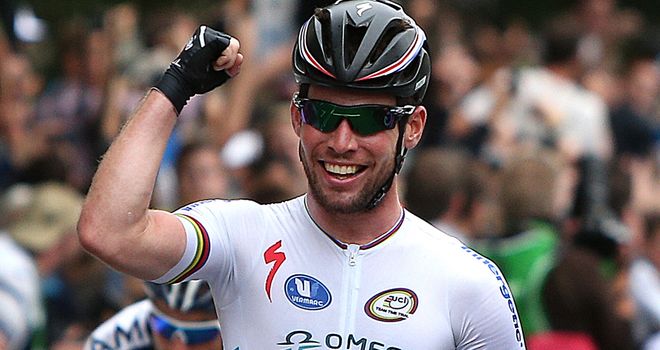 Mark Cavendish could train with the GB track team
Mark Cavendish has been invited to train with the Great Britain track team with a view to competing at the 2016 Olympics in Rio.
Cavendish has won 25 Tour de France stages and was 2011 world road race champion, but he has experienced nothing but disappointment at his two Olympics.
Britain dominated track cycling in the last two Olympics, but Cavendish finished 29th at the London 2012 road race and failed to win at medal at Beijing.
After London, he admitted he might return to the track for Rio, and he competed in a Grand Prix event in Belgium to ensure he was eligible for the Track World Cup events this season.
'Exceptional rider'
He could now join the British team for training before the end of the year and men's endurance coach Paul Manning is open minded about Cavendish being considered for the Games.
Speaking ahead of this weekend's Track World Cup in Manchester, Beijing team pursuit gold-medallist Manning said: "He has already done a bit [on the track] and he is an exceptional bike rider, Mark. You could see that straight away when he came in.
"How much [track time] he needs, I don't know. He might need less than the next person. He will get in there, he'll get stuck in, then you will decide.
"If we can get him in before the end of the year to do a bit of pedalling with the boys, that would be a great start, then move on from there."
Geraint Thomas and Pete Kennaugh committed to the track for the latter half of 2011 and the whole of 2012, missing the Tour de France, in their successful pursuit of Olympic gold.
Plans
The pair's focus has returned to the road this year and they were part of the Team Sky squad which helped Chris Froome win the 2013 Tour de France.
Cavendish would have to forsake a similar period on the road in the run-up to Rio and juggle his commitments.
"I have got to speak to him to see what it means for the short term, for this winter, but also long-term," Manning added.
"We have got to talk about whether that means he has got room in his programme. It is the same for everyone else, you have got to decide how you can invest to be part of the team.
"They have all got team commitments elsewhere and obviously there are key preparation phases leading to competition you would expect everyone to be at. But how they come into that, they have to decide for themselves."