Sir Bradley Wiggins not planning to hold talks with Team Sky team-mate Chris Froome
Last Updated: 16/09/13 11:14am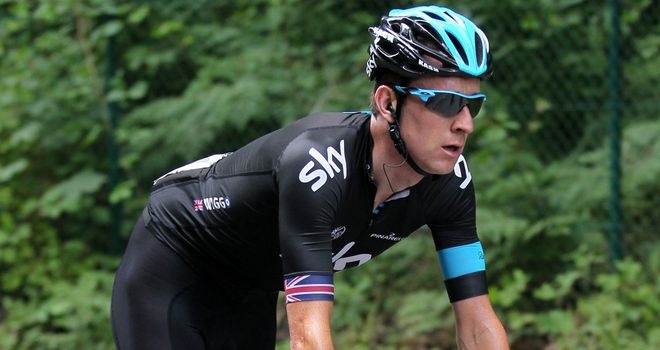 Bradley Wiggins: Happy to help Chris Froome at the world championships
Sir Bradley Wiggins has insisted he has no plans to hold clear-the-air talks with Team Sky team-mate Chris Froome.
Former Team Sky sports director Sean Yates wrote in his recently released autobiography that Wiggins felt he was "stabbed in the back" by Froome during his Tour de France victory last year.
It followed an unplanned attack from Froome on the 11th stage to La Toussuire, which left team leader Wiggins temporarily isolated and vulnerable.
Froome later returned to Wiggins's side and the four-time Olympic gold medallist went on to win the Tour, but Yates revealed Wiggins wanted to quit the race after the incident.
Professional approach
Asked if any attempt had been made to resolve differences between the two men had been made, Wiggins replied: "No, no there hasn't. We haven't raced since the Tour of Oman [in Feburary] together this year.
"It is not for me to decide. At the end of the day it is just sport, it is about going out there and doing a job professionally. It is as simple as that.
"Whether people get on or they don't get on in walks of life, it shouldn't stop you going out and doing the job you do."
Wiggins was unable to defend his Tour crown this year due to injury, and Froome took full advantage to become the second consecutive British champion in cycling's showpiece event.
Team player
Wiggins has no plans for clear-the-air talk with Froome
The rivals will ride for Great Britain in next week's Road World Championships in Italy, and Wiggins revealed he will be happy to play his part in helping Froome win gold.
He added: "I think Chris made his intentions clear after the Tour that he wants to win the world road race, so I put my hand up to be a part of that team and I will assist him. I was selected last week for that.
"Cycling is a team sport and the opportunity to ride for your country in good form. I was at the world championships last year with no form and it is not a nice place to be. I always relish the opportunity to be able to ride the worlds for Great Britain, whoever the leader is and do a job that is asked of me.
"My best memories are from two years ago, assisting Cav [Mark Cavendish] when he won the worlds. So if that is the case and Chris manages to win it and I can play a part in it, then that is a very satisfying thing."
Wiggins revealed he did not watch much of Froome's Tour triumph this year as he was in training for the Tour of Britain, where he is racing this week, and the world championships, which start on Sunday.
Time trial focus
His main focus at the world championships is the time trial, where he is set to go head to head with Fabian Cancellara and reigning champion Tony Martin.
Once that is out of the way, Wiggins will call time on his season and take some time off the bike.
"It is very hard to avoid the Tour because it is everywhere and it is so popular," Wiggins said. "I had quite a heavy training block there, so I was catching snippets of it, but not sitting there all day watching it.
"A lot has been said since I came out the Tour and stuff - putting weight on and all this stuff you see, going for the hour record - people make this stuff up.
"At this stage I am just focused on this week. I will get to the end of the season, have a holiday and then decide about my future."