Fernando Alonso admits Euskaltel-Euskadi cycling team takeover is an 'ambitious project'
By Matt Westby. Last Updated: 05/09/13 3:27pm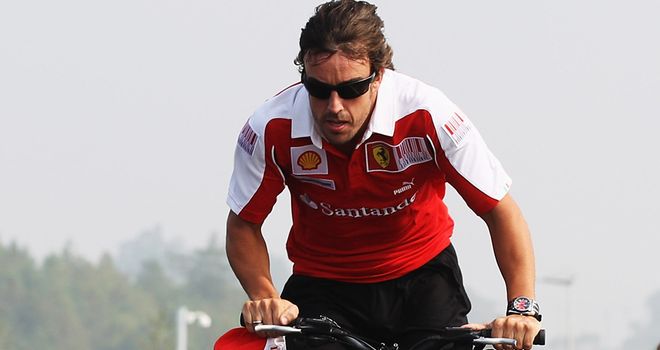 Fernando Alonso is looking for sponsors for his new team
Formula One driver Fernando Alonso has admitted his takeover of Euskaltel-Euskadi is an "ambitious project" but is hopeful of turning the Spanish squad into one of cycling's top teams.
The 32-year-old revealed on Monday that he has agreed to buy the cash-strapped outfit's WorldTour licence for €6m, saving it from folding at the end of the current season.
Speaking at a press conference ahead of this weekend's Italian Grand Prix, Alonso revealed he is currently searching for new sponsors and does not yet know what the team will be named.
He also admitted it will be difficult to sign new riders for the 2014 campaign, but is confident of making the team competitive by 2015.
Sponsor search
"It is an ambitious project with a lot of hopes and aims," Alonso said. "We do not have a name yet. We need to find sponsors. What we want is to have a team that can fight for the best things.
"Hopefully we can create a solid project, not so much for 2014 because I don't think that there are many riders now with possibility to sign, but for 2015, we need to create something big."
News of the takeover came less than a fortnight after previous owners Basque Cycling Pro Team announced the team would fold, and Alonso admitted it had taken a lot of hard work to complete the deal in such a short space of time.
"This project is trying to put together the best things of the two sports."
Fernando Alonso
"It was one week with a lot of work," he added. "I used two or three batteries on the telephone every day.
Best of both worlds
"But now, more or less everything is complete. All the decisions and all the work that we need to do will be passed to other people - to managers and sporting directors, who we need to find.
"We need to do a lot of things in the next month because the first race is in the middle of January in Australia, so it is not something we can delay much more."
Alonso has a long-held passion for cycling and now hopes the bridge he has formed between two wheels and four can benefit both sports.
"This project is trying to put together the best things of the two sports," he explained. "I want to bring to Formula One the best things that cycling can teach me in terms of sacrifice, determination, discipline, training, and I want to bring to the cycling team the best things of Formula One - organisation, image, marketing and professionalism."