Dan Martin out of Vuelta a Espana with multiple injuries sustained in stage seven crash
Last Updated: 31/08/13 5:22pm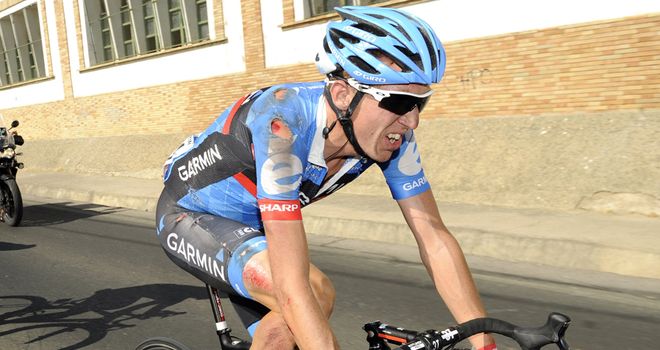 Dan Martin: Leaves the Vuelta after heavy crash on Friday
Dan Martin has been forced out of the Vuelta a Espana after sustaining multiple injuries in a crash on Friday's seventh stage.
Martin was taken to hospital after coming down heavily in an incident on a bad section of road in the final 10km of the run into Mairena de Aljafare.
The Irishman, who rides for Garmin-Sharp, said he hit a bump or rock in the road and had no chance of staying on his bike, and he was critical of race organisers for disregarding concerns over rider safety.
His team was already in disarray, trying to get sprinter Tyler Farrar back to the front after a puncture, when the incident occurred. Martin made it to the line losing only just over 90 seconds, but he confirmed on Saturday morning that his race was over amid fears of a concussion.
Martin, whose team-mate Alex Rasmussen posted a picture of him swathed in bandages down his right side, told his Twitter followers: "Sad to leave the Vuelta but can't race with these birds flying round my head. I hit a hole or rock in the road. Down I went.
"Thanks so much for all the messages. Happy to say nothing broken but most painful crash ever had.
"Stunned at the UCI commissaires lack of compassion. Should concentrate more on rider safety and less on UCI fundraising."