Team Sky announce new deal for American rider Danny Pate
Last Updated: 19/08/13 5:52pm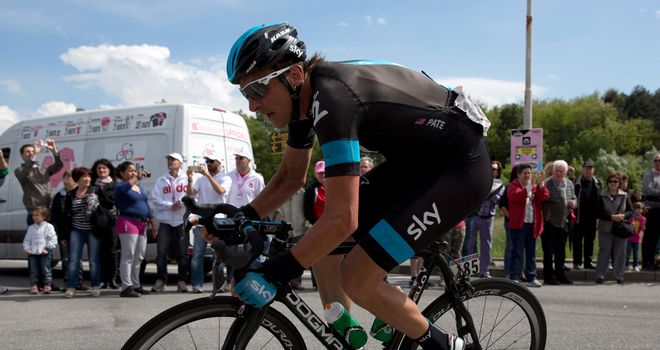 Pate: Happy in Team Sky colours
Team Sky have confirmed American rider Danny Pate has extended his contract with the team.
The 34-year-old has been a model of consistency since joining the team at the start of the 2012 season and his selfless brand of powerful riding has helped secure numerous race wins.
The American's experience and laid-back demeanour make him a great team-mate, as well as a mentor for the younger riders on Team Sky's roster.
On extending his stay with the team, Pate said: "I enjoy riding for Team Sky and I feel like I have a place that I'm really comfortable in, yet at the same time there is still a challenging platform to ride well.
"We're the number one team in the world right now. The guys don't just rest on that. The team is always moving forward and trying to find the next improvement.
"I like my position on the team. It's not the team leader spot - that's just not what I am. I enjoy what I do and I'm happy that the team values the work I do for them."
Sky Pro Cycling Team Principal Sir Dave Brailsford said: "We're delighted to have got a new deal in place for Danny. Everyone in the team knows just how hard he works and it's no coincidence that he's been part of some our best stage race performances.
"He is a great personality to have in the squad and as we continue to target success he is undoubtedly going to be a key asset."
The new deal comes with Pate preparing to tackle his home race, as Team Sky return to the United States for the USA Pro Challenge.
A Colorado native, Pate is understandably thrilled to be competing in his home state. "It's one of my highlights of the year," he added. "I really enjoy racing here since I'm living here full-time. The race doesn't go that near my home but Colorado all feels like home to me. It's really nice to be back racing here.
"It's probably my favourite race, although I do enjoy racing the other events in the US. You just feel at home. Everyone knows what that's like - if they go away, all the way across the world to pursue their work, their lifestyle or passion. Coming back here is like returning home."
Pate also gave his reasons for why Colorado is such a popular place for riding and now bike racing.
"It's one of the hotbeds of cycling you could say and it certainly has a bigger cycling culture than some other states. It's probably the weather. And the roads. And the mountains. I think everyone enjoys riding here for those aspects.
"You can find a more constant temperature somewhere else but to have four legitimate seasons across the year - for me Colorado has some of the best weather in the world.
"The mountains are really nice here too. I've been all over and the Dolomites are great, as is the Pyrenees. But Colorado is on a par. It's hard to find something like that."