British support for cycling was pivotal, says Tour director Christian Prudhomme
Last Updated: 14/12/12 2:54pm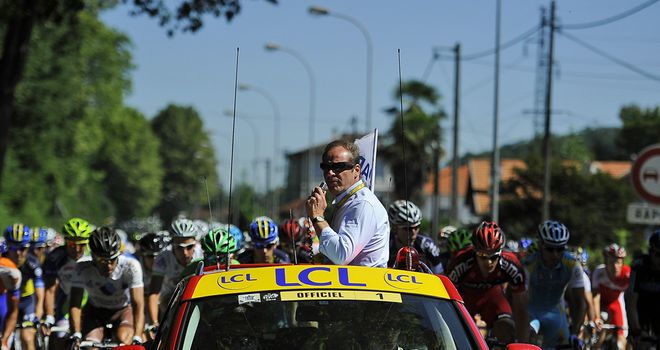 Christian Prudhomme: Brought Yorkshire's bid forward by two years
Tour de France director Christian Prudhomme has revealed Yorkshire's bid to host the 2014 Grand Depart was brought forward by two years because of Britain's "enormous" support for cycling during the Olympic Games.
Yorkshire has been chosen to hold the first two stages of the 2014 race, with the peloton then moving south for a third day ending in London.
The county had been campaigning to host the Tour in 2016, but after millions of people lined the streets of the capital to watch Olympic races this summer, the Amaury Sport Organisation, who organise the Tour, selected it two years ahead of schedule.
Prudhomme said: "Bradley Wiggins's historical [Tour de France] victory last July and the enormous crowds that followed the cycling events in the streets of London during the Olympic Games encouraged us to go back earlier than we had initially planned."
Prudhomme also revealed organisers were won over by Yorkshire's passion, scenery and suitability for cycle racing.
He added: "Yorkshire is a region of outstanding beauty, with breathtaking landscapes whose terrains offer both sprinters and attackers the opportunity to express themselves.
"We have encountered a phenomenal desire from the Yorkshire team to welcome the Tour de France and have no doubt that passion and support will be particularly evident for the Grand Depart of the Tour de France 2014."
The 2014 Grand Depart will be the first time the race has been held on British shores since 2007, when the prologue was watched by a million people in London.
Prudhomme added: "Since the resounding success of the Grand Depart in London in 2007, we were very keen to return to the United Kingdom."