Worlds time trial guide
Rainbow jersey on the line against the clock
Last Updated: 17/09/12 3:37pm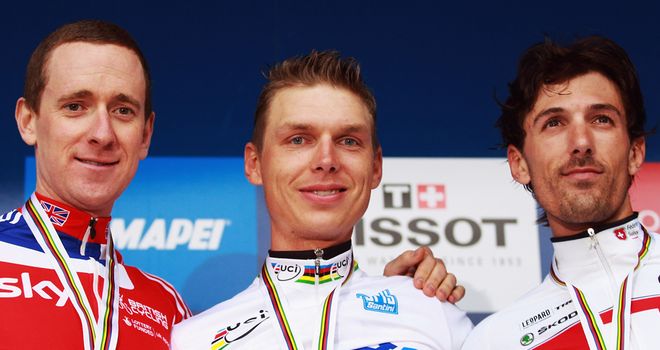 Time trial worlds: 2011 podium
The middle part of the World Championships week will be dominated by the fight for time trial title as the specialists against the clock lay their claims to the rainbow jersey.
Individual time trialling has been a fixture at the World Championships since 1994 and the race has developed into one of the most prestigious events on the cycling calendar.
This year in Limburg, Holland, the riders will face a 45.7-kilometre test that starts in Heerlen and takes an undulating course through to the finish in Valkenburg.
There are enough flat sections for the power riders to stretch their legs, however, and the specialists will still fancy their chances of being crowned the best in the world.
Riders will compete in their national colours, with each country allowed to enter two participants.
Route
The route initially heads east before turning south at the town of Landgraaf through more residential areas.
The first 15km are a slight uphill drag but the gradient is not steep enough to play into the hands of the climbers, meaning the power riders and time trial specialists should build an early advantage.
A short descent then leads into the first proper climb of Sint Remigiusstraat, situated in the town of Hulsveld and averaging 7.7% over 1km.
A flat out descent follows which should again favour the power riders before another uncategorised uphill section takes the riders through the town of Gulpen as the route continues to head west towards the finish.
Another downhill stretch of road then leads to the 40km mark, where the riders will have to tackle the second climb of the course. However, at just 800m with an average gradient of 5.4% the Bundersberg should not cause too many problems.
On the run back into Valkenburg one thing will be on every rider's mind - the final climb of the infamous Cauberg. The most famous climb in Holland is 1.2km of 5.8% and could make all the difference among the tired riders. After that all that remains is a brief drag to the finish to crown the winner.