Cycling duo strike gold
Fachie and Storey put on a show inside the velodrome
Last Updated: 01/09/12 3:23pm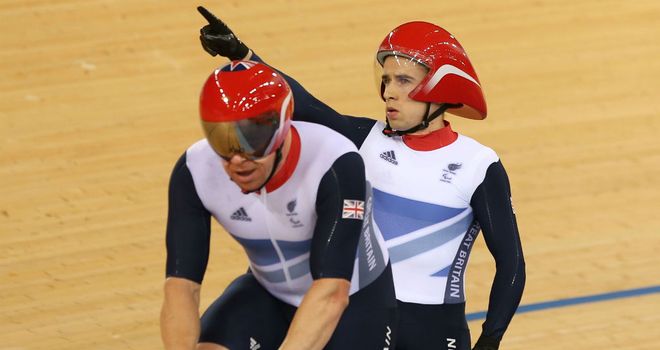 Neil Fachie: celebrates taking gold in one-kilometre tandem time-trial
Neil Fachie and Barney Storey won Great Britain's third gold medal of the Paralympic Games track cycling programme with a scintillating display in the tandem one-kilometre time-trial - but there was mechanical heartache for Anthony Kappes and Craig MacLean.
Fachie, who is partially sighted and competed in athletics in Beijing in 2008, and pilot Storey clocked a world record of one minute 01.351 seconds at the London 2012 velodrome.
"I just can't believe it. To be here winning the gold medal is a dream come true."
Neil Fachie Quotes of the week
Kappes, who won the event in partnership with Storey in 2008, and MacLean suffered two mishaps and were denied a third opportunity to start by race officials.
The duo, world champions in February, had been scheduled to start last, but two chain failures saw their competition come to an end.
Paid tribute
Spain's Jose Enrique Porto and Jose Antonio Villanueva took silver in 1:02.707, with Ireland's Jason Brown and Damien Shaw ninth in 1:07.979.
Fachie paid tribute to the support of the crowd as he and Storey closed in on their record-breaking time.
"The atmosphere was electric," he said. "The crowd pushed us round that final bend.
"I just can't believe it. To be here winning the gold medal is a dream come true."
Storey, meanwhile, sympathised with the plight of Kappes and MacLean.
"I'm really gutted," he said. "I was fighting back tears at the end. I hate to see that happen to team-mates.
"You really want to race the best people and they are one of the best tandems in the world."
Jody Cundy experienced similar start troubles on day two and was denied a restart. The 33-year-old from Wisbech was back on the track on day three and qualified in third place for the men's C4 four-kilometres individual pursuit.
"It's history now," said Cundy, of the one-kilometre time-trial event which he won in Beijing.
"Unfortunately it's one of those chapters when the results will read Spanish guy first... DNF (did not finish) at the bottom next to my name.
"I guess I'll have to do another four years now because there's a kilo title with my name on it. I want it back."
Cundy clocked a personal best of 4:42.005 after ensuring he started smoothly and will race Diego Duenas (4:50.016) in the battle for bronze.
Meanwhile, Jon-Allan Butterworth reached the gold medal final of the C5 4km individual pursuit.