Wiggins: My finest hour
Triple Olympic champion says Tour win trumps other achievements
Last Updated: 22/07/12 4:43pm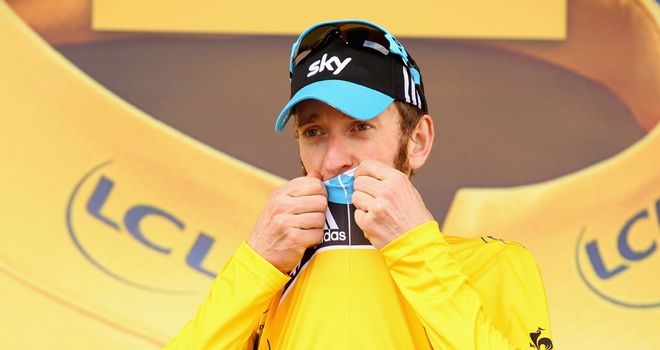 Bradley Wiggins: Set to become first British winner of the Tour de France
Bradley Wiggins says he ranks his almost certain victory in the Tour de France as the greatest achievement in his sporting career.
Wiggins has won three Olympic gold medals on the track but believes that becoming the first British rider to win road racing's showpiece event eclipses those successes.
The 32-year-old, who stormed to victory on the stage 19 time trial on Saturday, now needs only to come through Sunday's procession into Paris in order to complete the win.
And although he keeps his sporting career in perspective, Wiggins admitted that he was feeling emotional as he moved to the brink of Tour history.
"I've got a lot of other things in my life that mean more to me than this and I'd give it up tomorrow for that," Wiggins said.
"But in a sporting sense it's my greatest sporting achievement. I've just won the Tour. What else is there bigger than that?
"In a sporting sense it's my greatest sporting achievement. I've just won the Tour. What else is there bigger than that?"
Bradley Wiggins Quotes of the week
"It's probably the bonheur (happiest moment) of my sporting career, perhaps not in life."
Lead
In the final stages of the route to Chartres, with Wiggins already in a commanding lead, the Team Sky rider recalled the people and the moments which brought him to the verge of Tour victory.
He added: "The last 10k I was thinking of a lot of things and it was spurring me to go on even harder.
"Just thinking back to my childhood. My father leaving us when I was a kid and growing up with my mum in a flat. My grandfather brought me up; he was my father role model.
"He died when I was on the Tour two years' ago. When I came home from the Tour in 2010 I had to go to his funeral.
"Going back as a child, watching the Tour de France as a kid on telly, from the age of 10, 11, 12, all through the (five-time winner Miguel) Indurain years.
"Dreaming that one day you would win the Tour, but thinking, 'what chance has a kid growing up in central London got of winning the Tour?'
"It's been an incredible road, since I was junior world champion in '98 and being in that British set-up with Dave Brailsford and Shane (Sutton).
"They've seen me not only grow as a teenager, but go through everything, to today, where I've won the Tour, barring tomorrow."
Inspired to get on your bike by Bradley Wiggins and Team Sky at the Tour de France? Then visit www.goskyride.com for rides for all ages and abilities.