Lizzie Armitstead blog: I'm in the form of my career but I've now got to keep it going until the Tour of Flanders
In the latest instalment of her blog, Lizzie Armitstead discusses continuing the best form of her career.
Last Updated: 25/03/14 5:02pm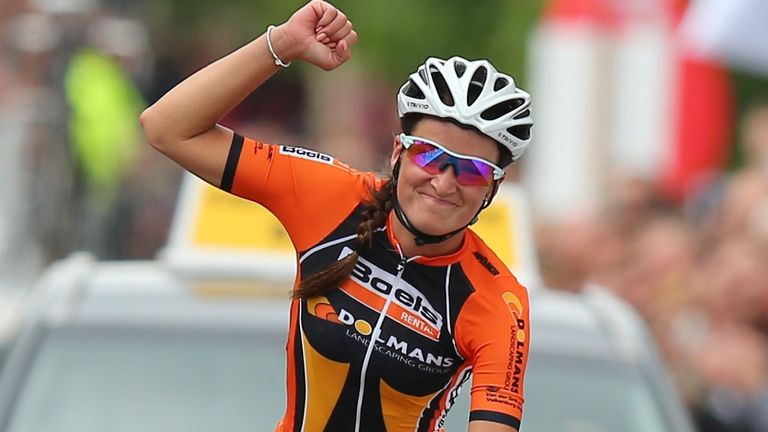 I'm currently in some of the best form of my career - if not the best - after winning two of my last four races and finishing on the podium in both of the other two - all within the space of two weeks.
It was an amazing fortnight. I knew I was in good shape and that results like that were possible because on my team's training camps I had been riding alongside my team-mates and they were breathing a lot harder I was, and when that happens, you get an idea that you're riding well.
The spree started off with a third place at Omloop Het Nieuwsblad in Belgium and then continued with a win at Omloop van het Hageland, also in Belgium. The way I won it - attacking and forcing the move - was a definite confidence-booster, and it was such a great feeling to cross the line arms raised.
At my next race, called Molecaten Drentse, in the Netherlands, I had the privilege of sharing the podium with my fellow Briton Lucy Garner, which was really cool. She finished second and I was third, so it was really nice to have both of us up there.
After that I went on to win the Ronde van Drenthe, again in the Netherlands, which is the first event in the UCI Women's Road World Cup, and that was the result I was most pleased with out of the four.
The race actually could have worked out very differently because I was in a group chasing the leaders and we got sent down the wrong road by marshals. It was a pretty bad situation. We went from about a minute behind the breakaway to a minute and a half, but luckily, my team-mate Ellen van Dijk, who is the world time trial champion, was with me and she managed to get the gap back down.
I really struggled during the race, not because I was feeling bad, but because I had to be patient and wait until the final climb, where I could finally attack. I was feeling like I was on a really good day and I was saying over the radio to my team, "This is too easy, we need to attack".
Flanders focus
Thankfully, I had sensible team-mates around me who told me to wait and attack at the right time, which I did. There was one rider up ahead of us in the lead and I managed to bridge across and then out-sprint her.
Now I've just got to continue this form into the Tour of Flanders on April 6, which is one of my big goals for the season and a race I've always wanted to win.
I was speaking to my brother on the phone the other day and I was saying that it's still two weeks away and I don't know if I can hold on to my form, but he said I should be thinking about how much I can still get better, and he's right. The next two weeks are an opportunity to apply the finishing touches to my condition and exploit any little bits of room for improvement.
The danger is that good form is very, very delicate. You don't want to be around sick people, for a start. Plus, you have to be wary of over-training and wearing your body out, which, for me, is more dangerous than under-training. I've just had a weekend off the bike for that very reason. It's a very difficult step to take so close to such a big race, but I know it's the right thing to do.
Realistically, I think my chances of winning are very good. I'm experienced enough not to kid myself, but barring incident, I should be fighting for the victory.
What would be a disappointing result? Second. No question. I'm confident, I'm in form, I'm a year older and wiser, and I might never get a better opportunity than this, so I'll be gutted if I don't win.
I've got a very specific plan in mind, which I'm afraid I can't tell you guys right now, but I know exactly how I want to win the race. Obviously, I'm a putting a lot of pressure on myself there, and I am nervous, but it's an excited nervousness. It's a good thing.
Hopefully in my next post I'll be able to tell you what it felt like to win.