Tour de France route analysis: Surviving early stages could be key to overall victory
Matt Westby looks at where the race could be won and lost
Last Updated: 05/07/14 9:37am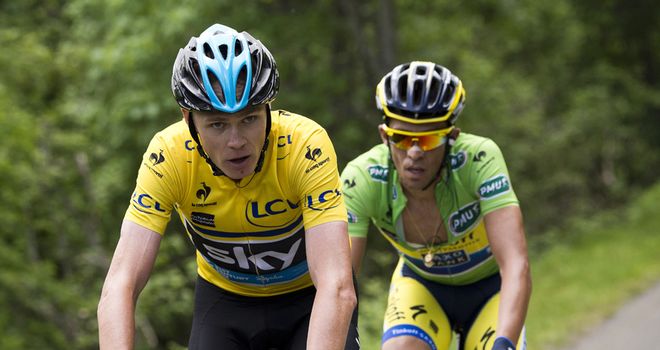 Chris Froome and Alberto Contador are the favourites for overall victory
The Tour de France is traditionally won by an attacking rider who makes significant gains on his rivals, but on this year's route, avoiding losses could be even more important.
The opening week contains two stages that are littered with hazards and each has the potential to cause irreparable damage to a rider's yellow jersey ambitions.
First up is stage two, which is back-loaded with not only short and sharp climbs, but also tight and twisting descents, doubling the danger.
The climbs are steep enough to create splits in the peloton and could lead to any rider who is not well positioned being distanced, while the descents are so precarious in places that crashes are almost inevitable.
The fact that almost all of the roads in the final 40km have been re-laid in recent weeks only adds to the threat of falls, because if it rains on the day, the unspoilt asphalt will turn into a skating rink and riders will be sliding off the road into Sheffield one after the other.
Getting through this stage is no reason to relax, though, because three days later, more potential peril awaits.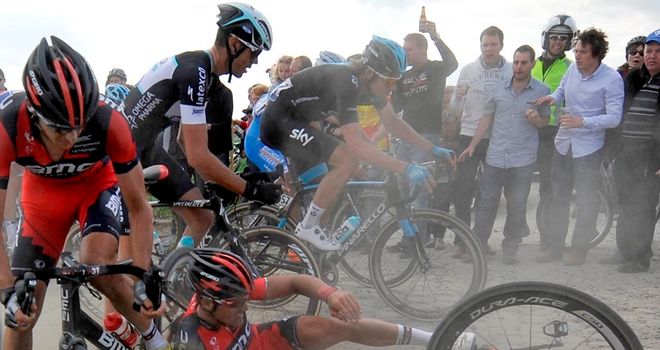 The riders will have to be careful to avoid crashes on the cobbled fifth stage
This year's Tour commemorates the start of the First World War and, consequently, stage five will begin in Belgium for a day containing 15.4km of cobbled roads from Ypres to Arenberg Porte du Hainot.
The pavé, as the cobbles are known, could well wreak havoc in a peloton that will be on edge so early in the three-week race. Mechanical problems are common, crashes are rife, the pace is furious and the fight for position is frantic, meaning any complications could have potentially devastating consequences. A puncture could cost a crucial minute. A crash could end a rider's race.
Not losing time to rivals will be of paramount importance and the general classification contenders who make it through unscathed will no doubt breathe a deep sigh of relief.
Only after this stage can they emerge from survival mode and start thinking about moving on to the front foot in the mountains.
There are three key mountain battlegrounds in the race for the 2014 yellow jersey - the Vosges, the Alps and the Pyrenees - with five summit finishes along the way.
It was on the hilltop finales where Froome effectively won the 2013 Tour, winning two of them and finishing third and seventh on the other two, so he will no doubt be thrilled that there is one more on this year's route.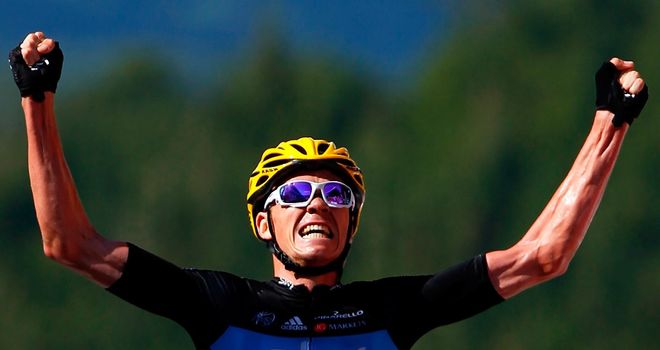 Chris Froome claimed his first Tour de France stage win on La Planche des Belles Filles in 2012
As good as he was on those climbs, his plight was unquestionably aided by the fact that Alberto Contador, his chief rival going into both last year's and this year's races, was in woeful form and simply couldn't match him uphill. However, the Spaniard appears to have rediscovered his climbing prowess this season and so far in 2014 there has been little to choose between the two men.
The stage ten climb to Les Planches des Belles Filles, on the race's last day in the Vosges, appears to be the first opportunity for the general classification contenders to put time into each other and could reveal not only who has the best form, but who is favourite for overall victory.
However, it will be on the summit finishes in the Alps (on stages 13 and 14) and then the Pyrenees (stages 17 and 18) where the most significant divisions will appear between the race favourites.
Recent history suggests, though, that the pressure will be on Contador to take time in the mountains more than Froome, primarily due to the fact that a 54km individual time trial is waiting on stage 20.
In the past two seasons, Froome and Contador have faced off against each other five times in individual tests against the clock, with Froome defeating Contador on every occasion and beating him by a total of 5min 20sec over a combined distance of 107.9km.
That equates to roughly three seconds every 1km - and a huge 2min 42sec over this year's stage 20 course.
Admittedly, four of the aforementioned time trials took place in the 2013 season, when Contador was far from at his best. He has improved in 2014, but so too has Froome, which was no better proven than when he defeated three-time world time trial champion Tony Martin at the Tour de Romandie in April.
Even if Contador cuts the time trial gulf between himself and Froome significantly - by half, for example - he is still looking at losses on stage 20 of well over a minute.
That means the two-time Tour winner simply has to be in the yellow jersey going into stage 20 if he is to stand any chance of winning the race for a third time.
It also means he has got to get the better of Froome in the mountains, which is no small task given the Briton's outstanding climbing pedigree.
For that reason, Contador could well be hoping Froome comes a cropper on stages two and five.