Hoy rues 'stupid' mistake
English takes full advantage of Olympic champion's error
Last Updated: 21/11/10 10:56am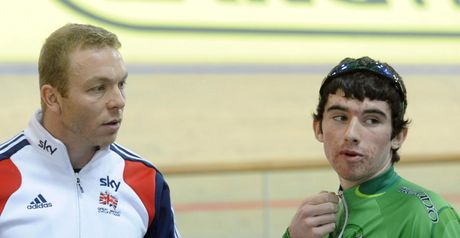 Hoy: Lost out to English
Sir Chris Hoy made a shock early exit from the men's sprint at the European Track Championships in Poland on Saturday and then admitted a "stupid" mistake was to blame for him being beaten by Ireland's Felix English in the last 16.
The four-time Olympic champion, thinking the race was won, slowed right down to conserve energy and to avoid humiliating his 18-year-old rival at the BGZ-Arena in Pruszkow.
But it proved a huge error of judgment as English caught up and overtook Hoy, who had no time in which to respond.
"When you are up against an opponent who is one second slower, 99 times out of a hundred you know it's going to be straightforward and you don't want to waste energy because there is a lot of racing to come and if you smoke it and win by 50m it looks disrespectful," the Scot said on www.guardian.co.uk.
"I went from the front, put an 85% jump in, got a big gap then shut it down. He looked so far back I thought he had given up.
"The first I knew he was there was in the home straight when I saw him coming up, and there was nothing I could do.
"It wasn't a tactical error, it was something that should never have happened, something stupid that I hope never happens again. I was just silly, you have to be aware that you don't want to waste energy but you have to give him enough respect to make sure you finish first."
Hoy had qualified for the last 16 in first place, clocking 9.999seconds over 200metres, the only rider to dip under the 10sec mark.
English elated
English, who qualified in 24th place, the final spot, with 11.046s, admitted his victory over Hoy had shocked even him.
"It's nuts, I'm not even a sprinter. I was facing the best sprinter in the world and was just planning to take it from the front and expecting to lose," he told Cycling Weekly.
"He just started cruising on the back straight. I've never seen him do that before. He must have thought he had a huge gap and started drifting up the track.
"The gap wasn't that big - about three lengths - so I rushed the gap on the last bend and came past him in the last 50m. He didn't notice until too late and that was it."