Redemption song
Lance Armstrong has to implicate all those who helped him get away with doping, says Richard Moore.
Last Updated: 18/01/13 2:05pm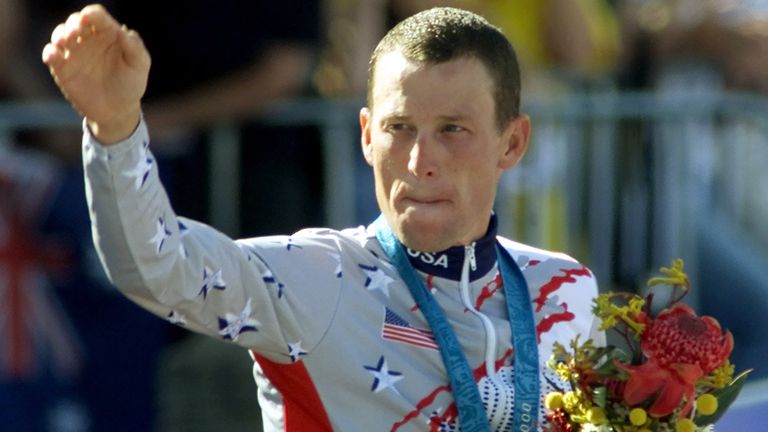 There were two audiences for Lance Armstrong's interview with Oprah Winfrey early on Friday morning.
The reactions of the two were predictably different. The cycling audience was livid; for them, Armstrong is beyond atonement, and, unless he had forensically named every individual complicit in his doping, nothing he said was likely to earn him even a smidgen of sympathy.
Among those who don't know, and don't care, about the sport, some ambivalence was evident. "He seemed very open, and even a bit humble," was the comment of one non-cyclist. Armstrong will be hoping others will have been similarly convinced.
Many never will be. There were people who were attacked by Armstrong in a particularly nasty manner, and they are justifiably angry and unforgiving.
Cycling fans have every right to be angry, too. Journalists who covered the Armstrong era, who in some cases were duped, and in others effectively muzzled, are also in an unforgiving mood.
There is some forgiveness out there: in the peloton's old guard. The opponents 'robbed' of success by Armstrong's cheating appear, in the main, suspiciously unperturbed, with some, such as Germany's Andreas Kloden, second to Armstrong in 2004, currently preparing for the 2013 season in apparent - to use a favourite Euro expression - 'serenity.'
Trying to plot a path through the middle of it all is difficult. Emotions run high - except when it comes to Armstrong himself, who appeared diminished and humbled (not humble, note), but devoid of emotion.
The challenge in analysing what he said to Winfrey is a familiar one: how do you know what to believe when the speaker is a proven, and extremely gifted, liar? As he admitted early on in the interview, "I'm not the most believable guy in the world right now, I understand that."
If someone is not telling the full truth then contradictions are inevitable. And there were some. Though he half-heartedly proposed the 'level playing field' thesis - that because they were all doing it, the best man still won - he also admitted: "I view this situation as one big lie, that I repeated a lot of times... The story was so perfect, for so long... This mythic, perfect story."
You could almost sense his nostalgic yearning for this previous, perfect, fictional life.
And while on the one hand, he said, "I made my decisions. They are my mistakes. I am sitting here today to acknowledge that. And to say sorry for that," he also said that these decisions did not feel wrong at the time.
This, he admitted, was "scary." So Winfrey asked if he felt bad about what he was doing. "No. Even scarier." Did he feel he was cheating? "No." So the scariness comes only with hindsight, having been caught.
Echo
A point made by Tyler Hamilton in his book, that cancer did not deter Armstrong from doping, but drove him to go even further with it when he returned to the sport, was echoed by Armstrong.
"It was truly win at all costs," he said. "When I was diagnosed, I said, 'I will do anything I can do to survive.' And that's good. I took that attitude right into cycling. And that's bad."
Armstrong made some true statements. "I didn't invent the [doping] culture," he said. "But I didn't try to stop the culture."
He sounded sincere - but he has sounded sincere before - when he said he would "do anything to go back to that day" when the US Anti-Doping Agency charged him, and he declined to respond.
He repeated that he was flawed, and claimed he would "spend the rest of my life trying to earn back trust and apologising to people."
It is in his power to make good on this promise, which might bring some comfort. But the most frustrating aspect of his interview was his refusal to implicate anyone else, other than in very reluctantly accepting that Michele Ferrari did more than supply him with training plans.
In fact, considering the planning that must have gone into his meeting with Oprah, and how carefully he must have thought about how to take those difficult first steps on the road to redemption, he overlooked something fundamental.
The lesson of previous sinners-turned-saints is that the only way to redemption is to dump others in it. Would Tyler Hamilton and Floyd Landis be hailed in some quarters as whistle-blowing heroes - and indeed victims - had they only confessed to their own cheating?
Of course not. It is an unsavoury truth, but Armstrong's only hope is to tell a wider story than his own: who knew what; who helped him; who supplied him.
Armstrong said he would willingly take part in a truth and reconciliation commission, and that should be encouraged, even if it allows him some measure of rehabilitation, because vilifying him and ostracising him would be counter-productive.
He still holds the keys to too many doors.