Laura Trott sealed superstar status with World Cup success in Glasgow, says Richard Moore
Laura Trott's displays in Glasgow prove that she's got the X-Factor, according to Richard Moore.
Last Updated: 28/11/12 1:40pm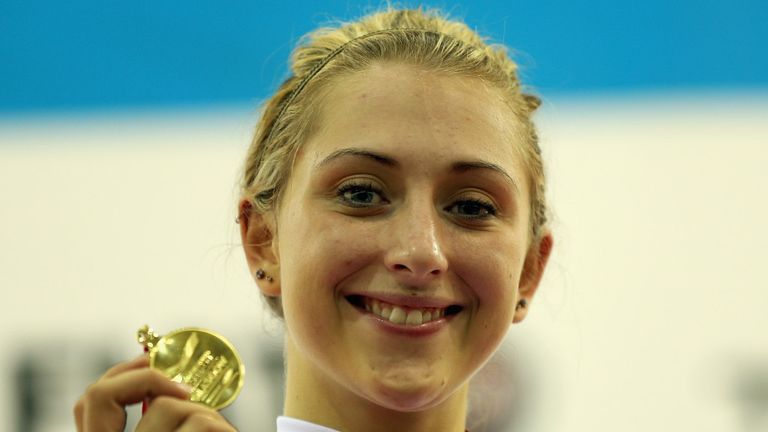 It was London 2012 that made Trott, but Glasgow confirmed that she has something extra - the X-factor that Mark Cavendish and very few other cyclists have. It is the desire to win, no matter whether it's the Games or a relatively insignificant World Cup at the start of a new four-year Olympic cycle, coupled with the necessary turn of speed.
Just before watching Trott finish off the omnium with the scorching 500 metres time trial that sealed her second gold medal, Dave Brailsford had acknowledged that motivation during this period in a track cyclist's life can be difficult, though he was careful to make a distinction between 'commitment' and 'motivation'.
"You can do pretty much what you want for first year after Olympics," said Brailsford. "You can walk the dog for a year if you want. It's not going to have that much of an impact."
Yet this is what Trott said after winning her second gold medal of the weekend: "I was in the silver medal position [before the final event] and I was like, I'm not having that. Coming to this being double Olympic champion and going home with silver? No way. I just love winning. I love the feeling."
There is no Olympic hangover for Trott, clearly. While other British riders - some of them in Glasgow, others missing altogether - were below par, the 20-year-old from Essex seemed exactly the same athlete, even as she insisted she is not in top shape. That only made her performances all the more impressive.
The pity is that there aren't more opportunities for her to race, and this brings me to the new Glasgow velodrome.
Facility
It is a brilliant facility, which had no problems attracting 20,000 people over three days of competition, and generating an atmosphere similar to the Games (let's call it London-lite), but how often will it host events such as this? The answer: hardly ever.
Britain now has four indoor velodromes, in Manchester, Newport, London and Glasgow, but internationally the sport is not exactly in rude health.
This year there are only three World Cups: in Cali last month, Glasgow at the weekend, and Mexico in mid-January. The world championships, in Minsk, Belarus, are a month earlier than usual, at the end of February.
There is talk of track cycling reverting to a summer season in time for the next Olympics, having switched to the winter in 2004/05, which would be popular among many, as long as it is accompanied by a genuine commitment from the UCI to develop the sport.
There are also rumours of the Olympic programme being altered again, perhaps with the loss of one of Trott's events, the omnium. Few cheered when it was added for London, though, thanks mainly to Trott, it proved a hit at the Games.
As we saw at the weekend, Trott lacks neither commitment nor motivation, but it must be galling for a rider who isn't particularly interested in road racing, whose temperament and abilities are so clearly suited to the cut-and-thrust of track racing, to be faced with such a sparse calendar.
Her long-term ambition is to surpass Hoy as Britain's most decorated Olympian. She already has two gold medals, so another five will do it, and she has time. But as Hoy himself noted on Sunday, the biggest obstacle could be the UCI's tinkering with the calendar and meddling with the Olympic programme.
Then again, you imagine that if they added a velodrome-based version of the egg-and-spoon race, Trott would probably win it.