Stolen thunder
Chris Froome's success has prompted Richard Moore to recall Robert Millar and 1985's 'Stolen Vuelta'.
Last Updated: 12/09/11 8:10am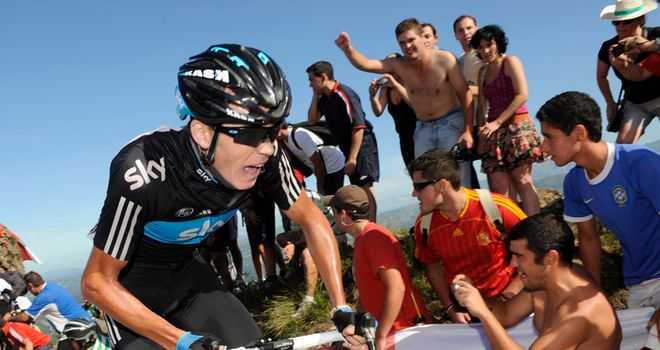 In recent years the Vuelta a España has had an end-of-term feeling about it. But not this year.
I don't think it's just because there are two British riders in the top three going into the final few days, though that probably helps. And it helps, too, that one of them is Chris Froome.
Putting national interests to one side, there are few things more exciting in sport than to see talent emerge and blossom, especially when it is so unexpected. There is also the terrain in which Froome is excelling: on Wednesday he became the first Brit to win a mountain stage in a Grand Tour since the great Robert Millar.
Froome showed guts and panache as he approached the summit of Peña Cabarga, attacking the race leader, Juan José Cobo, as the climb steepened horribly in the final kilometre, putting the Spaniard in serious difficulty, then winning the stage to close the gap to Cobo to 13 seconds.
From a British perspective, there are parallels with the 1985 Vuelta, and another link to the aforementioned Millar, who seemed, at the equivalent point of that year's race, on the brink of a remarkable triumph.
Back then the leader wore gold rather than red, and the gold-jerseyed Millar believed, as he crested the final climb on the penultimate stage, that the race, which he had led for over a week, was in the bag. The Scotsman sought out his closest rivals, the men placed second and third overall, and shook their hands.
"It wasn't to be, I'm sorry, you tried," Millar told his Spanish opponents, thinking he was poised to become Britain's first ever Grand Tour winner - indeed, the first ever English-speaking winner of one of the three Grand Tours.
"This is your race," Millar was told in return.
But what Millar didn't know - and what his rivals didn't tell him - was that, in the foul weather that characterised the stage, their countryman, Pedro Delgado, had broken away, and was riding into Segovia and into the gold jersey.
Unholy alliance
To declare an interest, I wrote a biography, 'In Search of Robert Millar', in 2007, and devoted a chapter to that infamous 1985 Vuelta. Or, as it's also known, the 'Stolen Vuelta,' since it is widely believed that Millar fell victim to an unholy Spanish alliance of rival teams who conspired to deprive him of victory.
At the point where Delgado attacked, Millar had been chasing back on after a puncture. He didn't see him go. Nobody told him. And by the time he realised what was happening, and tried to organise a chase, it was too late.
Delgado, who had started the day six minutes, 13 seconds behind Millar, finished six minutes, 49 seconds in front of him in his home town of Segovia to snatch the lead by 36 seconds. It was an advantage he easily defended into Madrid the following day.
Take your pick of the conspiracy theories: that Delgado was paced by the Spanish TV motorbike; that Millar 'lost' a couple of teammates when, as they chased to join his group, they were forced to wait for a level crossing - only, a train never came; that the motorbike that was supposed to provide time-checks for the riders mysteriously went missing that day.
The weather didn't help. It was raining and most riders were wearing capes that obscured their numbers - a fact that might have helped Delgado slip away without being noticed. These days, of course, Millar would have been connected by race radio to his team director, who would be kept abreast of what was happening. Back then, Millar was, as became clear, racing blind.
But there had been hostility towards him even before that fateful stage, with Millar saying he was spat at and man-handled by fans. One banner read: "Brave Spaniards, don't let the one with the earring win."
Memories
This year, there has been, naturally enough, far more support for Cobo than for Froome or Bradley Wiggins, who is third, but no one has spotted any banners reading: "Brave Spaniards, don't let the Kenyan-born Brit win."
Nor does there seem to be an alliance of Spanish teams riding to deny Froome. The sport has moved on quite a lot since the 1980s.
It might be too late for Froome to overhaul Cobo and become the first British Grand Tour winner. But his performance in the mountains of this year's Vuelta has conjured up memories of Millar at his finest.
Now, to win, and to exact revenge on Millar's behalf, he will have to 'do a Delgado.' Which doesn't (necessarily) mean unholy alliances of rival teams, poorly timed punctures, bad weather, conveniently and suspiciously closed level crossings, or illegal help from the Spanish TV motorcycle.
It means, simply, attacking.