Cricket Expert & Columnist
Ashes 2013/14: Graeme Swann is a loss but England must fight in Melbourne
England are heading for a 5-0 drubbing and must show more fight in the Melbourne Test, says Shane Warne.
Last Updated: 23/12/13 10:58am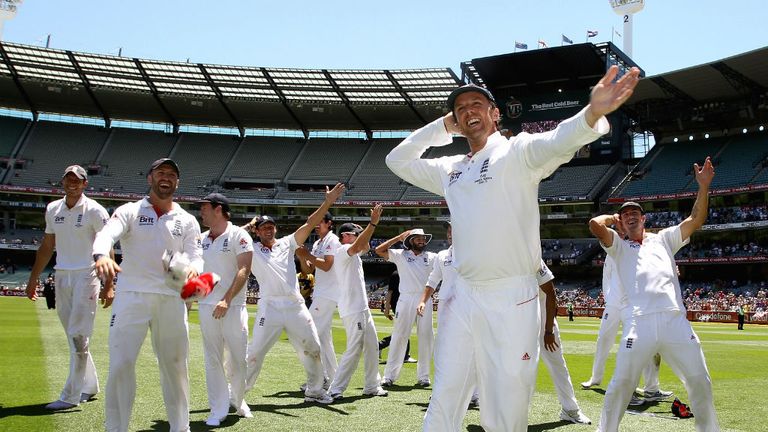 It's a special time of year; Christmas, with family and friends watching, and to walk out into an incredible atmosphere at the MCG, with 80,000-odd people there, is amazing.
I've been lucky to have a few fantastic playing memories of the Boxing Day Test but my last one, in 2006/07, has to be my favourite.
I took my 700th Test wicket (Andrew Strauss) and 5-30-odd on the first day of a Test match when England were cruising.
That day started for me at 5.30 in the morning for the Shane Warne Foundation, raising money for seriously unwell and under-privileged children.
I was exhausted when I arrived at the ground at half eight but, after losing the toss and taking five wickets, it was pretty amazing!
This year, England have got to come out and fight.
It's no disgrace losing, but it's the way England have lost that has been disappointing. Australia have set them over 500 runs three times in a row which is sheer dominance.
If England continue to play the way they are, with that lack of fight and lack of spirit, then it's going to be a whitewash.
Australia are not going to take their foot off the throat, they are going to continue to play the way they're playing and if England don't show more willing and do something different, it will be 5-0.
Swann
England need a lift because they're not playing well enough and they're not showing enough spirit or character, but this is a perfect opportunity for them to show how good they are.
Now is the time for England to enjoy their cricket. They've not been able to enjoy the tour so far because they have played so badly and Australia have been fantastic.
In terms of England's line-up, I wouldn't be changing the team too much if I was them.
I'd be saying to the guys, 'show me what you've got and show us that you want to play Test cricket for England' because what we've seen so far has been nowhere near good enough.
That's going to be harder to do without Graeme Swann, who announced his retirement over the weekend.
What an amazing player he's been; he's probably one of the best off-spinners I've seen and in the last few years he's been the best off-spinner in world cricket.
Opportunity
It's disappointing he's not going to be there for the full series, play it out and try to get something back in the last two Test matches.
But he obviously thought his body couldn't do it and he wanted to give an opportunity to somebody else.
How England cope with his departure is important because if they are not careful they are going to lose five or six players at the same time and they'll go through what Australia had to go through for a couple of years when everyone started to retire.
But now is a great opportunity for Alastair Cook, as the captain, to stand up and take charge, which he hasn't done enough in this series.
When you look at the Australia team you know who's in charge, when you look at the England team there are three or four people waving their hands around telling people where they should be fielding.
Cook needs to take charge and now is as good a time as any.