The dynamic decade
The tenth season of T20 cricket is here - and our experts have picked their favourite memories...
Last Updated: 11/06/12 1:46pm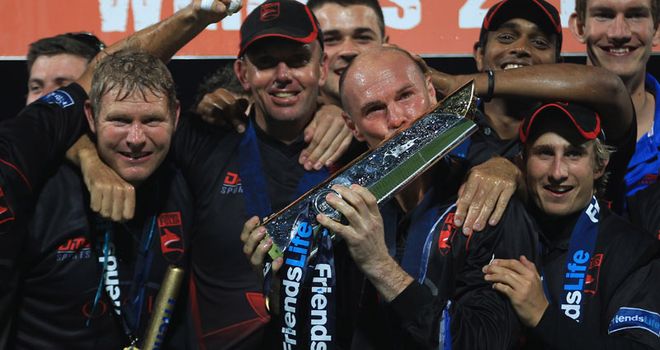 Buckle up for more breath-taking action!
The Friends Life t20 bursts onto the scene on Tuesday, when three-times winner and holders Leicestershire begin the defence of their crown against Nottinghamshire.
To mark the tenth season of T20 cricket on Sky Sports, we asked our experts to pick out one unforgettable moment from campaigns past and a player to watch out for this summer. Check out our coverage here.
Only one man could officially start proceedings, Mascot Race umpire Bumble...
BUMBLE
MOMENT: For sheer drama it's hard to beat the 2010 final when Hampshire broke Somerset hearts. Right at the end, Jimmy Adams was on as a runner for Dan Christian and with everything in the balance they both ran the leg-bye that tied the scores but Somerset didn't take the bails off and they lost the final on wickets lost! It was chaos! I remember when T20 first started; I was at the Rose Bowl with Charles Colville and there was a funfair nearby, which included a ride called the Screamer. It was one of those things which flies up and then straight back down again. We were doing an interview and Charlie said "We've got all the fun of the fair; I see the Screamer's here..." I just couldn't stop myself. I said "Is she really?" which stopped Charlie in his tracks! We've made some brilliant entrances to finals day in recent years - there was the A-team van and then last year we had the white van and limo for North v South. I don't know what's in store this year but I always like to see a good Elvis... and watch out this year for Jim Bowen...
ONE TO WATCH: Jos Buttler - he's confident, inventive, powerful. I'll give you another one - Ben Stokes. He's had an infuriating start but we'll be expecting great things from him as well. I've picked out two but there are lots of young players who will be looking to make their mark in T20 this year. Kevin Pietersen's retirement has opened the door for someone so it's all about who can rise to that challenge. Another lad who I'd really like to see do well is Michael Carberry. At 30 years of age he's a wonderful player; he's had a shocking illness but is back in the game and is a fantastic athlete. He's what I call a proper player.
NASSER
MOMENT: It's got to be Graham Napier's 152no in 2008 against Sussex. It was the first game I took my two boys to and he just whacked it everywhere. It was an amazing knock and ever since then my boys have just wanted to play cricket in the garden. I know Chelmsford is a bit of a postage stamp but even so to do that off 58 balls was something special and, to be fair, many of those sixes would have gone all the way on most grounds. He'd been threatening to do something like that all of his career and I'm glad he had his day in the sun because at he's best he's as destructive a batsman as they come. He hit more sixes that day - 16 of them - then I probably hit at Chelmsford in my career...
ONE TO WATCH: I'm going for James Taylor - his hundred for Nottinghamshire in the CB40 clash against Hampshire at the Ageas Bowl was one of the best domestic one-day knocks that I've seen. I'm looking forward to seeing if he can play a similarly dynamic innings in T20. He's not a big lad, he hasn't got big muscles but he's got fast hands; if you watch that knock at the Ageas Bowl, it was all about getting those hands through the ball - a little bit like the way Mahendra Singh Dhoni does it. That's what generates the speed and the power. There were even a couple of helicopter shots in there at the end. He's a great runner between the wickets and he has a good cricket brain.
WARDY
MOMENT: My most memorable moment as a player came in 2003 when Surrey won the very first title at Trent Bridge. I commentated on the first semi-final for Sky, then played in the second semi-final and the final - miked up and with the helmet camera on. I remember it was a terrifically long, but entertaining day. As it was the first season of Twenty20 everything was new, fresh and different. In terms of outstanding moments I've watched since then, I've got to mention Paul Nixon's ridiculously good catch to get rid of Keiron Pollard last year, which helped Leicestershire win it. In a way it summed up what Twenty20 cricket was all about - some awesome action, a great Finals Day story and some absolutely brilliant commentary from Bumble.
ONE TO WATCH: I'll tell you what - I'm looking forward to seeing if Kevin Pietersen turns out and plays some T20 for Surrey. It will be fantastic for the competition if he does get some games because he's a genuine world star. He should have plenty of time on his hands now so it will be interesting to see how things pan out for him. One's thing for sure - this Surrey batting line-up isn't short on firepower and there could be some pretty messy bowling figures out there.
NICK
MOMENT: I'm going all the way back to 2003 and a seminal moment when Ian Harvey scored the first hundred in Twenty20 cricket. I remember it well because Warwickshire were on the receiving end and I was playing! Harv was a fantastic T20 player because he could bowl a bit as well but that knock was something else, primarily because no-one knew if it could be done in the time allocation. As it turned out, Harv got to a hundred off just 50 balls! Ten years ago we didn't really have a clear idea of how we should go about playing T20 cricket or how quickly you had to score; we didn't really know what represented a good score, so for someone to step out in that first year and whack a hundred was incredible. It gave us all a bit of perspective.
ONE TO WATCH: Samit Patel has got a big season ahead of him. It's quite important that he does well because if he does have a really good T20 series with ball and with bat, then he can really cement his place in England's limited overs plans. Sam Billings is another one to look out for if he gets a decent go in the Kent side and I'll throw Luke Wright's name into the ring too. He smashed that hundred off just 44 balls when he played for the Melbourne Stars in the Big Bash and then went to the IPL. Although he only played one game for Pune Warriors, I'll be interested to see what he has learnt from playing in those foreign leagues.
BOB
MOMENT: As Bumble's already mentioned the farcical finish to the 2010 final (which aptly summed up Somerset's recent misfortunes), I'm going to single out Somerset's run-fest against Gloucestershire in 2006. Justin Langer got the ball rolling and powered his way to 90 from just 46 balls but he was eclipsed by Cameron White's fireworks, who blasted an unbeaten 116no off 53 balls in a second-wicket stand of 186. At the time it was the highest T20 team score and since then only Gloucestershire have gone past it, scoring 254-3 against Middlesex at Uxbridge last year. The bowling figures didn't make pleasant reading on either occasion!
ONE TO WATCH: Danny Briggs already has 43 T20 games under his belt despite being only 21 and he is definitely one to keep an eye on. After a couple of winters with the Lions - and last year's magnificent haul of 5-19 against Durham, which saw Hampshire into the semi-finals - I'm expecting big things of him. In recent years, slow bowlers have really come to the fore in T20 cricket and there's no doubt Briggs is a genuine match-winner in this format. He's got excellent control and a good head on his shoulders, so he'll be ready even if he hasn't played as much this season as he would have liked.