All out drama
Ian Ward, Bob Willis and David Lloyd preview a must-watch domestic season on Sky Sports.
By Oli Burley - @SkySportsOli
Last Updated: 04/04/12 5:07pm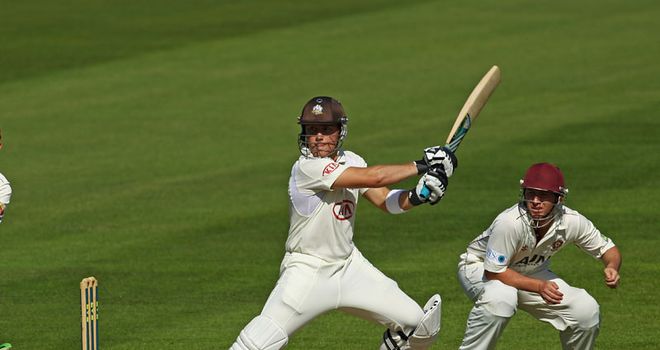 Don't let the earliest ever start to the County Championship catch you out!
Here at Sky Sports we're all set for a bumper domestic 2012 schedule that will feature 65 live fixtures, with each county on air at least three times. For full details click here.
The live action resumes on Friday May 4 when 2011 CB40 champions Surrey take on county cricket's nearly men of recent seasons, Somerset.
Bob Willis, David Lloyd and Ian Ward shared their pre-season thoughts with skysports.com...
skysports.com: Lancashire led the way in last season's County Championship with 10 wins from 16 games. Are they still the team to beat?
Ian: It's very, very difficult to pick an outright winner this year; I don't think anyone will waltz away with the title. My personal view is that Lancashire will find it hard to defend it for a variety of reasons. Firstly, I know from my experience at Surrey and talking to the guys at Sussex how tough it is to win back-to-back Championships. Secondly, they are going to play more cricket at Old Trafford this year and we just don't know how the wicket will play; they found results easier to come by at the out-grounds last season - particularly given the calibre of spinners they have - but now they're taking a step into the unknown.
If you're looking for a good outside bet, I think there's something about Surrey this season. They've got some very dynamic young batsmen and Murali Kartik is an outstanding spinner, so they've got some of the ingredients needed to win it although there is plenty of inexperience in the squad. They are likely to lose Jade Dernbach for the one-dayers but I don't think England will call on Chris Tremlett if he is fit - Steven Finn has overtaken him in the pecking order - so that could work in their favour.
Bob: Surrey are something of an unknown quantity - they seem to have got a very strong squad - but I'm going to stick with Somerset, my pick for 2011. They've been pretty close the last two years and I don't necessarily think that the sides that finished above them are going to improve on those performances. This could well be the season when their run of bad luck or misfortune when it comes to clinching trophies - call it what you will - comes to an end.
I know Marcus Trescothick gives a lot of thought to his planning for the season and that meticulous approach should serve them well. Yes, it's hard bowling sides out at Taunton but they score their runs so quickly that time shouldn't be an issue.
Quite simply, they bat all the way down. Kieswetter, Trescothick, Compton, Hildreth - the names roll off the tongue - and then, of course, there is Jos Buttler who is emerging as an international player. It's a pretty awesome line-up. As a side they probably need to bat better away from Taunton. They may be a little light on the bowling but they will have a long time to bowl sides out and if Vernon Philander can make an impression early on in their season, they are more than capable of getting some early-season wins under their belt.
Bumble: Durham are heavyweights and Notts are always there or thereabouts, but the team I fancy to win it is Surrey. Lancashire may be the champions but they are going to have to play some matches at Old Trafford, where the pitch has been turned round - and I don't think that is going to help them. It will take time to knit, will that pitch, and they could find it hard to get results.
Surrey's batting line-up looks very strong to me - Steven Davies is a very good cricketer - and if they get Jade Dernbach and Stuart Meaker firing together, then watch out.
It's fascinating to follow the fortunes of Chris Adams from captaincy into coaching; I know from personal experience that this doesn't happen overnight - it's a process and often a long one. Much like football management, you always need your bosses to give you time because these things simply don't happen overnight. You need to create an environment and have a good mix of youth and experience; I think Surrey are just about there, now.
skysports.com: Are you anticipating a close, desperate scramble for promotion to the top-flight or is Division Two more clear-cut than that?
Bob: My money's on one team - Yorkshire. Quite frankly, I think they'll get their act together and go straight back up. Doing so poorly last season and getting relegated was a real shock to the system but that's history now. One of their biggest worries will be getting scuppered by the weather if there's a bit of bad stuff around early on in the season, but all round they should be good enough to make their mark on the division.
I'm afraid there's no escaping the fact that there are some very poor sides in division two; quite simply I see Yorkshire as hot favourites, along with Hampshire, to go back up. They are blessed with a number of players either with full England colours, or ODI caps or England Lions colours that it's hard to see them doing otherwise.
The batting line-up has talent in spades, from skipper Andrew Gale at the top to the likes of Joe Root, Adam Lyth, Jonny Bairstow, Phil Jaques while Ajmal Shahzad and Adil Rashid in particular have points to prove to the England selectors with the ball. Ryan Sidebottom may not have any international pretensions any longer, but those will want to remind everyone they are still on the scene. Certainly taking wickets in the second division is a lot easier in the first, so that will help.
Ian: I agree - the one big name that stands out is Yorkshire. Heaven help them if they don't go up because their chairman will have something to say about it!
With Martin Moxon moving a bit further upstairs, Jason Gillespie has come in and the onus is on him to instil something into the dressing room that clicks in for the entire season. He's a pretty cool guy and he might be the one to calm them down and get them to play naturally. I'm not sure he's going to be massively technical in his coaching - some of the best coaches aren't; it's about creating the right environment and getting players playing for themselves and each other. Dizzy wasn't a relaxed guy when he was bowling at 90mph, but off the field he's pretty chilled out. You've got to have the right dressing room to win the Championship because you are in each other's pockets for months on end and I think Gillespie will help create a good environment.
It's a big season for Joe Root - there's a lot of focus on him and I'm looking forward to seeing how he deals with it; I hope he goes well. Andrew Gale also has a few things to prove after getting injured towards the end of last year; he needs a good season to get himself back on the England radar.
Bumble: What more can I say?! It's imperative that Yorkshire bounce back straight away; they should never have gone down for a start! We'll see if Gillespie provides the injection they need. I also think Northants will be round about the mark too; they are always good opposition and well organised on the pitch by Andrew Hall.
skysports.com: Last summer is going to be tough to beat in terms of entertainment. What was your highlight?
Ian: For me it was when Paul Nixon took that catch on Twenty20 Finals Day to get rid of Kieron Pollard. Bumble was on commentary and screamed something like "Nixon, you beauty!" We'd had a very long, draining day of broadcasting - we'd had ties, one-over eliminators, the lot - but we'd also a lot of fun and for me that moment encapsulated everything about Twenty20 cricket. It was a fantastic catch from the old 'Badger' in a high-pressure game, and the old bloke in the comms box went absolutely beserk as only he can.
Bumble: I had a little key fob on my person last year which played catchphrases from Jim Bowen's 'Bullseye'. You know the one: "Super, smashin', great", "look what you could have won", "Here's your BFH... Bus Fare Home", "Spelling question - spell 'Dog'." I kept playing them down the microphone - I got it on air loads of time - before the boss confiscated it. So I'll be trying to get my fob back into the commentary box - I may have to smuggle it back in - whatever it takes!
Bob: After such a long wait, I've got to go for the moment Lancashire won last year's Championship. They hadn't won it outright for 77 years, so it was a long time coming and you could see exactly what it meant to the players once they'd chased down victory against Somerset. Peter Moores described it as special and he wasn't wrong. It was a real squad effort and that made all the difference in the tight games. Their positive approach secured 10 wins out of 16, so the triumph was thoroughly deserved.
For full details of our Sky Live coverage click here.
Now read our County Championship Division One preview by clicking here and our assessment of how Division Two will pan out here.