Full and fast
Bob Willis, David Lloyd and Nick Knight share their thoughts at the start of a jam-packed county season.
Last Updated: 06/04/11 3:55pm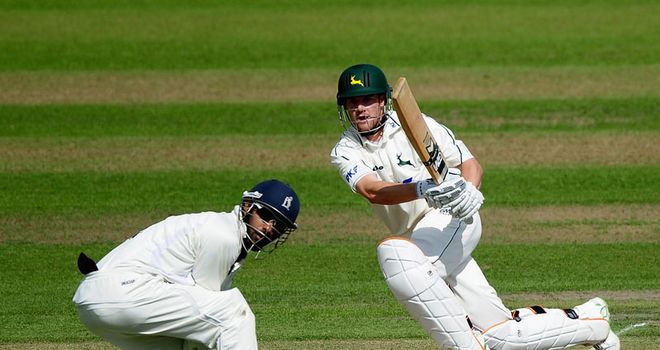 Cricket's never over on Sky Sports!
Fresh from delivering the World Cup, we're back at our mark ready for a brand new English season.
It will be full and fast, with 68 live domestic matches complementing comprehensive coverage of Sri Lanka's and India's summer tours.
Our expert pundits will return to action on April 24, when Clydesdale Bank 40 champions Warwickshire begin their title defence against Friends Provident t20 winners Hampshire.
Before then the County Championship swings into action and Bob Willis, David Lloyd and Nick Knight were happy to share their pre-season thoughts with skysports.com...
skysports.com: It was drama all the way as Nottinghamshire won division one last season. Who will take the lead role in 2011?
Bumble: I think Yorkshire will win. They're a real up-and-coming side with a lot of good youngsters such as Adam Lyth, Jonathan Bairstow and, of course, Adil Rashid. They've got a varied attack and will benefit from Ryan Sidebottom coming back. They're well led by Andrew Gale too.
Bob: Somerset are my personal favourites: Marcus Trescothick, Craig Kieswetter, James Hildreth and Jos Buttler make up quite some batting line-up! Murali Kartik did a great job for them last year - he still offers enough mystery to cause English players havoc - and having Ajantha Mendis around in the early season should be a big boost.
Nick: It's going to be another tight season, that's for sure. Nottinghamshire are always a competitive unit because of the depth of their squad. The coach, Mick Newell, is outstanding and always generates a good environment to foster a successful and aggressive team. They always have a chance of taking wickets at Trent Bridge, where the ball tends to move around early on, which gets the game moving forward. You can't rule them out on that basis.
Adam Voges and David Hussey, who will share overseas duties, thrive in that type of environment and there are also a couple of young lads coming through with the ball too - Andy Carter and Luke Fletcher - which is exciting. Unquestionably they are going to miss Sidebottom, that goes without saying, and they are not going to see much of Stuart Broad or Graeme Swann but they will be competitive under the aggressive captaincy of Chris Read.
Bumble: Nottinghamshire and Somerset are my other two main teams to follow. Notts are a very tough team and Somerset have signed Steve Kirby, which could be very good for them. I think they could go from being bridesmaids to brides in the Twenty20, but they'll be in the mix for all of the competitions. Warwickshire have a good chance of a bit of silverware too. Ashley Giles has got them well-organised and William Porterfield, who did so well for Ireland at the World Cup, will be champing at the bit. They're always round about the top and I fancy them for the Pro 40 this year. As for the promoted sides, Sussex should do alright.
Bob: Don't forget Durham. If Liam Plunkett, Graham Onions and Steve Harmison are fit and firing they have a pretty irresistible seam attack, particularly in the early season when seamers tend to rule the roost.
skysports.com: Kent and Essex were relegated last season. Are they capable of returning to the top-flight at the first time of asking?
Bumble: This division will be very interesting. If you're looking for winners it should be Surrey. They've got to improve, surely? All I can say is pull your socks up you Brown Hatters!
Nick: Several sides had a good go at it early on last season, which made it really interesting. Leicestershire have got some good young players and Kent are not a division two side. I do wonder about Essex; they've had a taste of division one so will be raring to get back there, but how much will they miss their England players?
Bumble: With Owais Shah in their side Essex should be in the mix - he'll be a key man for them. Glamorgan are a strong and resilient team, but they've had major upheaval there with a change of coach and a change of captain, so I don't think things will be easy for them.
Bob: I agree. It will be interesting to see how Glamorgan go; you'd think they will be much more together this year. Essex and Kent, despite their financial woes, should be too good for most of the sides in division two. Surrey may make a case for themselves; it's always difficult bowling sides out at the Oval, but I think they will go a bit better this season. It's difficult to see Gloucestershire, Northants, Leicestershire or Derbyshire making much of an impact. Middlesex will have a better season than last but I can't see them challenging.
Bumble: I've got to come clean and say one of my favourite teams is Kent. I've always had a massive affection for that club and for the lads that have played for them over the years. That has continued with Rob Key there now and I hope the other teams won't mind me saying that I'd like them to do well.
skysports.com: What is your highlight of last season and who are you looking forward to seeing in action this time around?
Nick: The county game is full of very exciting young players but I'm going for the 'three Bs': Buttler, Briggs and Bairstow. I've watched all three of them on different occasions and thought 'this guy could be very special'. Briggs and Buttler both turned in very impressive displays on Finals Day, which was a standout occasion for me.
Bob: Nick has stolen my thunder with that pairing - I'll definitely be keeping my eye on them too. You'd be hard pressed to beat Nottinghamshire's performance on the final day of the Championship season. It was an outstanding effort when you consider what was at stake and thankfully we had the Sky Sports cameras there to see it.
Bumble: Buttler's on my radar as well, along with Scott Borthwick, a leg-spinner for Durham. James Hildreth will push hard for the England team this year and watch out for the return of Graham Onions, the forgotten man of English cricket. It will be good to see him come back and he will be a big asset for English cricket when he does. Another player who isn't exactly young is Steve Kirby and I think Somerset will be a very good move for him.
The other thing I'm looking forward to is seeing Lancashire get their legal wrangles sorted out. It's costing the club a fortune to sort out the legal issues surrounding the stadium development and I hope it's resolved as soon as possible. They've turned the pitch around, but they can't finish the development until the legal business is sorted.
I'm really looking forward to my first game on commentary, which is down at Hampshire on Sunday 24 April in the Pro 40. They're playing Warwickshire, which should be a good way to start the season. I'll go down and see Corky and he'll obviously tell me that they're going to win everything this year, as he usually does!
For full details of our Sky Live coverage click here. To read skysports.com's county-by-county guide click here.